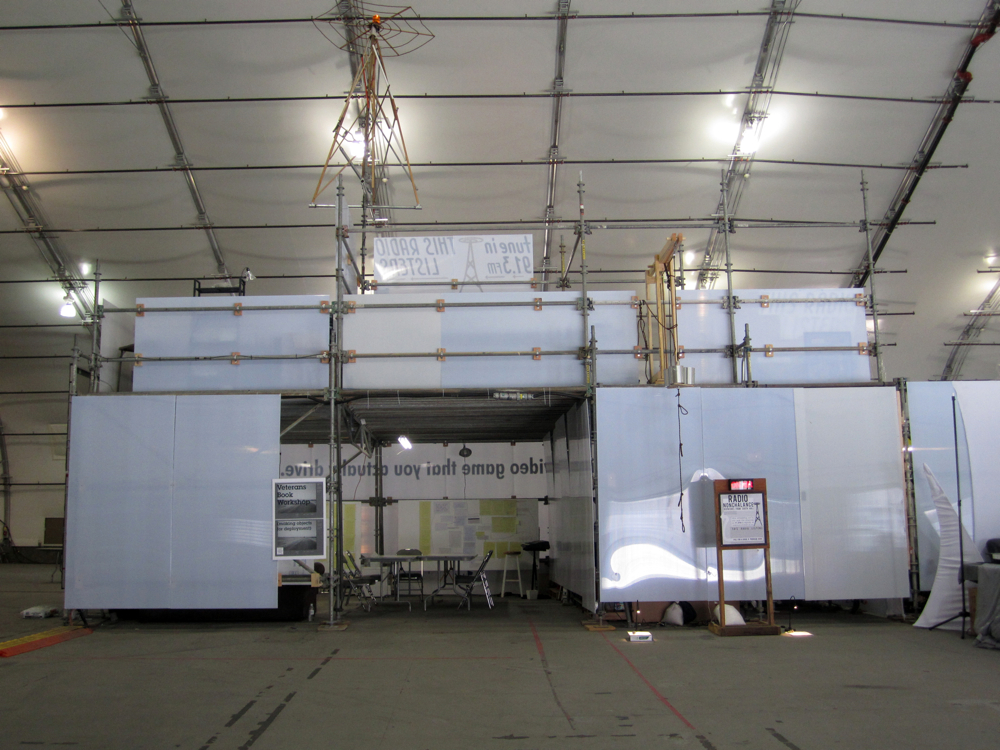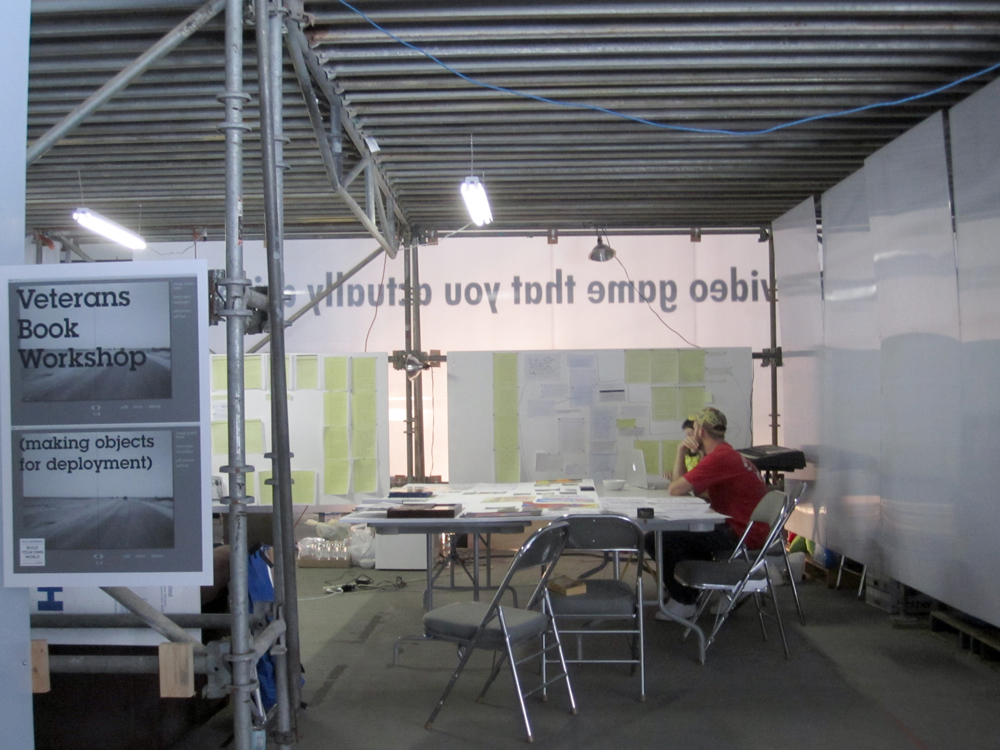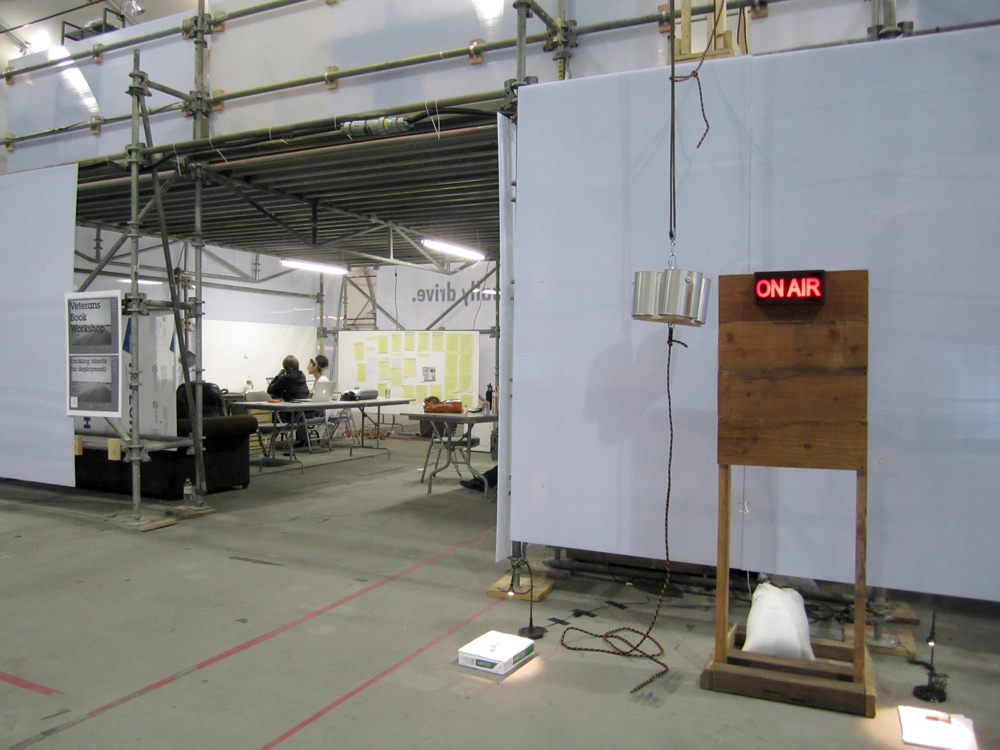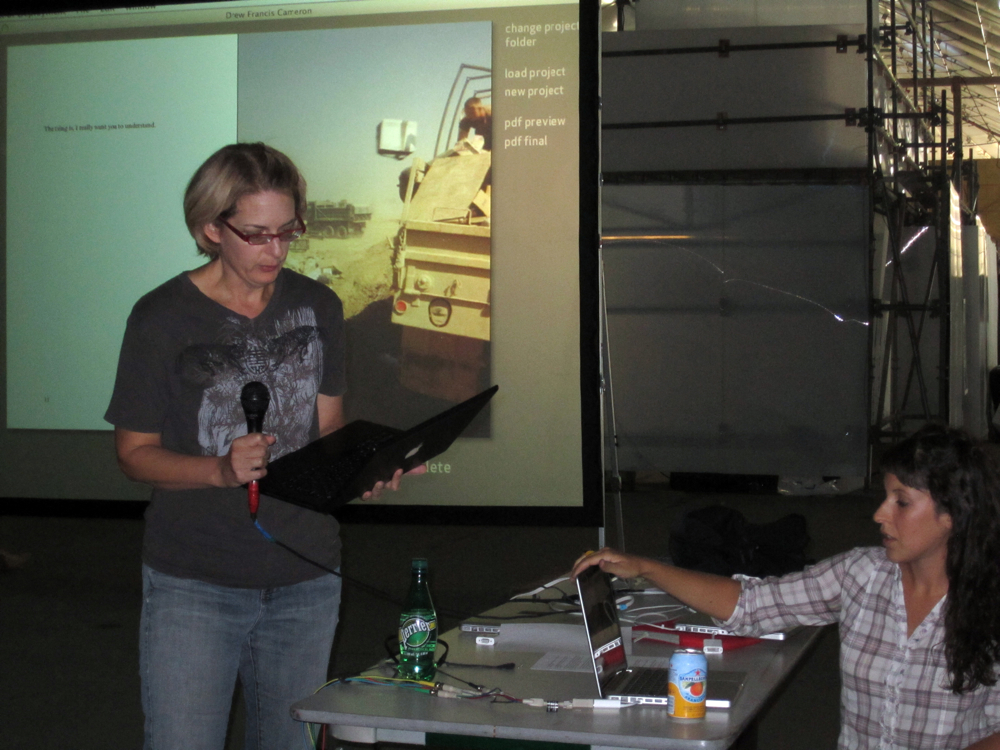 During the 01SJ Biennial in the 80,000 square foot space of Out of the Garage Into the World, there seemed to be one constant, from early in the morning before almost anyone else had arrived to early in the morning when almost everyone else had left – Monica Haller and her work with local vets on the Veterans Book Project Workshop.
The Veterans Book Project is not just another "relational aesthetics" artwork. It is hard work that relies on determination and trust and probably not a few arguments. And the payoff is not just a scrapbook of memories. With Haller's flexible book publishing template and dedicated guidance, it is a WORK. Of art.
There are no short cuts, no 20 minute versions of the Veterans Book Project. It takes time – and resources. Kickstart the work today.
---
Deadline for Submissions: June 25th, 2010
When: Aug. 18, 2010 Noon – 5pm; Aug. 19, 2010 3 pm – 8pm
Where: Walker Art Center, Flatpak House
What: A two-day workshop with a core group of
art and design students building "Voice Boxes".
Who: An amazing group of artists working with Futurefarmers on A People without a Voice Cannot Be Heard
Within the context of the Walker's summer program, Open Field, which encompasses issues around "the commons," Futurefarmers will be programming several events around theme of "voice" as a commons. We are looking for Minneapolis-based artists/builders to lead this workshop. We are leaving "voice box" open to interpretation. The first day will be a more intensive building workshop with a core group of design students (max 15) and the second day will be open to the public. This is a free Thursday at the Walker, so there is heavy foot traffic with many kids and people who would love to build or contribute something, so preparing some simple aspect of participation for this day is key.
More information: www.futurefarmers.com/buildingavoicebox; www.walker.org/openfield
Commission: $500
Please send
Name
Address
website
email
250 word description of workshop
rough schedule of the two days: noon-5pm
link(s) to any previous work or 5 jpgs 72 dpi of related work
---