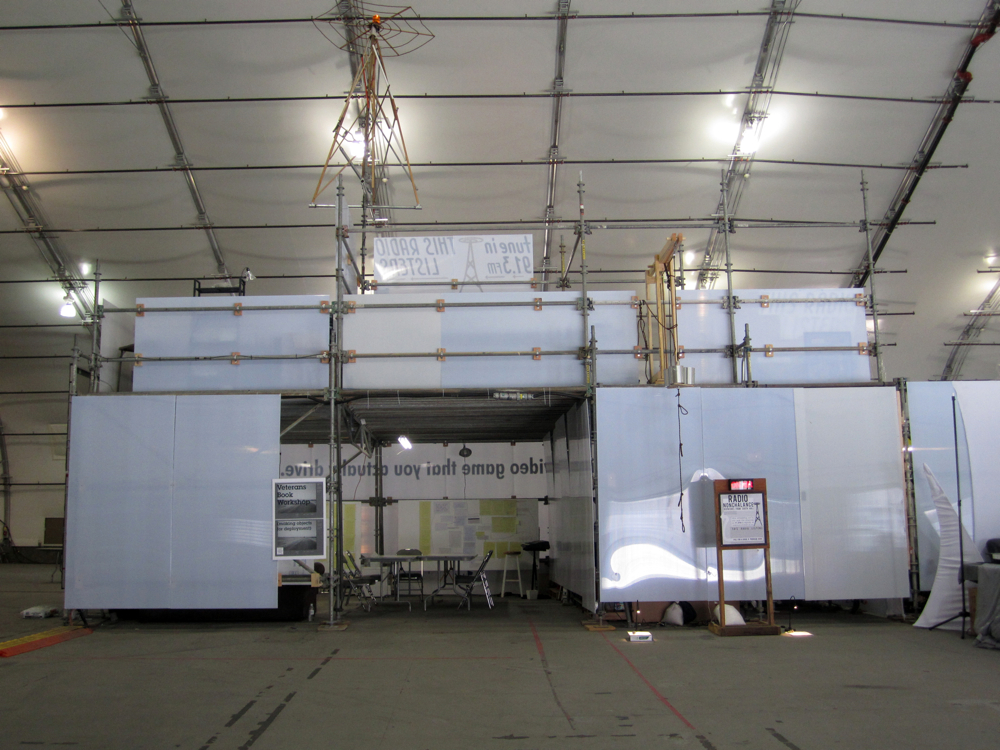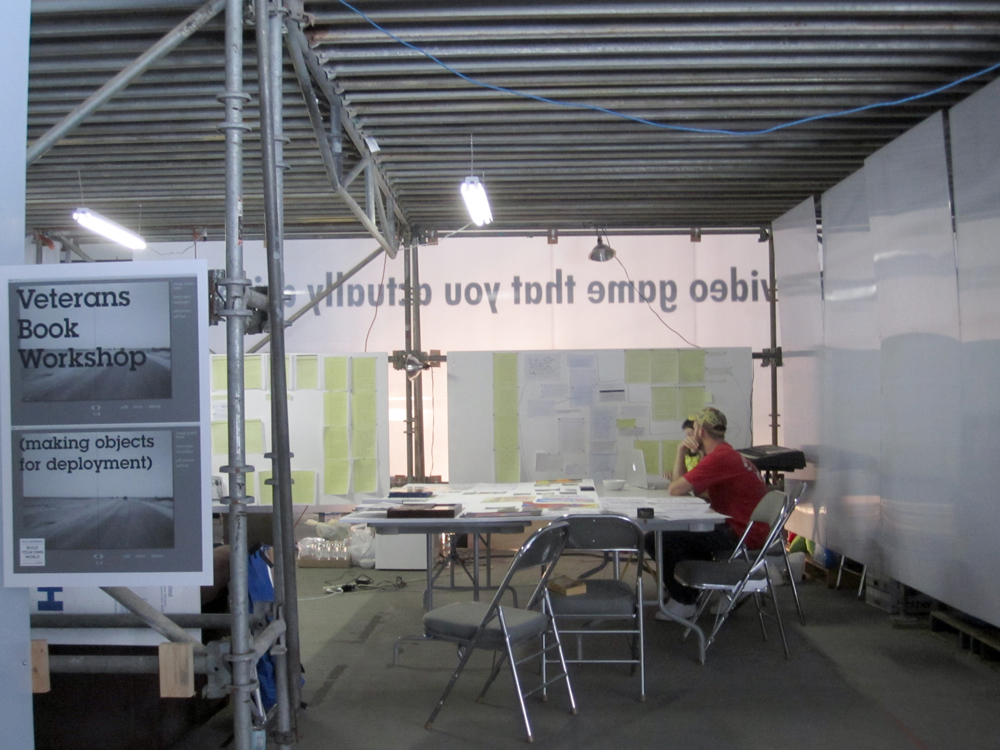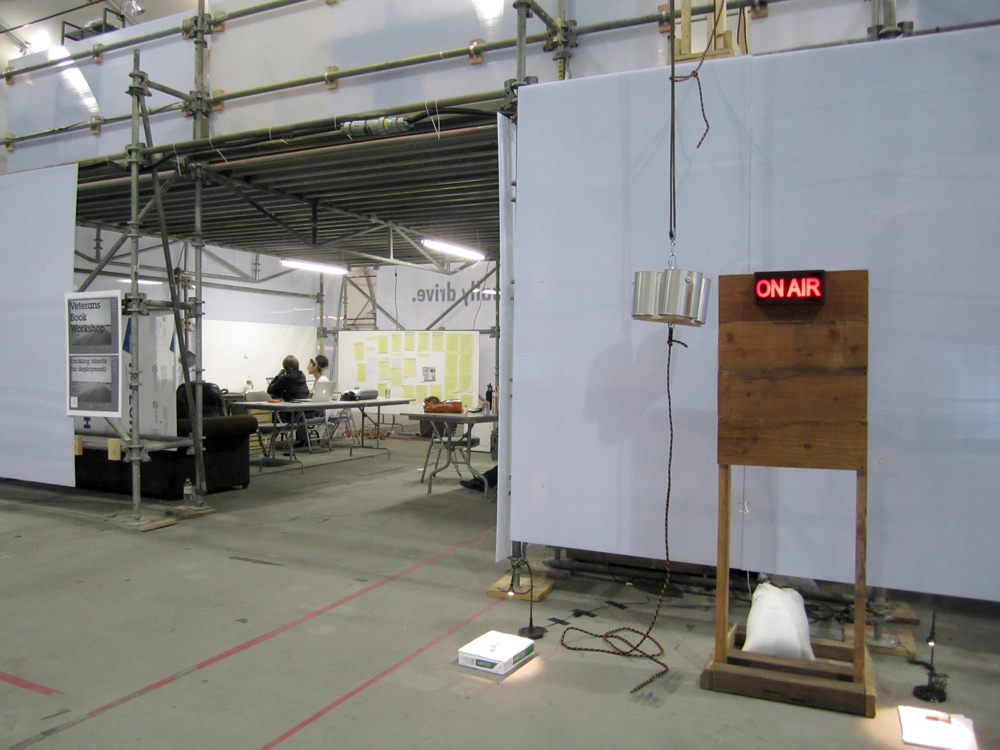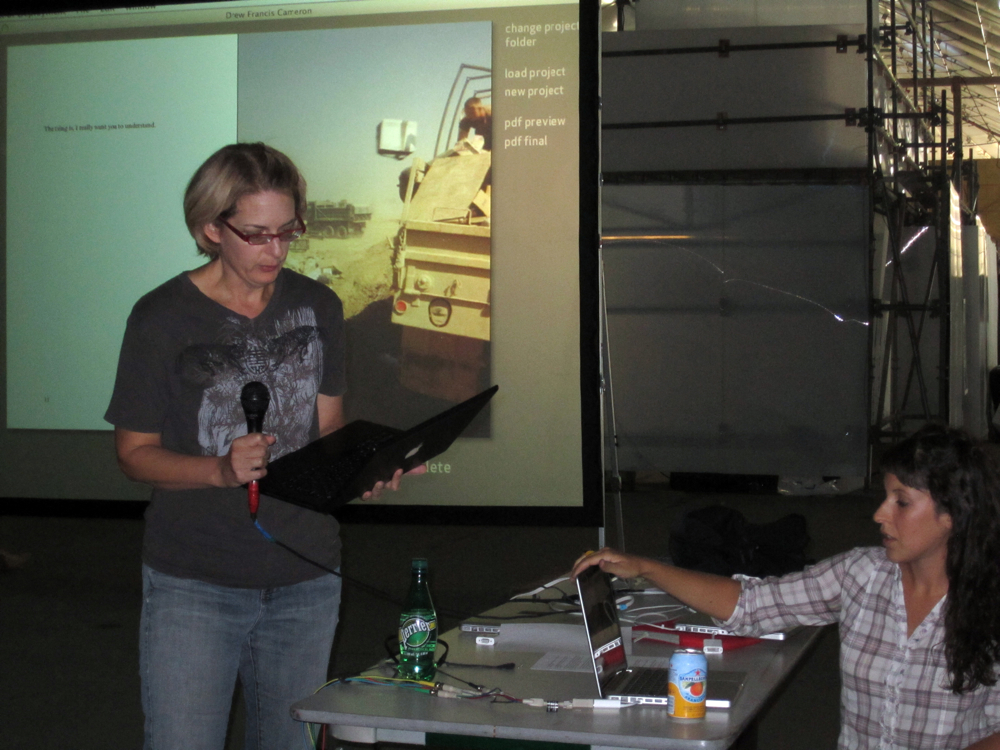 During the 01SJ Biennial in the 80,000 square foot space of Out of the Garage Into the World, there seemed to be one constant, from early in the morning before almost anyone else had arrived to early in the morning when almost everyone else had left – Monica Haller and her work with local vets on the Veterans Book Project Workshop.
The Veterans Book Project is not just another "relational aesthetics" artwork. It is hard work that relies on determination and trust and probably not a few arguments. And the payoff is not just a scrapbook of memories. With Haller's flexible book publishing template and dedicated guidance, it is a WORK. Of art.
There are no short cuts, no 20 minute versions of the Veterans Book Project. It takes time – and resources. Kickstart the work today.
---
"Instant Coffee is well known for its relational aesthetics approach to art-making, in which loosely defined social scenarios invite an art experience that blurs the boundaries between artist, participant and viewer. With Disco Fallout Shelter, the group has purposely turned the tables on that all-inclusive mode of working. Instead, the locked doors and mysterious subterranean workings are designed to be overtly exclusive. Sounds emanating from below ground suggest that the spartan interior of a bomb shelter has been transformed into a signature Instant Coffee party centre. This time, though, the catch is that only members of the collective are invited to the artful merrymaking. Viewers can 'participate' via an above-ground video kiosk showing (pre-recorded) footage of members 'playing records, eating spaghetti, dancing, reading, sleeping and just hanging out in the tight confines and under the protective barrier of shelter.'"

via Canadian Art
The inaccessible secret space in a public location also reminds me of Atelier Lishout's The Good the Band and the Ugly (1998), which was in the Minneapolis Sculpture Garden for many years.
"The project has two parts. The aluminum and fiberglass trailer, the Art Lab on wheels, which is modern, progressive and technologically advanced. As a space, it is as neutral and flexible as possible. It will allow the users to make it their own space, far from the artist or the institution's dictate. One could say that the trailer is the pure execution of the commission for the client, the Walker Art Center."

"The black wooden house would be his fantasy, an addition useful for residencies, workshops that stays fixed in the garden. This house could be seen as coming from both the tradition of the pioneer shelter, as well as a kind of mythic movie architecture– a place built out of necessity by a group of friends. The house, like the trailer, is real. It is wired and furnished. Joep van Lieshout modeled the bed, chairs, table and shelves, after Shaker furniture design. The house has secret places, dark corners and in a way is like the killer's house in Jonathan Demme's Silence of the Lambs. This would be the 'bad and ugly' part of the project. The trailer would be the good part."
---