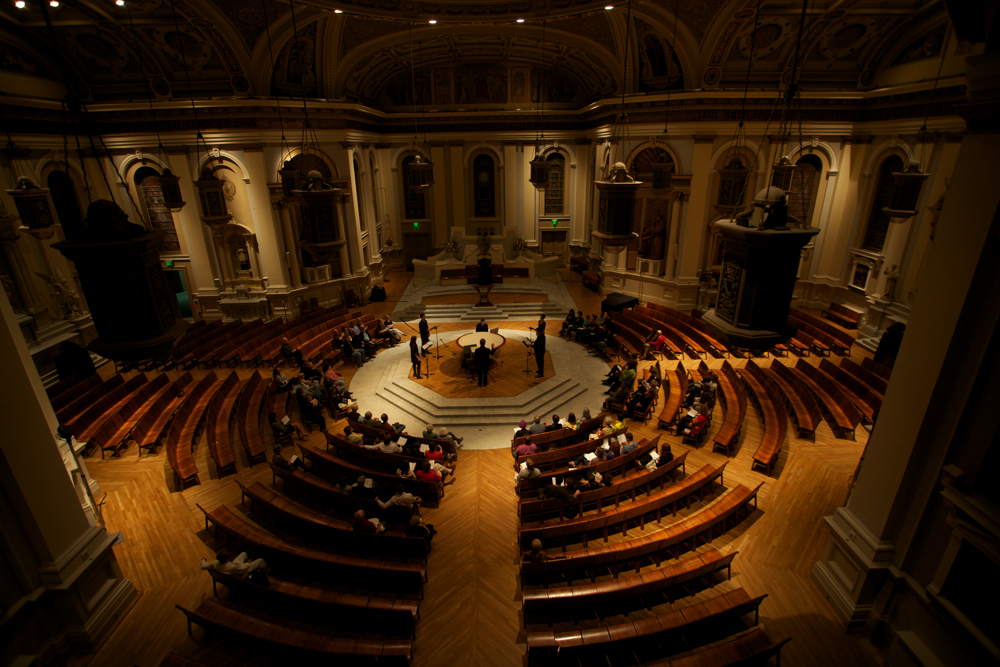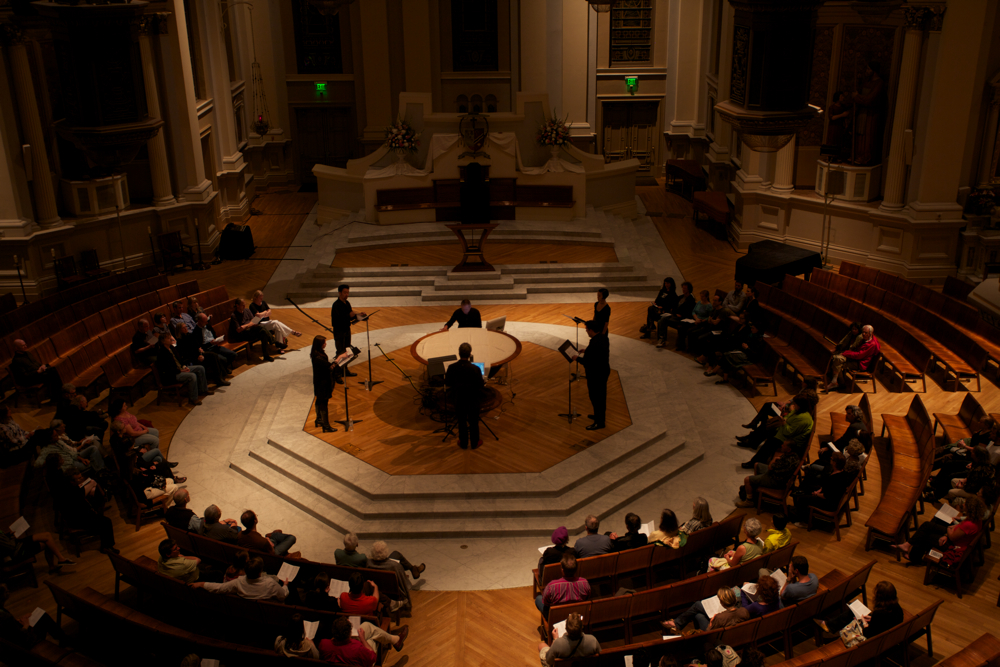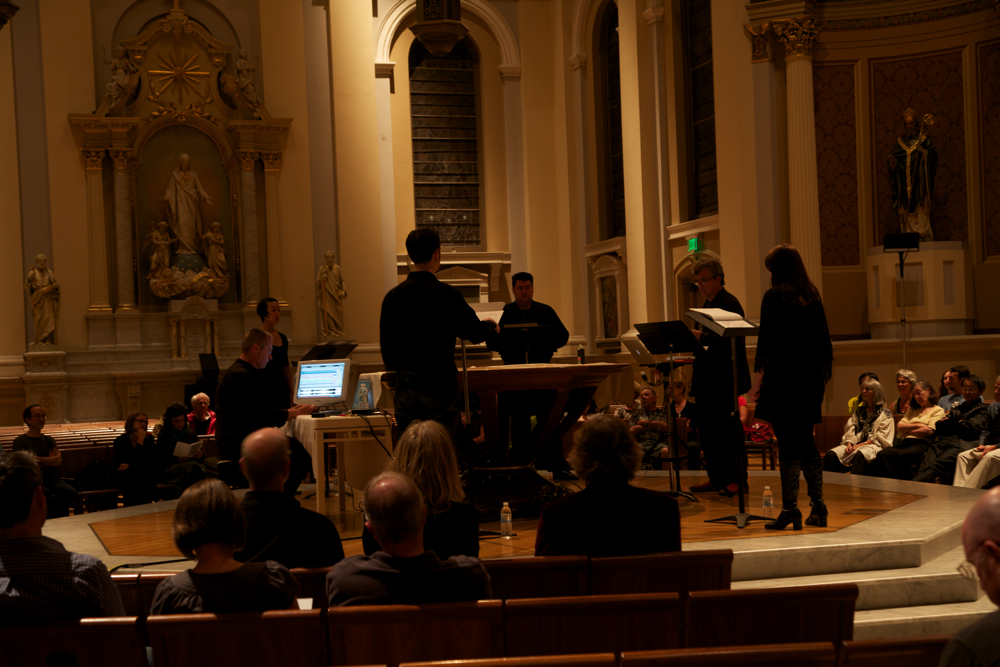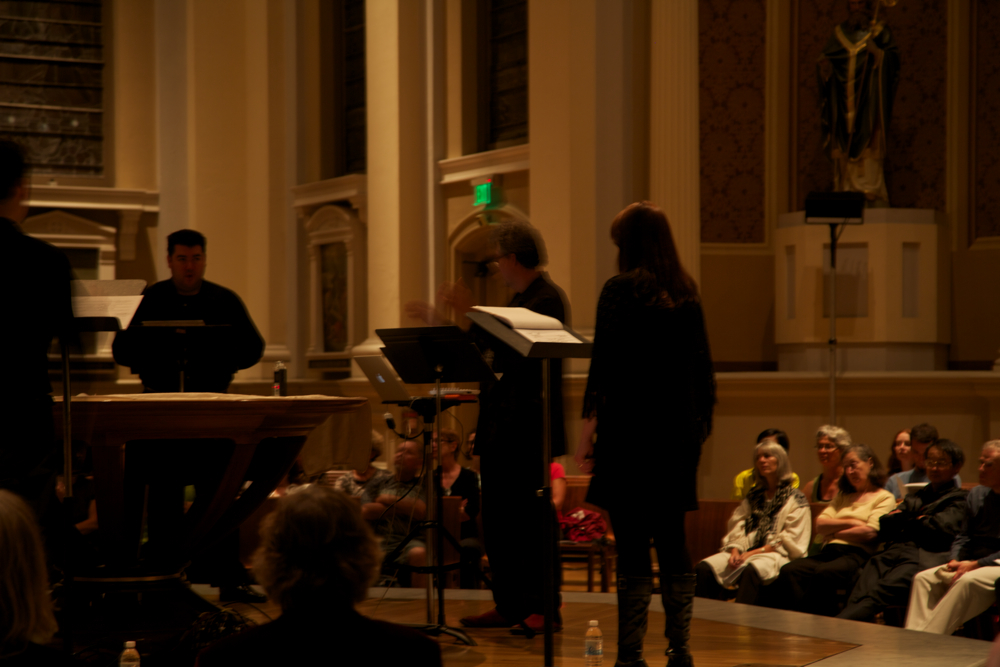 O+A's Requiem for fossil fuels was a transcendent performance in St. Joseph's Cathedral at the 01SJ Biennial in San Jose.
"At the intersection of four virtuosic human voices and the fossil-fueled din of helicopters, jets, traffic, busses, horns, train wheels, and sirens erupts a composition that pours gasoline on Dante's Inferno.  Requiem for fossil fuels, written and performed by O+A (Bruce Odland and Sam Auinger) with four singers and an 8-channel 'Orchestra of Cities,"  is a unique setting of the Requiem Mass offered to a world struggling to reconcile its utter dependence on fossil fuels with the coming end of oil, coal, and peat."
In November, O+A again performed Requiem at the World Financial Center's Winter Garden, in New York, and the concert will be broadcast Thursday evening, December 2, as part of WNYC's New Sounds series. Don't miss it. Below is a mini-preview.
---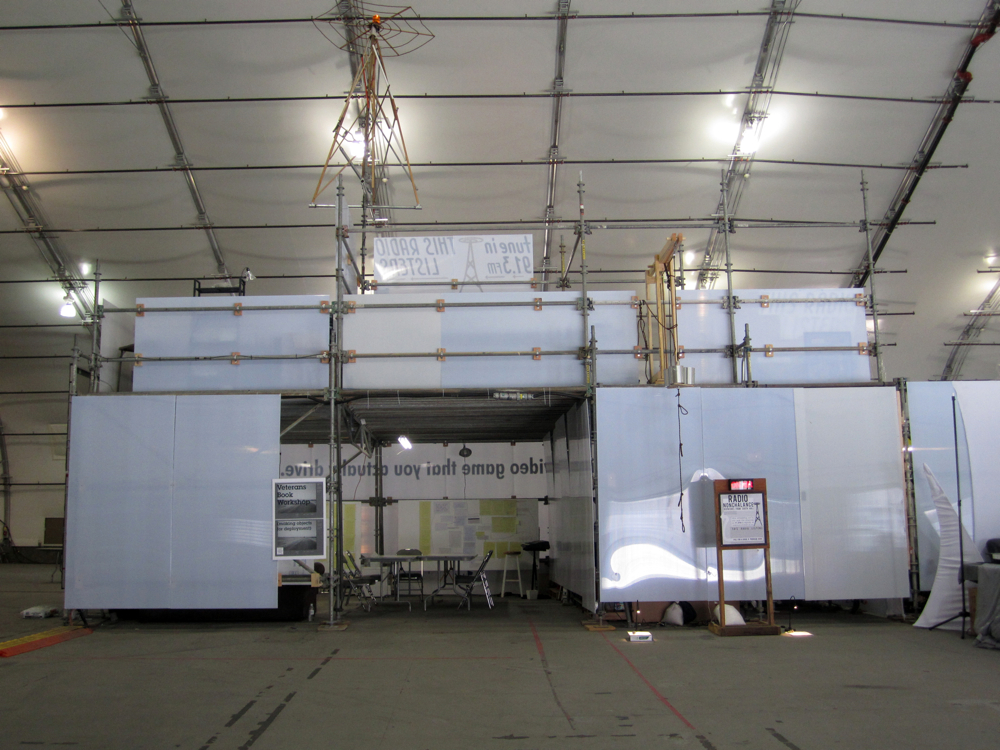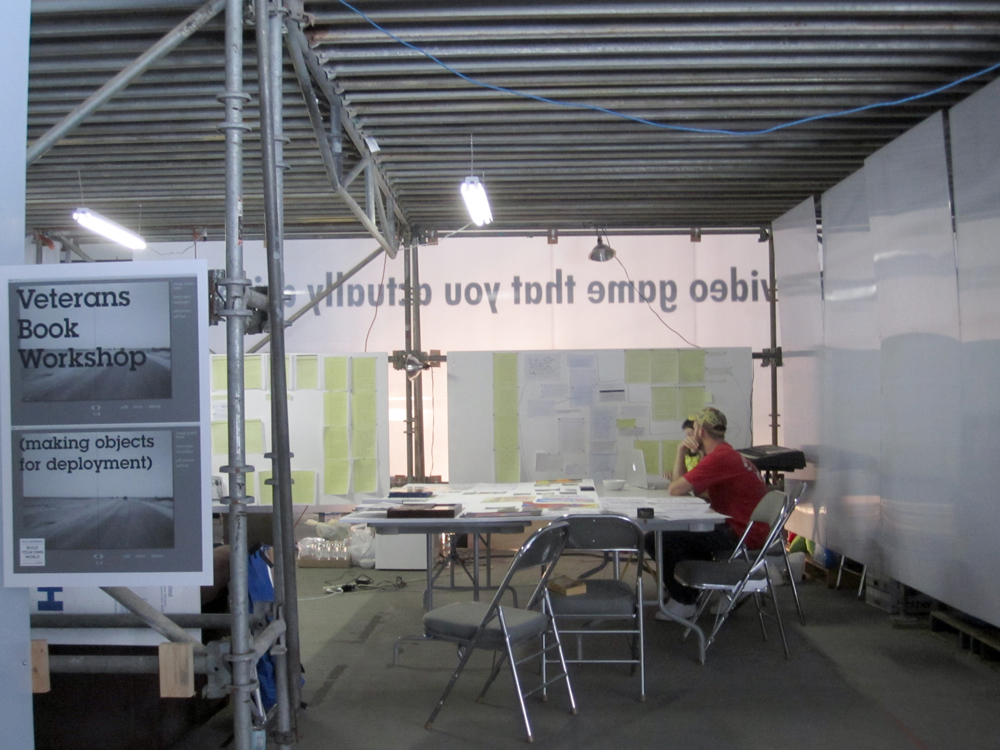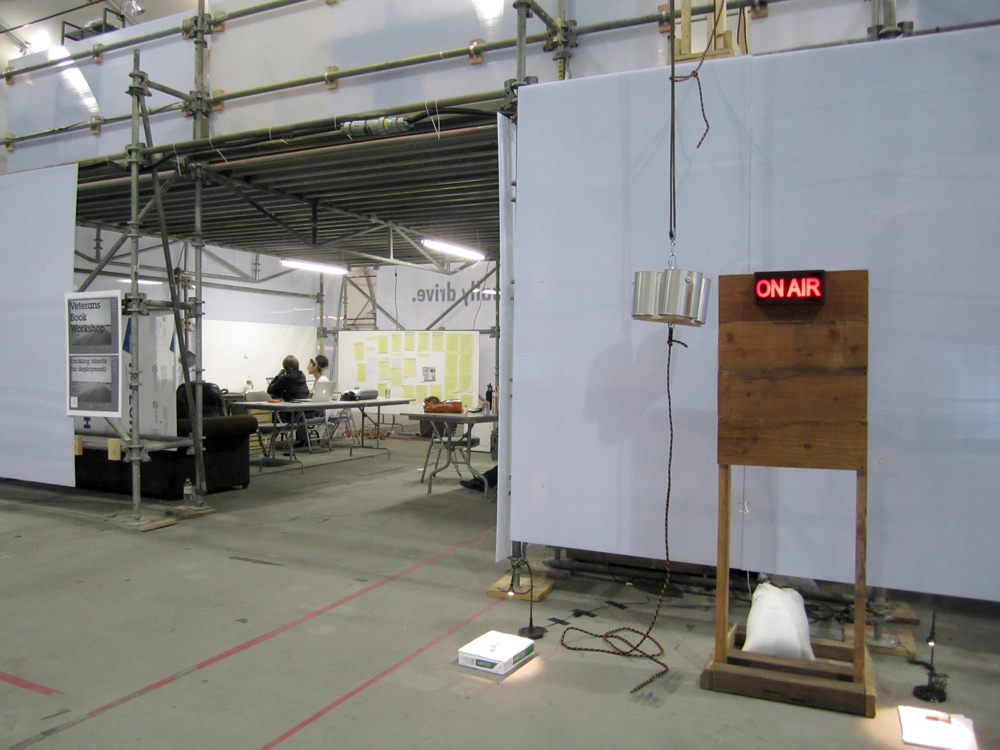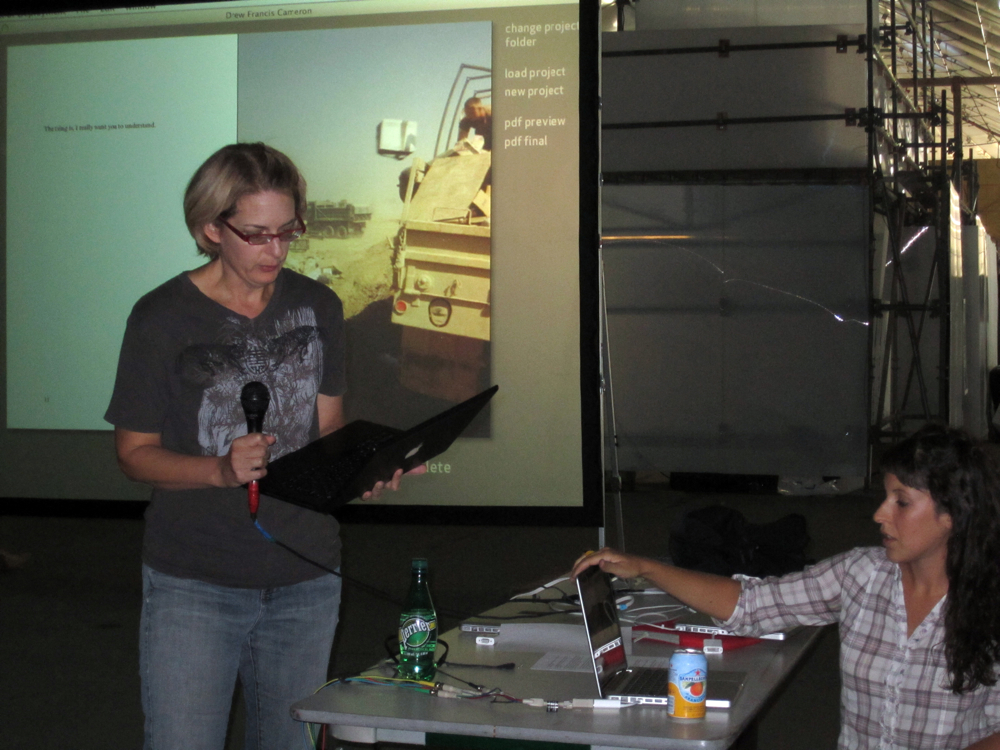 During the 01SJ Biennial in the 80,000 square foot space of Out of the Garage Into the World, there seemed to be one constant, from early in the morning before almost anyone else had arrived to early in the morning when almost everyone else had left – Monica Haller and her work with local vets on the Veterans Book Project Workshop.
The Veterans Book Project is not just another "relational aesthetics" artwork. It is hard work that relies on determination and trust and probably not a few arguments. And the payoff is not just a scrapbook of memories. With Haller's flexible book publishing template and dedicated guidance, it is a WORK. Of art.
There are no short cuts, no 20 minute versions of the Veterans Book Project. It takes time – and resources. Kickstart the work today.
---
I am thrilled to be in dialog with artist Stephen Vitiello about his exhibition Stephen Vitiello: Tall Grasses, along with Christopher Cox, exhibition curator and Executive Director of the Salina Art Center on Friday, October 29. I hope you can make it, if you are in the area.
"Composer, electronic musician, and sound artist Stephen Vitiello is well-known for his experimental approaches to the phenomenological aspects of sound. His field recordings of ubiquitous atmospheric noises are often mixed with electronics to create palpable soundscapes. The play list for Stephen Vitiello: Tall Grasses provides a layered perspective into Vitiello's explorations of sound, including a room-size installation looping works from 2004 to 2010; a video collaboration with Brazilian filmmaker Eder Santos; and a new sound piece commissioned by the Salina Art Center expressly for this exhibition that echoes the natural life of Kansas's remaining tallgrass prairies."–Salina Art Center
Stephen recently curated a series of midnight concerts at Trinity Cathedral in San Jose for the 01SJ Biennial, and Northern Lights.mn also commissioned him to do a project on the aurora borealis, although nothing sparked, so to speak, on that trip.
The previous day, Thursday, I will also be speaking with R. Luke DuBois about his exhibtion Hindsight Is Always 20/20 at the Ulrich Museum of Art in Wichita.
---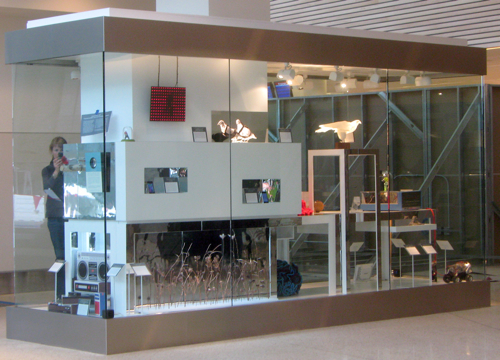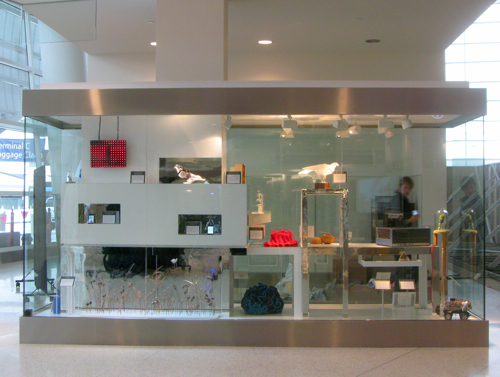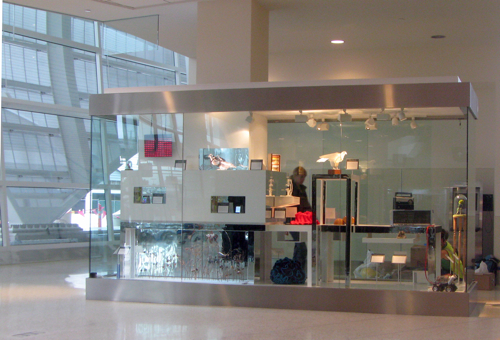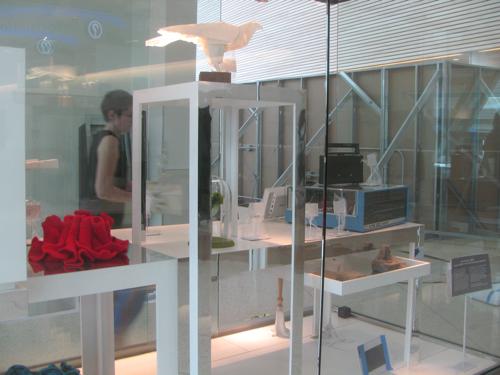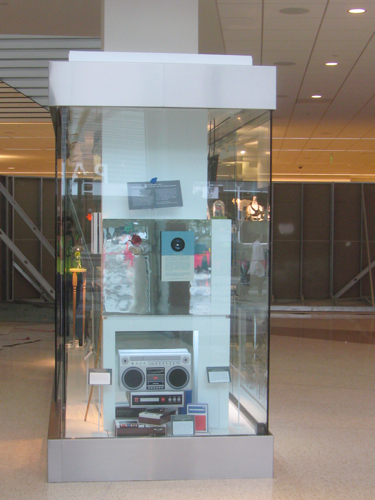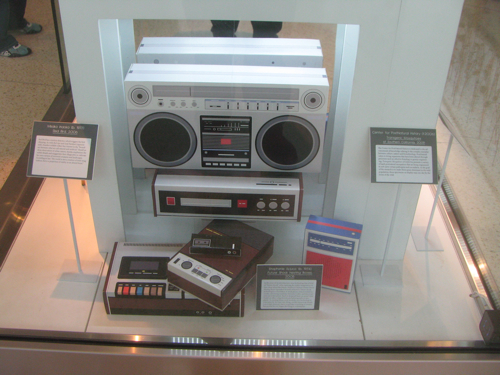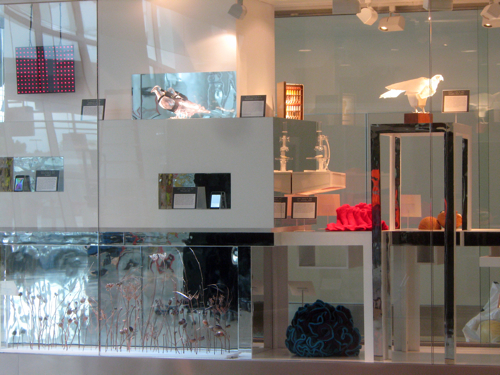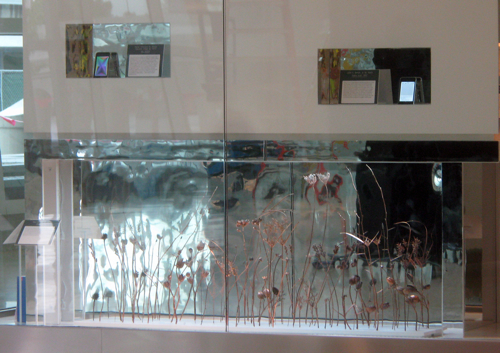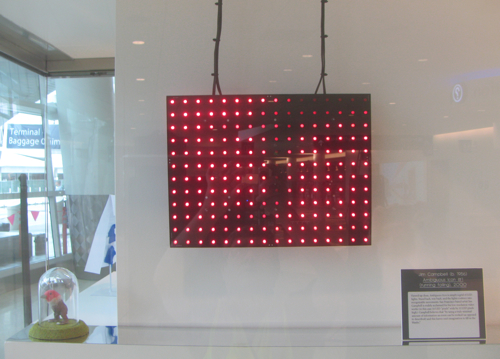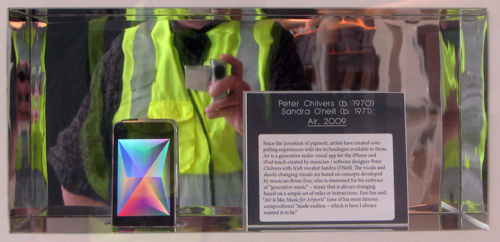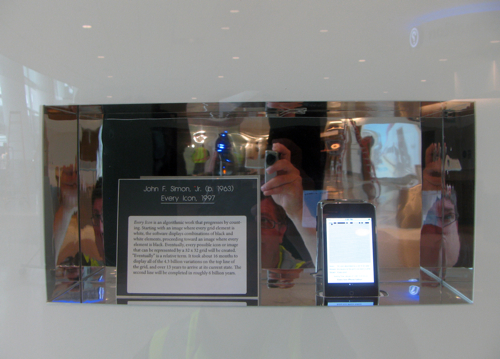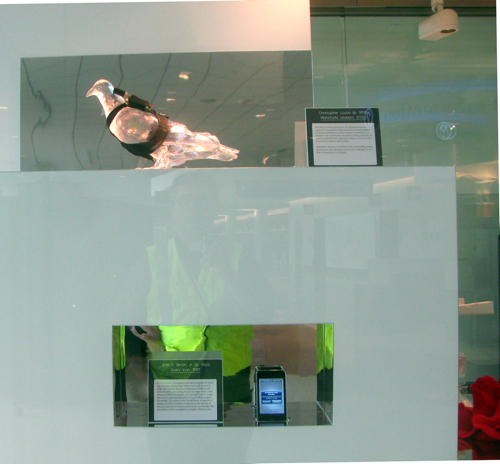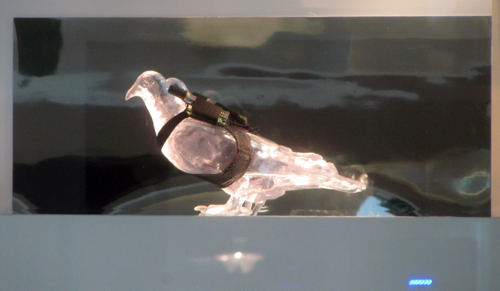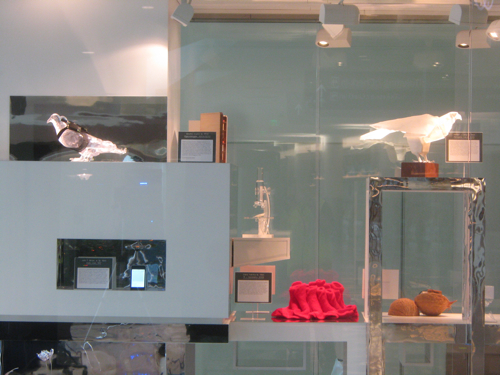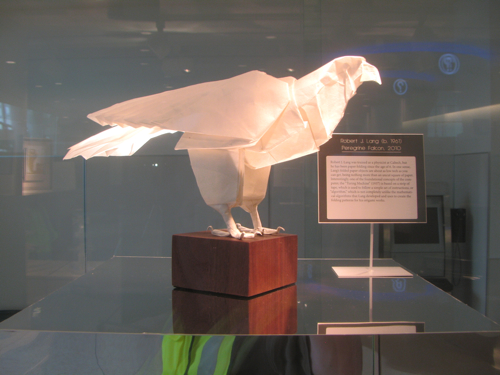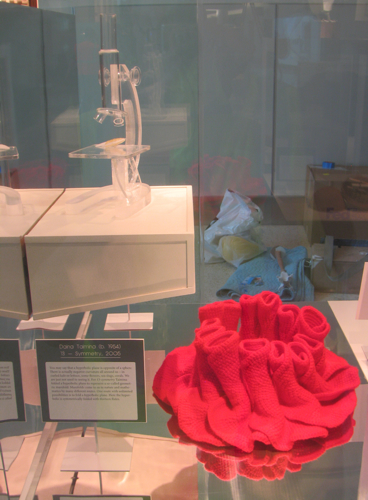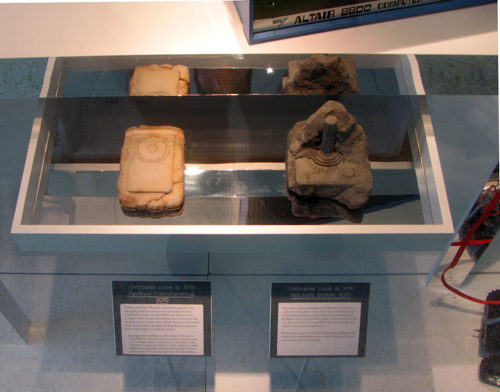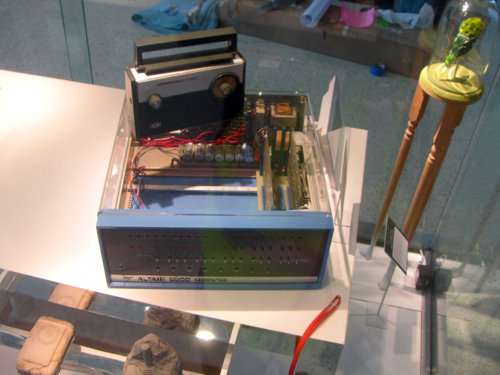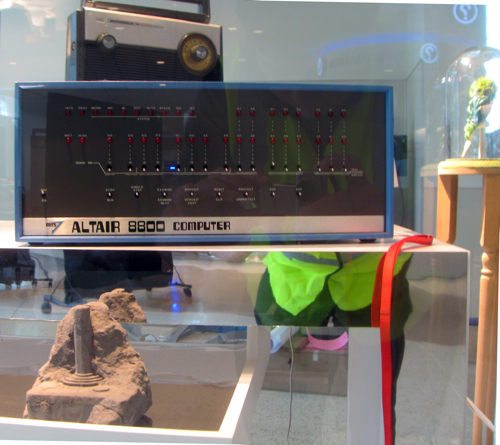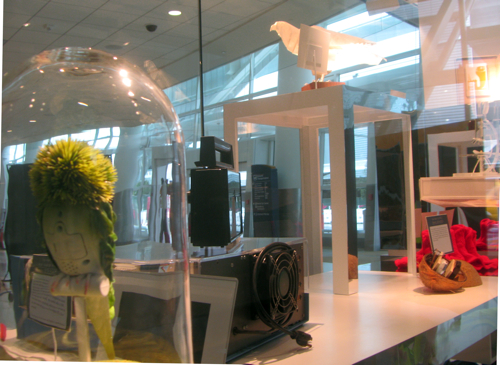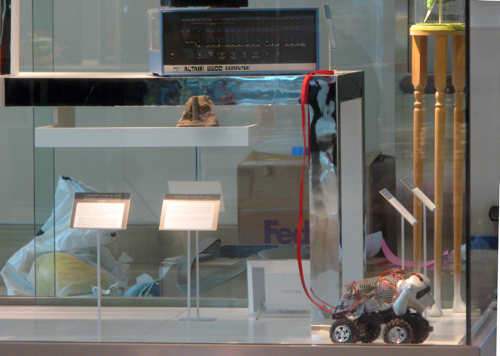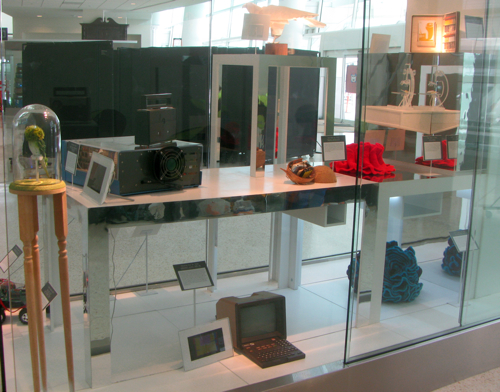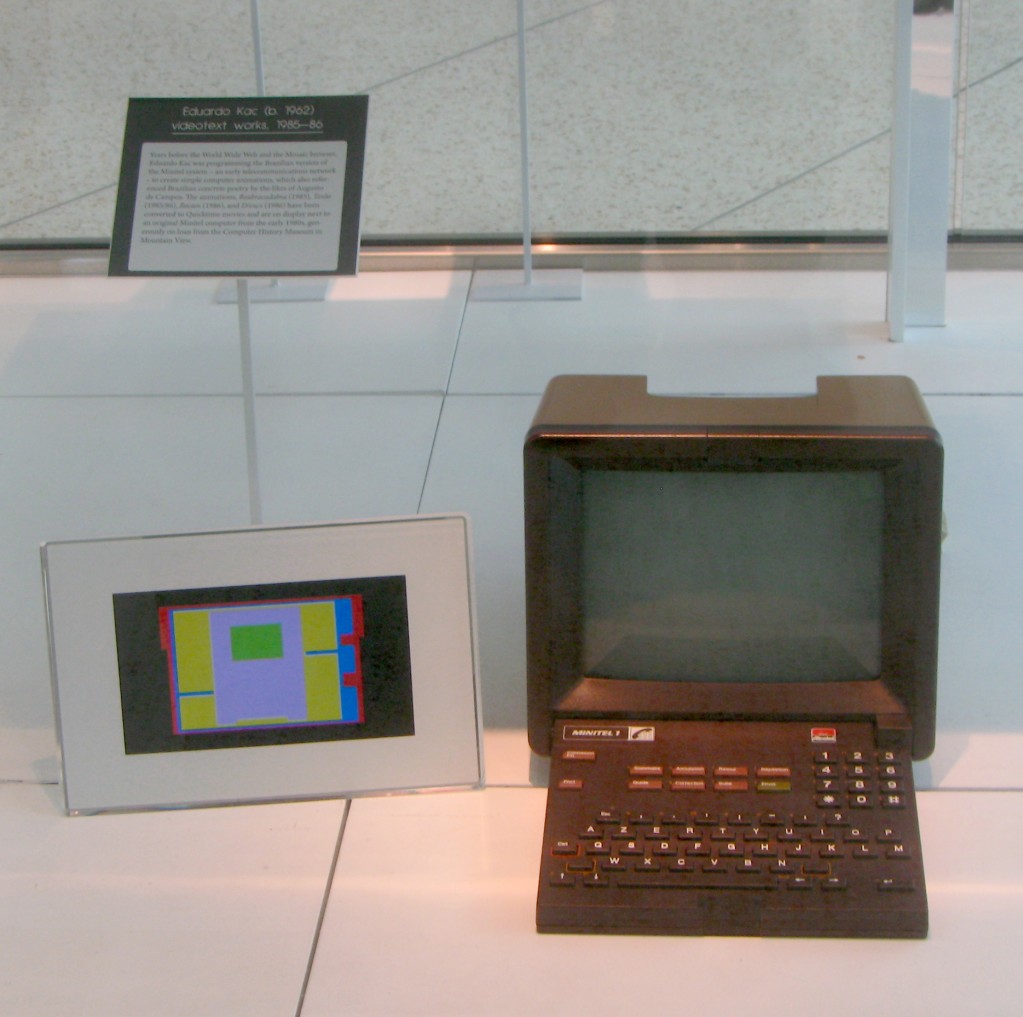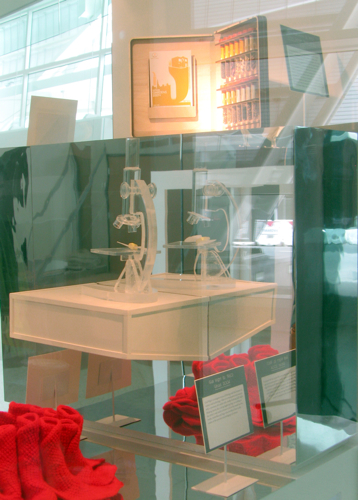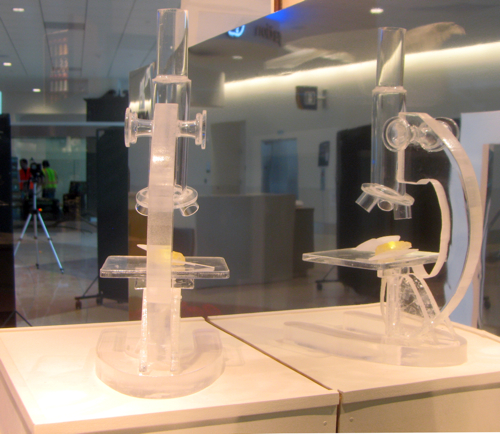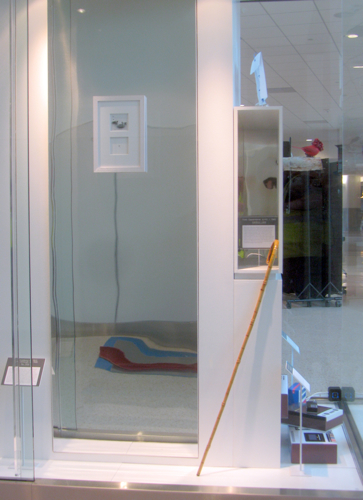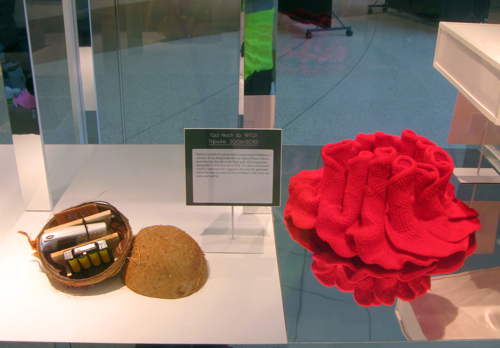 I just returned from San Jose working on the 2010 01SJ Biennial where, among other projects, I worked with Jaime Austin and Shona Kitchen to install "Small Wonders," a cabinet exhibition based on the idea of the wunderkammer at the new expansion of the San Jose International Airport – which has some amazing public art, and you should definitely fly through there next time you come to the Bay Area.
"Small Wonders" includes work by Saul Becker, Jim Campbell, Center for PostNatural History, Peter Chilvers and Sandra O'Neill, Beatriz da Costa, Amy Franceschini, Ken Goldberg and Karl F. Böhringer, Tad Hirsch, Misako Inaoka, Natalie Jeremijenko, Eduardo Kac, Erik Klein, Robert J. Lang, Christopher Locke, Frank Oppenheimer, John F. Simon, Jr., SuttonBeresCuller, Stephanie Syjuco, Daina Taimina, and Gail Wight.
"Wunderkammer, also known as cabinets of curiosities, were diverse collections of objects popular during the Renaissance and considered an early form of the museum. Literally meaning "wonder room," a wunderkammer was meant to invoke a sense of wonder and often included a wide range of objects from natural history specimens (such as taxidermy) to geological artifacts (such as precious stones) to cultural objects (such as handicrafts). Small Wonders presents a range of objects by mostly local artists.  The displays are meant to evoke the wonder of the early history of Silicon Valley, and computing in general, with projects making use of the early Minitel for animations or a hack of an Altair computer.  Other wonderful 'curiosities' that artists create employ various forms of technology from blogging pigeons, to spying coconuts, to a lifelike origami peregrine falcon."
ZER01 also commissioned a project by SuttonBeresCullter, The Wunderkammer, which they are almost finished installing. Here is a video stream of a talk they gave about the project tonight.
---
It's "old news" at this point, but still worth pointing out – and listening to.
Piotr Szyhalski's Labor Camp Orchestra is an ongoing work that has been the site for much of his public artwork over the past several years, including two installations in at LABoral in Gijon, Spain for the exhibition FEEDFORWARD – Angel of History, which I co-curated with Christiane Paul.
As the website states, Labor Camp Orchestra is
"the Aural Branch of the Labor Camp. Since it's gradual inception between 1998-1999 Labor Camp Orchestra remains committed to construction of auditory experiences, which follow no singular philosophy, process or idea."
Back in June, the Labor Camp Orchestra was featured in an NPR story by Lara Pellegrinelli, "Evolution of a Song: Strange Fruit." The words of the song were originally penned in 1936 under the name Lewis Allan by Bronx schoolteacher Abel Meeropol in reaction to a photograph of the 1930 lynching of Thomas Shipp and Abram Smith in Marion, Indiana.
I don't think I'll ever be able to listen to Billie Holiday's memorable rendition of Strange Fruit the same again after viewing this photograph, which is part of the point of Szyhalski's "cover" of it via Labor Camp Orchestra – to make visceral the Iraq war. To take us beyond the blaring headlines, patriotic jingoism, and national security fervor to a place that is literally unforgettable. According to Pellegrinelli,
"The group's version of "Strange Fruit" passes for perky, tidy electronica on first listen. In reality, it emerged from a conceptual thread on events in Iraq and specifically addresses the execution of Saddam Hussein. Based solely on Meeropol's poem, it juxtaposes his words with a woman reciting the names of fruits in Arabic. An archival recording from the Hussein execution and Koranic recitation plays in the background."
Listen here.
---