Andi Sutton contributed this report on Wearable Gardens.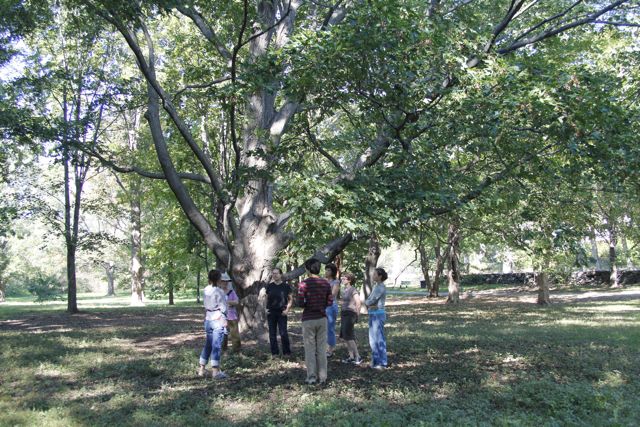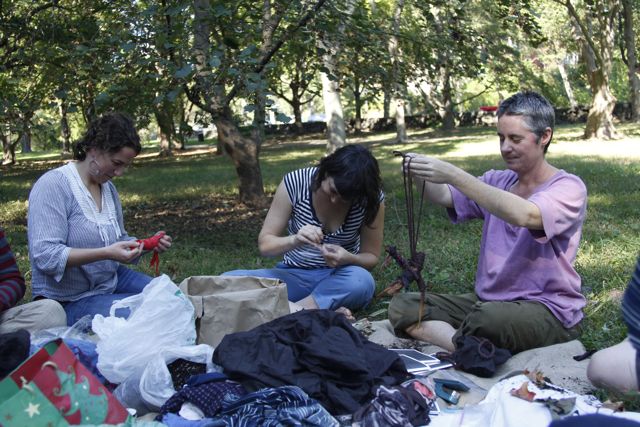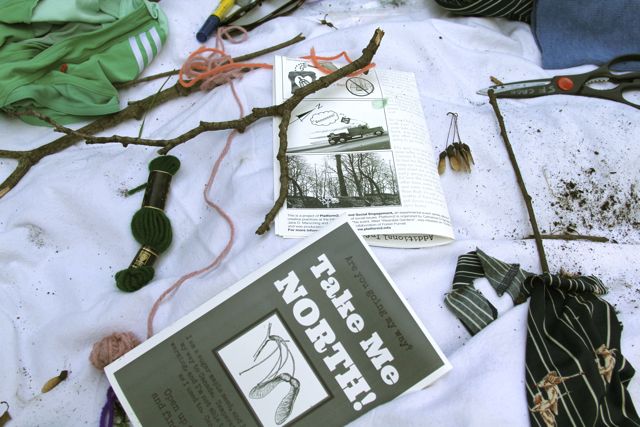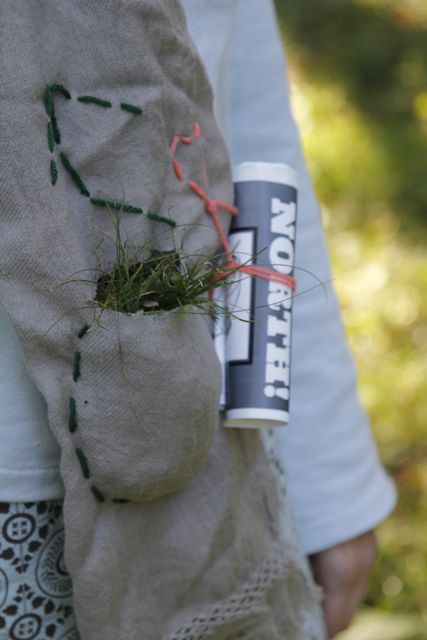 On a sunny, unseasonably warm October afternoon, nine people gathered in a circle and wrote a story.  The story was of a tree seed – the sugar maple – at risk of survival due to the environmental impacts of climate change, and the possibilities of its migration north.   It was a story in action and of action, told next to a 200 year old Sugar Maple at the Arnold Arboretum in Boston, Massachusetts, in the midst of  the largest and most diverse collection of maple trees (genus: Acer) in the world.
Participants spread around the maple grove, picking out seeds that looked mature, dried, and worn.   A viable seed pod needs at least 4 maple seeds (often maples drop seed pairs with only one half of the pair carrying the ability to germinate, and including 4 or more improved the likelihood of the wearable garden's survival.)  Around the seeds, participants packed dirt, moss, and leaves. to protect them during the next 3-5 months in a cold, damp environment where they are exposed to friction.  Participants addressed the design challenge of making a wearable pocket that could travel on a human body, that could keep the seeds moist and cool, and have some level of friction through its movement.  The creations varied: seed bearing scarves, an armpit band, a garter belt, a jacket sleeve and a pocket-on-a-stick.  The items were decorated with embroidery, with lace, with yarn and with instructions.
To close, each wearable garden was attached to a map to aid in sending these seeds on their way north.  The map included information on the various viable territories for the maple seed, and how they may change between now and the year 2100, along with how to care for the seeds.  It included 3 different highway routes up the East Coast, each ending up in a different region in Canada projected to have the most conducive climate to Sugar Maples 100 years from now.  Each participant had ideas in mind of where they would leave their pods.    One participant was on his way to Maine that very weekend and intended to leave it by a maple sugar shack at the trailhead where he was going to go hiking.  Another was headed to Vermont. Yet another had plans to visit a CSA farm, also in Maine, and planned to leave her creations there.   One wearable garden was hung on a pedestrian crossing sign on a nearby highway, along with the map and a wish of safe journeys.
Oct. 8, 2011
1-3 PM
Arnold Arboretum
—-
A project of Platform2: Art and Social Engagement, an experimental event series that sits somewhere between a classroom, community organizing, and 1960s happenings. Platform2 is organized by Catherine D'Ignazio (kanarinka), Jane D. Marsching, Savić Rasović and Andi Sutton. Andi Sutton is an artist whose current practice explores the ways that duration, dialogue, endurance and exhaustion can push socially prescribed boundaries of human interaction. Working in a solo and collective context, her projects take the form of web, media, and street intervention, video and performance art installation. Her works have been shown nationally in shows and festivals such as Pathogeographies (2007), Contaminate II (2007), PURE: An Exhibition (2006), The Paper Show (2005), Mix NYC (2003), Better Homes and Guardians (2003), Politically Charged (2002), among others.
---
Arriving late Thursday night in Istanbul after a full day of teaching and a drive from Milwaukee to catch my connecting flight to Frankfort from O'Hare… I am jetlagged. I'm in Istanbul for the ISEA (International Society of Electronic Artists) Festival and Conference. Given that I am two days late for the festival, my account will be limited and personal. I've already missed much, and will miss more. Simultaneous events are scattered all over Istanbul, and navigation is tricky.
I made it to the conference in the sub-sub-basement of a financial complex, and sat through several sessions of artists and curators presenting papers. Topics included "The Body and Digital Space," "Philosophy and Ethics of Bioart," "Locative Sound," "Robotics, Interactivity and Public Space." For more information, click here and select Paper Sessions:
That evening, I groggily traveled by funicular and tram to the Sultanamet area of the Old City and went to a Turkish bathhouse to see Southern Ocean Studies by Tom Corby, Gavin Baily and Jonathan Mackenzie.
Projected on the domed entrance hall ceiling of the 427-year-old Çemberlitas Hamam, the artwork depicts the Southern Ocean circulating Antarctica. According to the artists, the project software runs in real-time generating the ocean currents on the fly, to which are mapped various other ecological data sets.
The back-and-white visualization of wind and tide evoked phenomena both small and large: lines of crawling ants and storm-tracking satellite maps. I like the idea of superimposing vortex-like imagery on a dome, and data from a cold place onto one that features heat. As with many new media works with a sociopolitical or scientific agenda, this one was more interesting to me in terms of its real-time data mapping content and symbolism than as a formal artwork. Both the intellectual and aesthetic impact of the piece might have been served by a larger, more encompassing projection in one of the huge domed hot rooms where bathers sweat on their backs while looking upward. For technical or cultural reasons, these options may not have been feasible in a traditional hamam.
I decided to have a Turkish bath.
---
Bruce Charlesworth is an artist, writer and filmmaker. He one of the pioneers of postmodern staged photography and among the first artists to use video and audio to power aspects of physically immersive "narrative environments." He teaches in the Department of Film/Video/New Genres at the University of Wisconsin Peck School of the Arts in Milwaukee. He previously reported on Ars Electronica in 2009 for Public Address.
---
Happy New Year! And thanks to Steve for the invitation to blog about art in the public sphere across the west coast during 2011. I look forward to the extended conversation.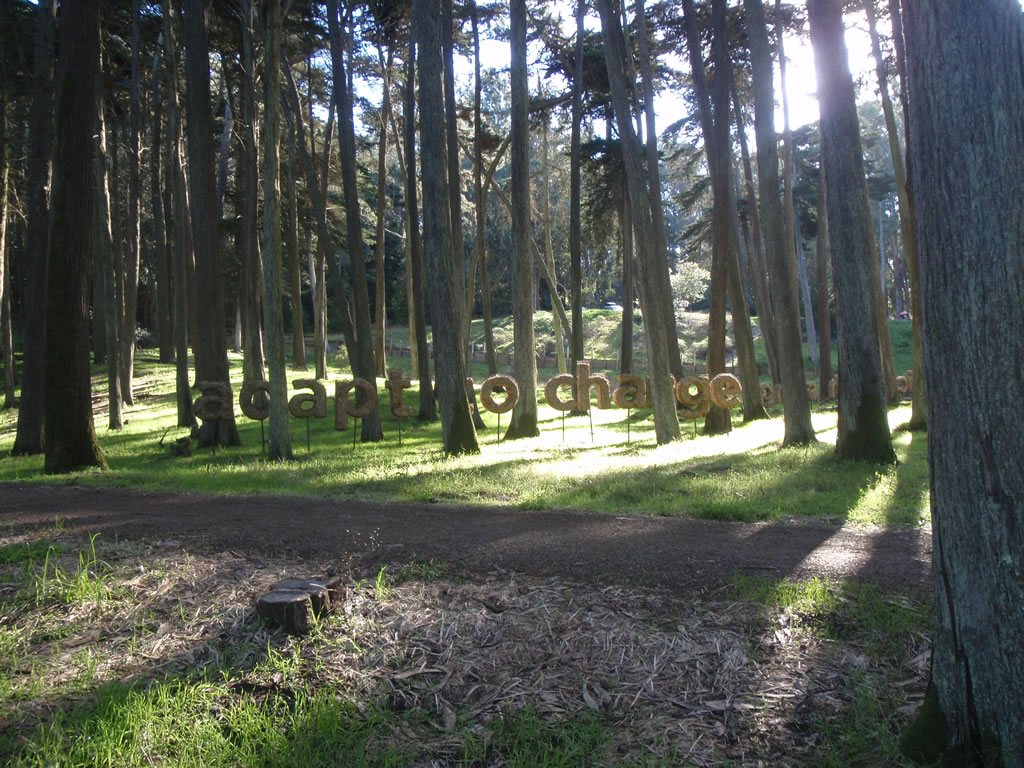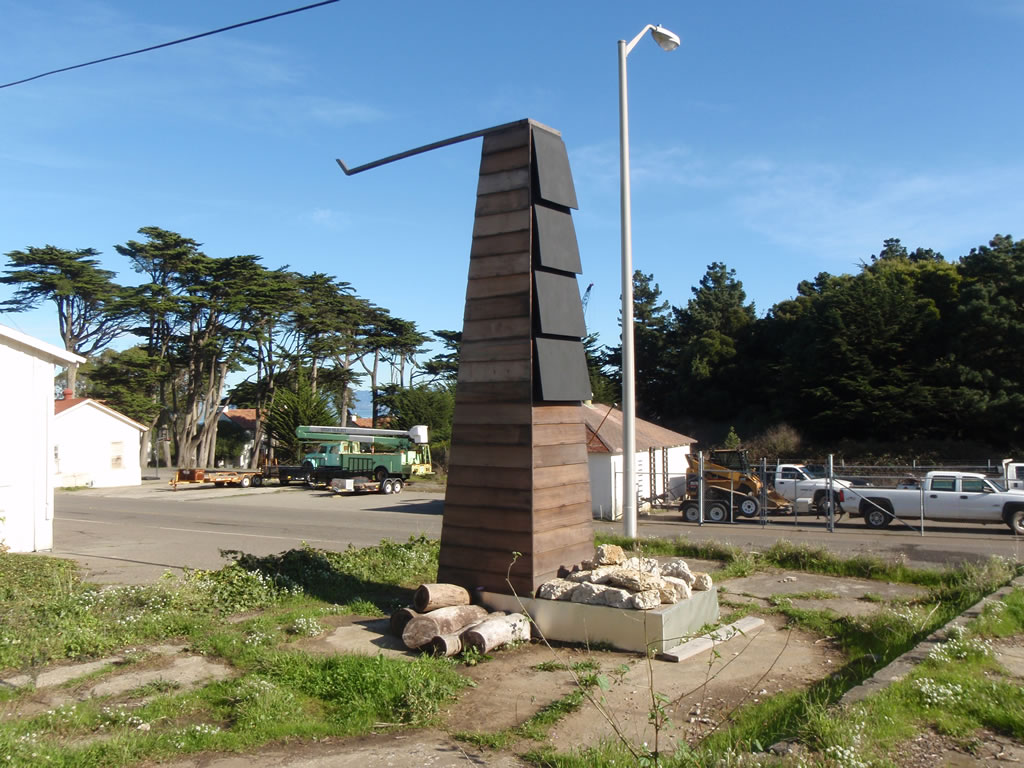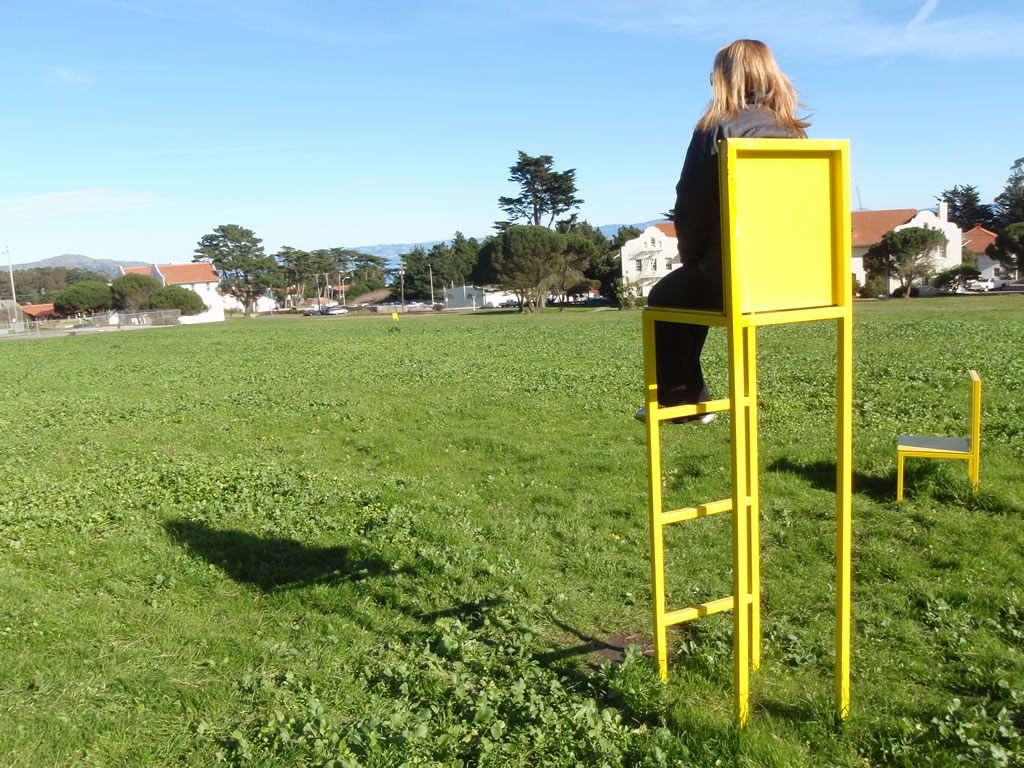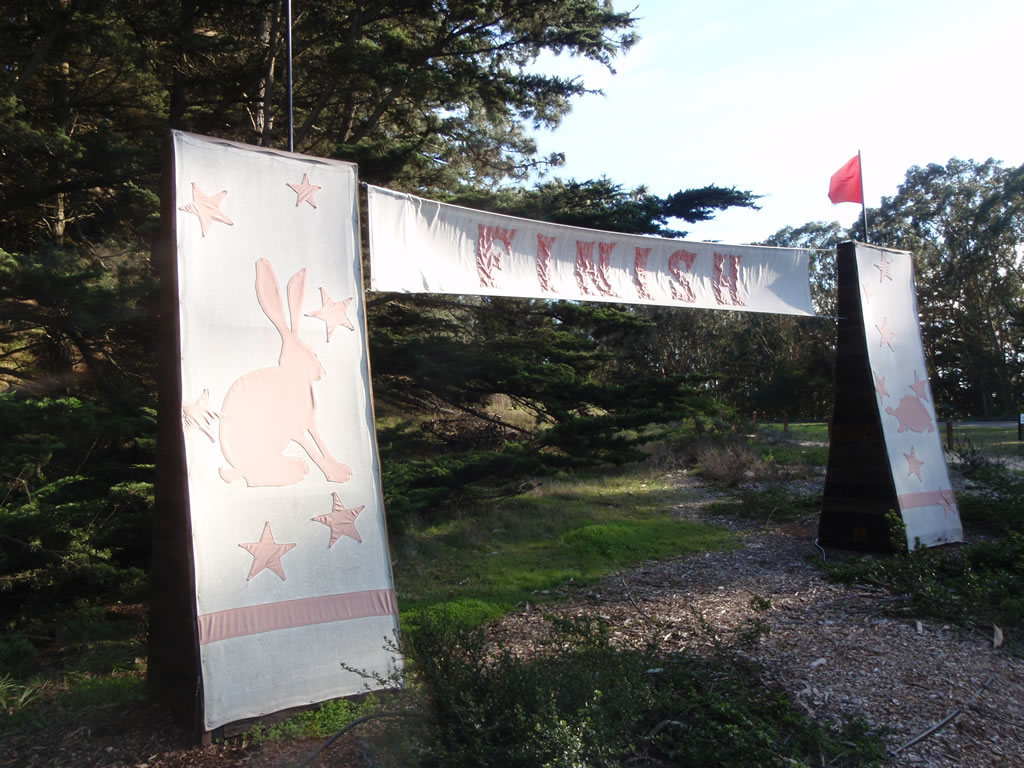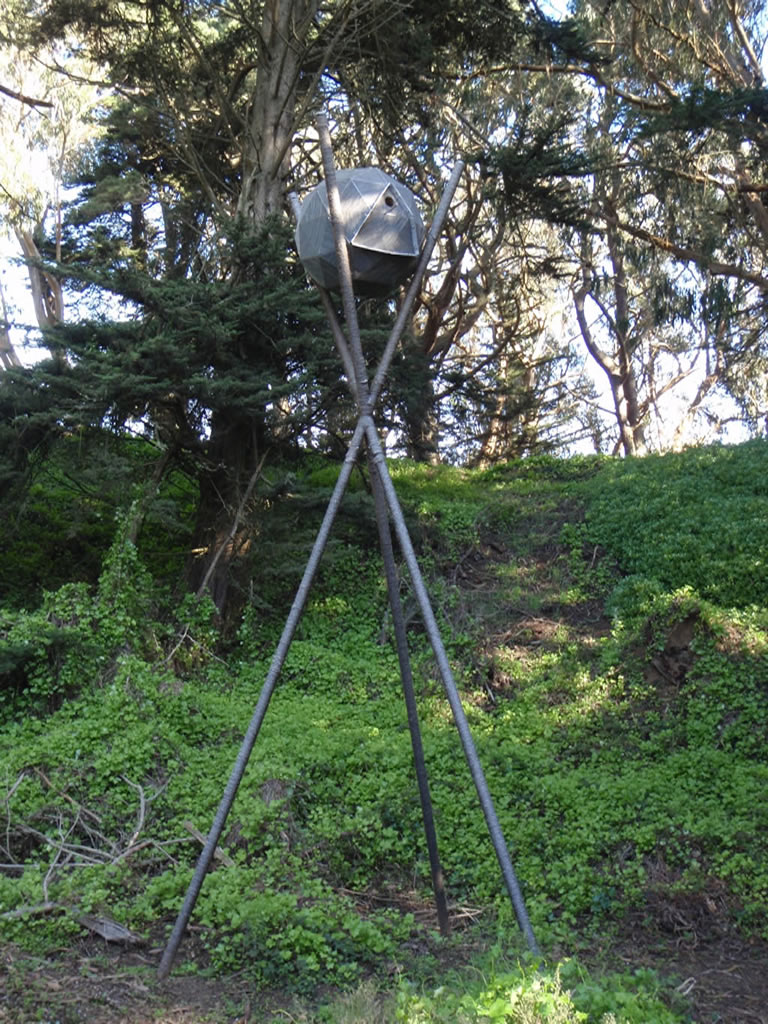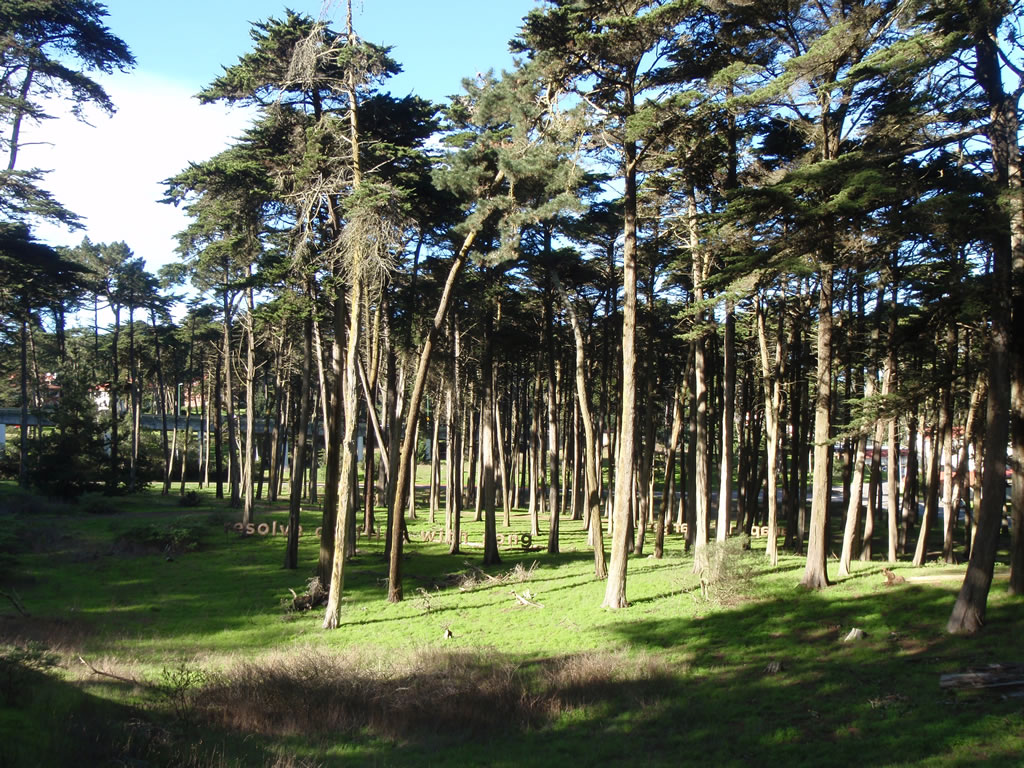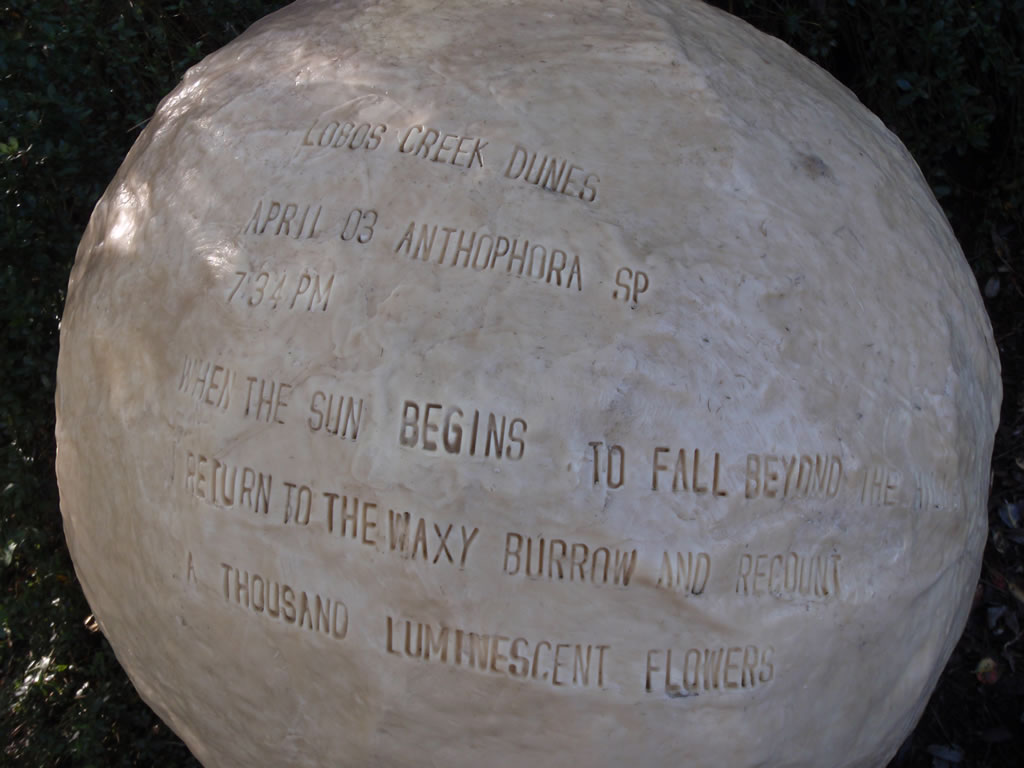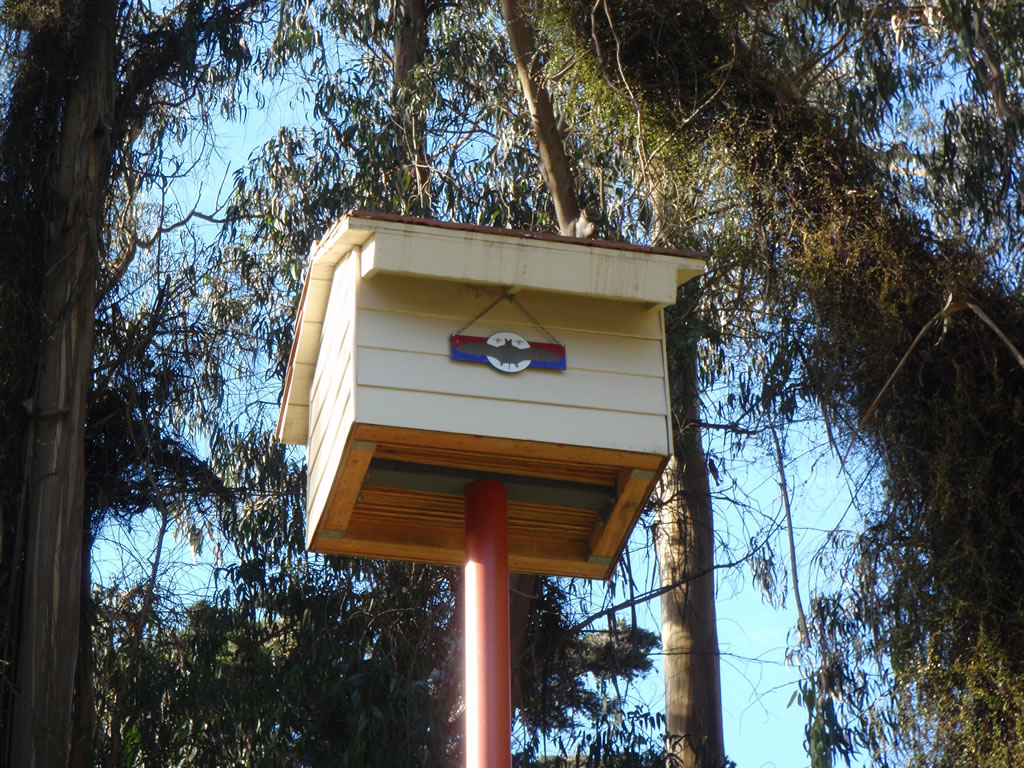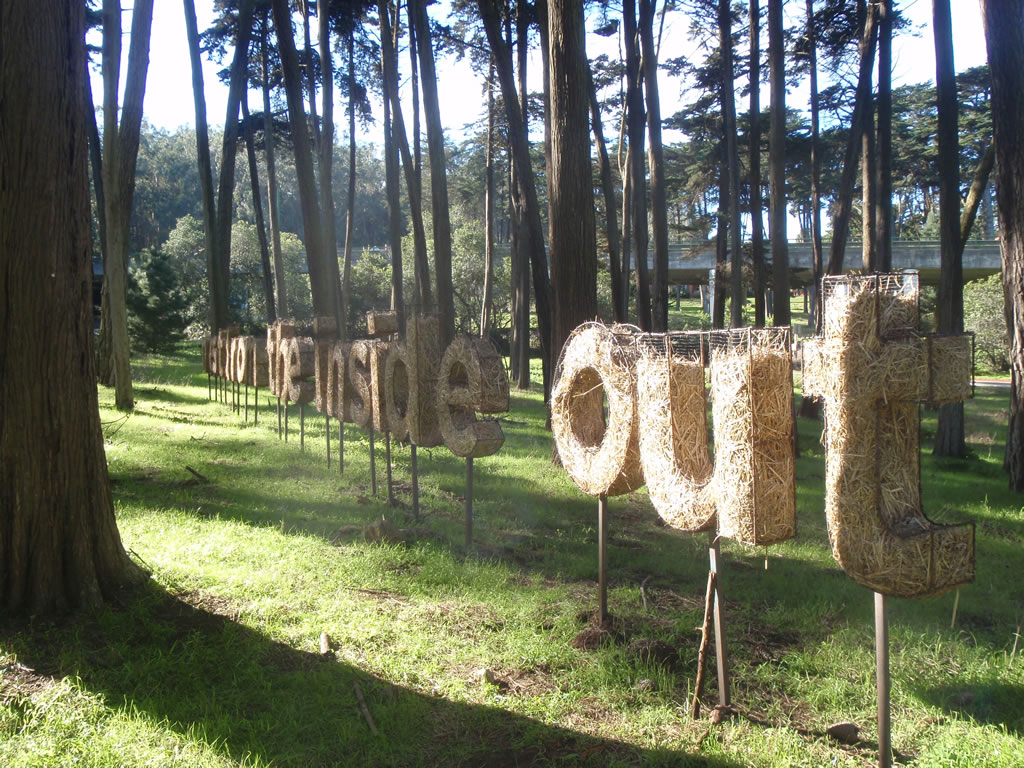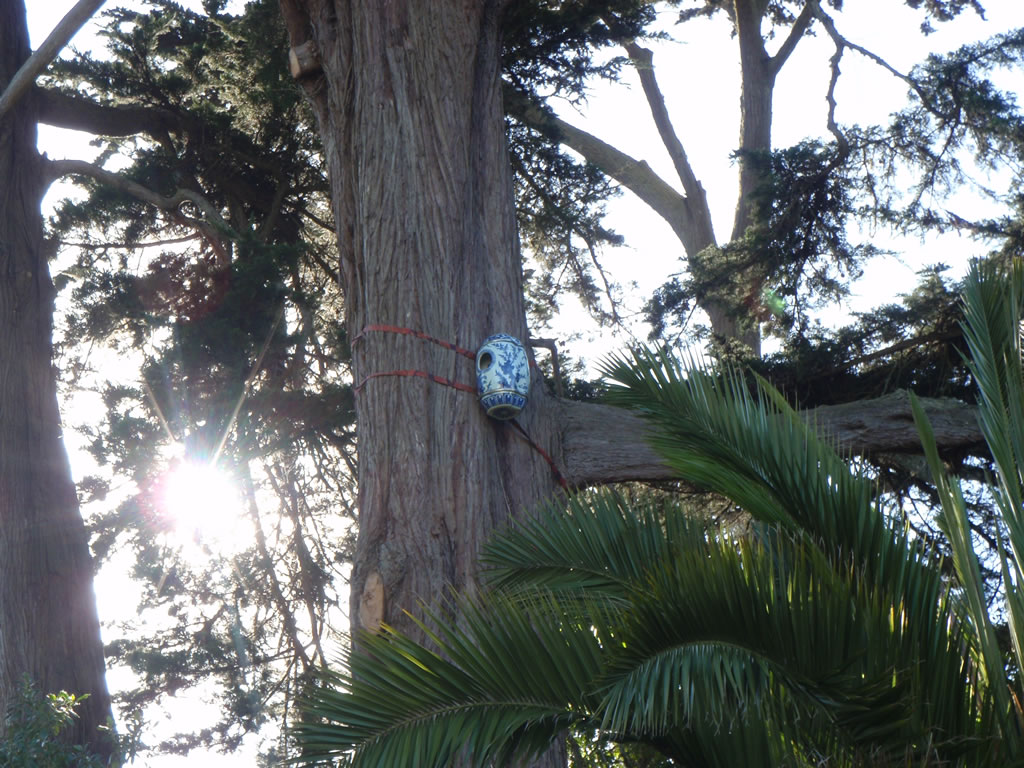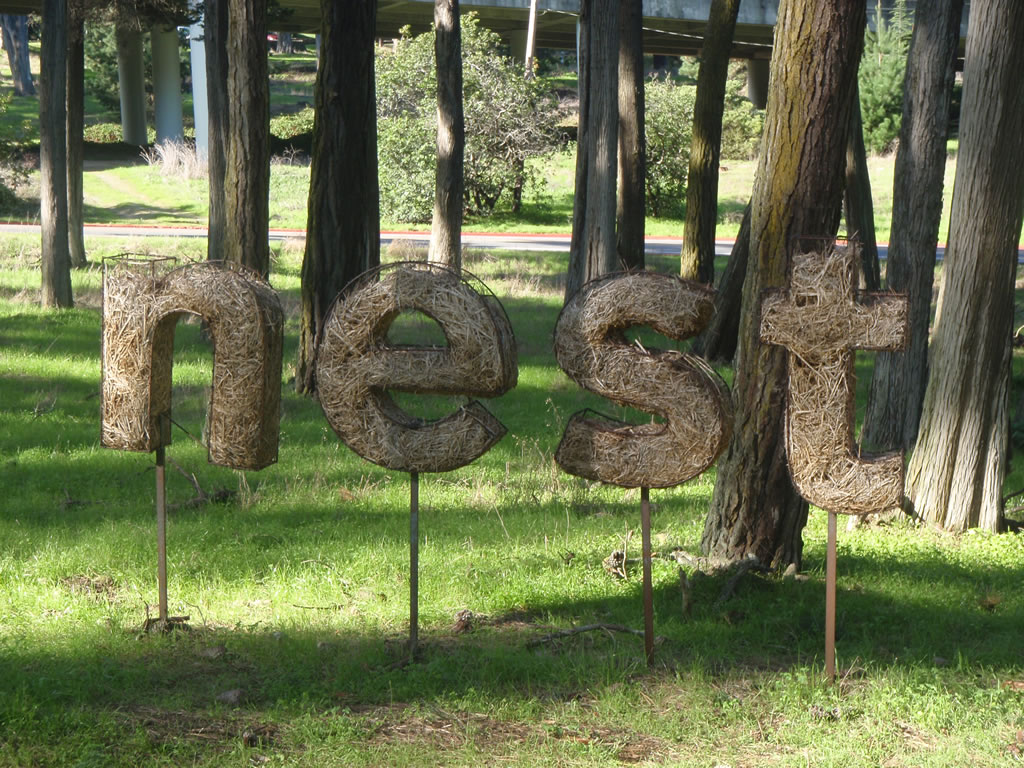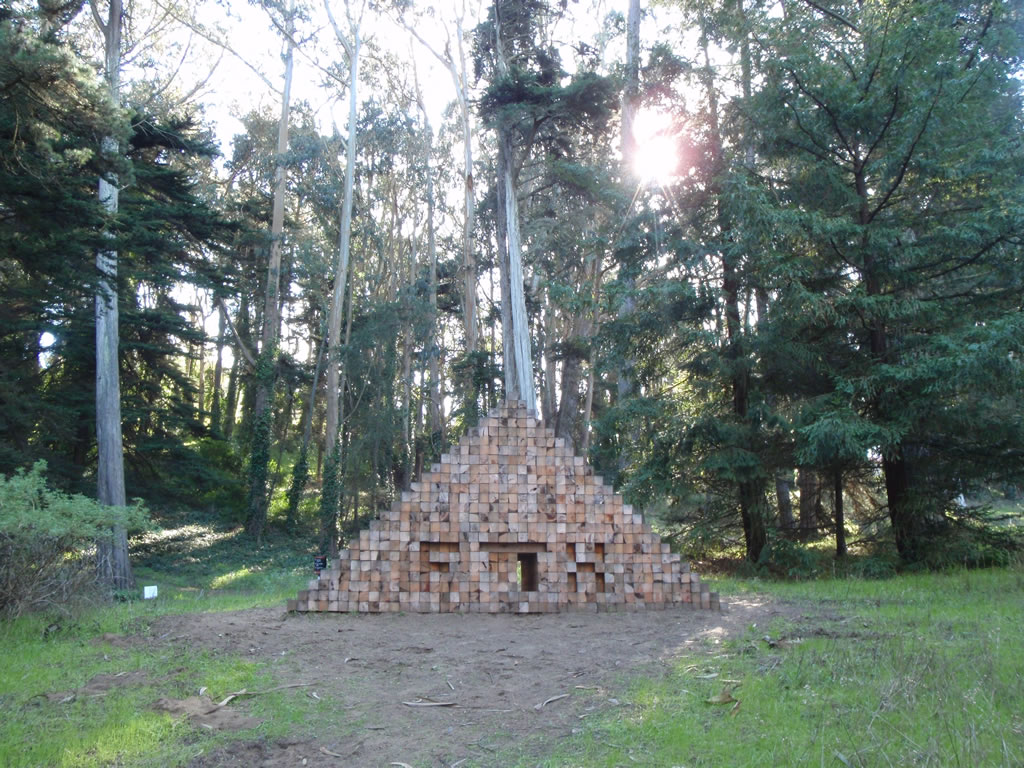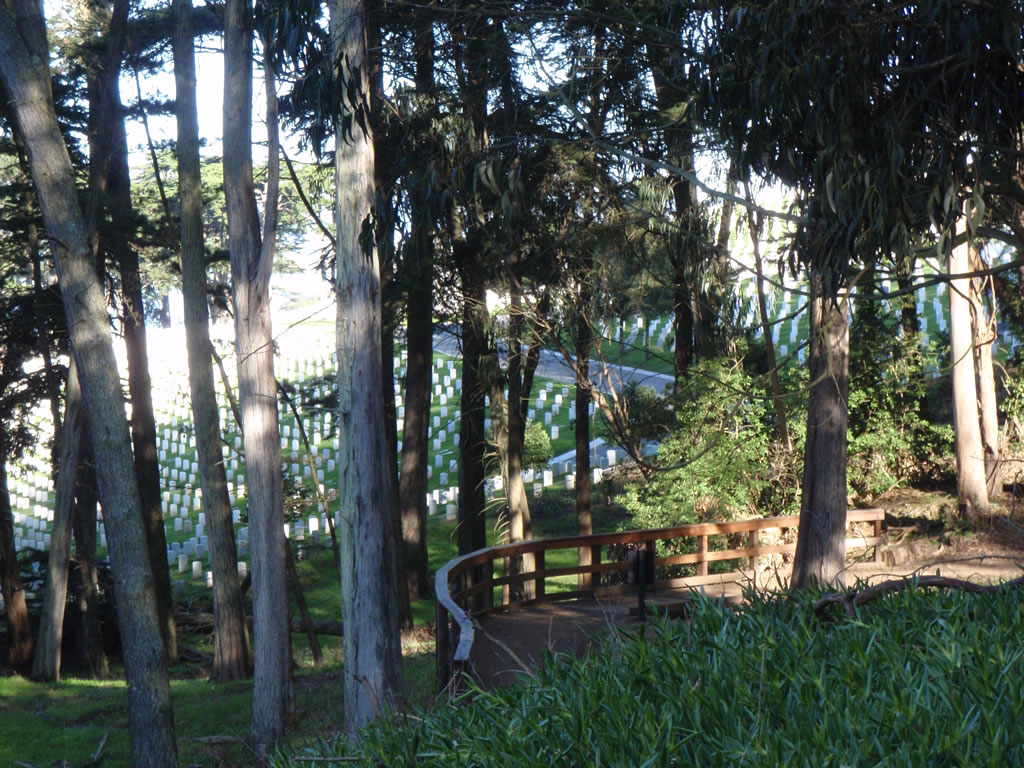 The holiday rains finally let up long enough for me to spend a gloriously crisp and sunny day trudging through the urban wilds of San Francisco. Nestled within the Presidio (which is a bit of an anomaly—once a military base, and now a national park located within a major city) is Presidio Habitats, an exhibition of eleven site-specific art installations (plus an exhibition pavilion made of 3 shipping containers that features an additional 14 proposals which happened to be closed during my visit) that claims to be the first site-based art exhibition conceived for a national park. Twenty-five artists, architects, and designers were initially invited to propose custom designed habitats for animal residents of the park. Some of the artists, like Fritz Haeg, had investigated the territory of animal habitats before. His first Animal Estates project was included in the 2008 Whitney Biennial, and subsequent animal-specific estates were designed for SFMOMA and other sites in Austin, Cambridge, and Utrecht. For others, this was new territory.
I began my visit imagining the exhibition as "Art for Animals." Spaces designed specifically for individual species, with visiting people as the secondary audience. It is with this mindset that I hiked to see the following works:
Sculpture Habitat for the Fox by Danish architecture practice CEBRA is a minimalist pyramid of stacked wood, with a central cavity that can be entered through the letter 'o' in FOX (see image). Yet the reality is that there most likely isn't a single Gray Fox left in the Presidio (due to encroachment by the city, and the recent return of Coyotes to the park). Thus, the recessed niches in the sculpture's face become an epitaph as the sculpture sits in a state reminiscent of "Waiting for Guffman."
A similar melancholy pervades the Western Screech Owl Habitats by Chinese artist Ai Weiwei. The classical Chinese vessels nestled high within a tree are reminiscent of funerary urns, reminding the viewer that the Screech Owl has not been observed in San Francisco for over a decade.
And Nathan Lynch's Where is the Hare? playfully places banners and flags to mark start and finish lines for a re-creation of the fictional race that takes places in Aesop's fable, "The Tortoise and the Hare." Yet the empty set serves as a reminder that there are no Black-tailed Jackrabbits (or tortoises for that matter) to play out the tale.
All too soon it became clear that many of the installations were monuments to dead, displaced, or disappeared creatures, not unlike the rows of white gravesites lining the hills of the Presidio nearby…
The creation of monuments and memorials has kept artists and architects employed for millennia. What makes this series of installations distinctive (especially vs. plop art monuments set in sterile plazas) is that each sculpture re-interprets its site and prompts the user to imagine the presence of the animal within the exact habitat where they used to live (the exhibition makes the case for habitat restoration, and the labels on each work educate the viewer on the species as well as the artist and artwork). It is as if the viewer is playing the waiting role of Goldilocks—they've entered someone's house where the porridge is still on stove and are merely waiting for them to return.
But just to be clear, not all the sculptures are monuments to the disappeared.
I was especially interested in seeking out Winged Defense by Mark Dion and Nitin Jayaswal because I used to play evening tennis at the nearby courts, and frequently saw bats swooping soundlessly around the court lights in the early evening. Modeled after the spartan barn-like architecture of the nearby military barracks, Winged Defense looks like how one might imagine Batman's barn. Propped high in the sky by a pole, with a simple opening at the bottom for entry/exit, and a pretty hip logo (if only it glowed in the dark or beamed light into the night!).
And the first work I came across left the longest lasting impression. Winged Wisdom by Philippe Becker Design is less of an explicit habitat and more of a message to humans that serves the dual purpose of aiding the nesting efforts of birds, the whimsical work consists of three super-sized aphorisms nestled within a dramatic tree grove. Each letter is framed with a metal armature containing straw—a gift of nesting materials from artist to the American Robin.
adapt to change
resolve conflict with song
nest from the inside out
The typographic work contains resonances of Lawrence Weiner's conceptual works in that language is used as an art form, but in this case there is truly an object to behold. During my visit a family was picnicking and kids were running between the letters. I didn't see birds, but this installation felt more occupied by human life than any of the others I visited. Maybe because the Robin is thriving within the urban landscape this installation struck me as a celebration of all forms of life—for even us humans need to be reminded that change is a constant and adaptation is survival.
Presidio Habitats is on view through May 2011. If you plan to walk through all 14 habitats, allow at least two hours for exploration (or its possible to drive between them). Presidio Habitats is presented by the FOR-SITE Foundation in partnership with the Presidio Trust. You can download a pdf brochure that contains a history of the Presidio and describes all the installations here.
---
Futurefarmers is one of my favorite artist groups, and I have had the privilege of working with them on a number of projects (Free Soil Bus Tour, Sunshine Still/Speak Hard, A People Without a Voice Cannot Be Heard), so I was excited to see notice of this new project in Philadelphia, Soil Kitchen. The press release from the Office of Arts, Culture, and the Creative Economy describes the project –
"[Soil Kitchen] will incorporate community involvement, naturally generated energy, local foods, food exchange, the creative reuse of a brownfield site, and brownfield mapping. This new site-specific public artwork will provide a stage for interaction, dialogue, and education on topics of sustainability that impact every Philadelphian."
It's a tall order for a kitchen, but the project builds on a related history of Futurefarmers' work that bodes well for its success. Victory Gardens – "A local network of home gardens = A community of food producers!" – was an exemplary community involvement project, which sought to at least reference if not recreate the remarkable "community" success of World War II victory gardens. It was also the occasion for the creation of the photogenic Garden Trike, which you can see referenced in the sketch above. Rainwater Harvester/Greywater Feedback Loop was a DIY system not unrelated to the rooftop windmill for naturally generated energy (presumably).
The exterior sketch of Soil Kitchen reminds me of a place like Waffle Shop in Pittsburgh, where a normative architectural facade of a restaurant belies an interior experiment in creative sociability. Inside Soil Kitchen, it's not just dour tree huggers expounding on the chemical propertiesof this and that agent. It's a party! For Futurefarmers' Sunshine Still/Speak Hard project as part of Out of the Garage Into the World, they appropriated  the idea of the glamorous prohibition era speakeasy but made it a "speak hard," where hard truths – or at least assertions in an ongoing debate between solar and bio fuel energy proponents – were debated in forums well lubricated by their sunshine still.
Abiding commitment, expert knowledge/knowledge of experts, social conviviality, a formally beautiful DIY aesthetic, and an uplifting playfulness distinguish Futurefarmers' projects. I can't wait to taste test in the Soil Kitchen.
Sidebar rant
Kudos to Philadelphia's Office of Arts, Culture and the Creative Economy for commissioning this project, but I can't help but think that their press release headline "Philadelphia's Office of Arts, Culture and the Creative Economy Commissions FUTUREFARMERS for the City's First-Ever Temporary Public Art Project" identifies just about the least interesting and unimportant aspect of the project. What's up with that? We produced similarly unimaginative headlines for the 01SJ Biennial, and I also plead guilty as charged. The press is fascinated, of course, by "first," "most," "biggest," and various other ests, but we cater to them in our short term desire for coverage at the peril of lack of understanding and ultimately support over the long term.
---