Tag Archive for "public sphere"
Architecture of Agonism from the Kitchen Table to the City Street
Public Symposium
April 12–14
Co-Presented with and at the Walker Art Center
In an era of cultural conservatives and the liberal elite, Occupiers and Tea Partiers, civil uprisings and government crackdowns, perhaps the one point of agreement today is there's no shortage of disagreement. But if that's true, then why isn't there more debate—not online flame wars, not the televised jockeying of political candidates, but live, in-person dialogue?
Join with a range of other unlike-minded people to debate and discuss, disclose and expose—and find out what happens when you move beyond agreeing to disagree.
More information here.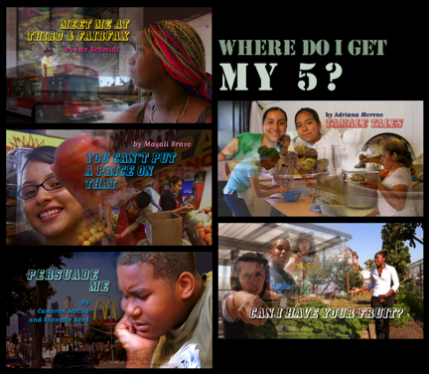 Public Matters, LLC, a self-described "rag-tag group of consultants", is the artist-run initiative behind the production of the South L.A. Market Makeovers. Their goal, simply stated, is to "work with community members to create media about their neighborhoods…to develop in them a sense of ownership over these places and a belief that they can directly shape their neighborhoods' future.
A post by Sue Bell Yank
Become the protagonist in an urban cell phone led adventure through the streets of Minneapolis. Blast Theory's A Machine to See With will play out on the streets of Minneapolis April 15-19, 2011.
I hesitate to reveal too many specific details about the work because I want to avoid spoilers. This is an artwork that you must experience yourself.
Definitely humorous – for a $100 contribution to Crouse's Kickstarter campaign, he will personally take your favorite movie and use "The Moustachizer" to add moustaches to everyone in the movie. – Unlogo also raises serious issues about how the increasing commercialization and privatization of contemporary society plays out in an increasingly hybrid public space, where all your vacation photos and videos posted to Facebook (or wherever) also become augmented megaphones for the brands and logos in those "memories."
Join me in supporting Jeff's Kickstarter campaign for Unlogo.
"Sociologist William Whyte's late twentieth-century clarion call for a "rediscovery of the center" asked us to reconsider centralized, dense public spaces rich with unexpected encounters and "maximum choice". His appeal still echoes, but against radically different conditions. Notions of density, the public and private realms, and the experience of urban space have been re-inscribed in the purview of networked culture — the decentralized, layered, re-publicized and de-privatized conditions of virtual cooperation, coordination, and performance. The explosion of mobile media has transformed understandings and experiences of mobility and presence for technology users and non-users alike. Our social, cognitive, industrial, geographic, and economic experiences and systems have become severed or skewed from traditional anchors and re-oriented within network culture."
from Rediscovering the Center…Again by Nepal Asatthawasi and Germaine Halegoua via the network architecture lab
I was going to write a longer response about seeing Marina Abramovic's retrospective The Artist Is Present here on Public Address, but when I tried to do the short version – Amazing! See it! – on Facebook, it wouldn't let me post the link to the MOMA site.
"Today our ideas on public art are no longer fixated on official art and State mythology, and monuments. The vision of what public space is has been radically transformed – so that, when artists intervene in the public domain, they are not making objects such as statuary, but are reflecting on and engaging with the larger social and political processes that govern the area they are working in, the neighbourhood or community with which they have formed a working relationship or an empathetic alliance."–Nancy Adajania, Public Art? Activating the Agoratic Condition
---