The Future River: Call for Augmented Reality (AR) Project Proposals
Find a downloadable version of this call here.
Phase 1 deadline: 11:59 pm CST, October 31, 2021.

This call is closed. 
Introduction
Northern Lights.mn with long-time partners Mississippi Park Connection and the National Park Service are excited to announce a new opportunity for artists to engage with the Mississippi River and Owamni-yomni/St. Anthony Falls in downtown Minneapolis in the creation of an Augmented Reality work. 
This call is a new iteration of our commissioning platform previously called Illuminate the Lock. We aim to build on this project history by expanding the artistic forms we support and invite artists, particularly Native artists, to engage with broader sites along the downtown Minneapolis riverfront. 
Place and Context
Owamni-yomni, also known as St. Anthony Falls, is a changing place. In this moment of deindustrialization, the Army Corps of Engineers aims to shift ownership of the decommissioned Upper St. Anthony Falls Lock, while development along the Minneapolis riverfront focuses on access, connection, recreation and culture. 
In parallel, a growing and past due movement calls for bringing Indigenous lifeways and stories of these places into the mainstream. Projects like Andrea Carlson and Moira Villiard's past Illuminate the Lock projections, Minneapolis Parks and Recreation's Owamni Falling Water festival, the official renaming of Bde Maka Ska, and the long-awaited opening of Sean Sherman's (aka the Sioux Chef) restaurant Owamni on W. River Road are part of this movement. 
Alongside these cultural changes, our shifting climate affects the Mississippi's human and non-human inhabitants. Project climate change impacts in this area include increased temperatures, heavier rains and floods, as well as more drought stress in the summers from dramatically decreased snow. 
Given these shifts, what is the future of the river? How do Indigenous histories and present ways of being give us vision for what could be next?
We are requesting proposals for Augmented Reality (AR) projects created by an artist or artist team with significant Indigenous leadership to illuminate ideas for the future river. 
Why are we asking for significant Indigenous leadership? Part of the mission of the St. Anthony Falls Heritage area is to combat the whitewashing of the Mill District's history by developing a meaningful presence for Dakota and Indigenous voices within the Heritage Zone.
For Northern Lights.mn, this project allows us to continue our commitments to working with Native artists and to use our programmatic platforms to support Indigenous storytelling.  
Technology
This is a call for Augmented Reality (AR) proposals. In this context, AR leverages a smartphone or tablet to digitally augment a user's real world view through their device's camera. 
The AR experience can include a variety of media including, but not limited to, 2D assets, photographs, 3D assets, animation and sound. AR projects can range from simple imagery to fully interactive and immersive environments. 
For this call, the budget level and production timeline for this project skews toward simpler projects (rather than fully interactive or immersive works). Access to this technology for artists is a high priority for this call; we encourage artists without prior AR experience to apply.
Here are is a small set of examples of AR projects we are inspired by: 
Applicants do not need to have previous experience with AR to apply.
Artwork in any media can translate into AR — sound, music, video, photography, animation, drawing, painting, etc.  An artist or artist team's ideas and how they are expressed artistically are more important than an understanding of the technology for the first phase of this call. 
Applications that move to the finalist stage will have an opportunity to work with REM5 Studios to flesh out their final proposals, including polished tech specs and budgets.  REM5 Studios is a local XR experience agency with a mission to break down barriers to accessibility in immersive technologies.  
The winning proposal may continue working with REM5 for production and development of the project, or may choose their own AR developer. 
A key goal of this call is to break down barriers for Native and non Native artists interested in working with AR technologies by providing these supports. 
Eligibility 
The Future River call is open to Native artists or artist teams with significant Indigenous leadership. Applicants will be asked to describe their leadership team in the application.
Companies or nonprofit organizations are not eligible to apply. 
Artists do not need to reside in the Twin Cities or Minnesota, but must be available for periodic site review throughout the process as well as during the launch of the project's public presentation, with a limited travel budget. 
Applicants do not need to have previous experience with AR to apply (see above).  
Place 
The site of focus for this project has many names: Owamn-yomni in Dakota, Gakaabika in Ojibwe, St. Anthony Falls in English. It is where the Mississippi river flows through Minneapolis, near it's downtown core.  
We are looking for projects to be activated within a portion of the Saint Anthony Falls Heritage Zone. Specifically, projects must be sited within the areas between the 3rd Ave bridge to the 35W bridge on the West side of the Mississippi River. 
Eligible areas highlighted below: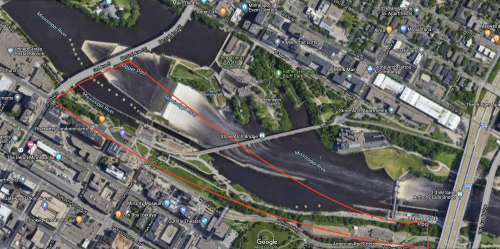 Proposals must follow these site requirements:
No permanent structures in the project area

No obstruction to any pedestrian or vehicle passage
Read more about St. Anthony Falls Heritage Zone. 
Other locations of note in this area: 
Owamn-yomni / Gakaabika  / St. Anthony Falls 
Upper St. Anthony Falls Lock and Dam 
Timeline and Selection Process
This call has two phases:  
Phase one proposals are due

October 31, 2021, 11:59 pm CST.

A committee of stakeholders to be announced will select

three finalists in November 2021

. 

Finalists will receive $500 each to create and present full proposals due in

January 2022

. 

Based on presentations by the finalists, the committee will select one winning proposal in

February 2022

. 

Project launch: October 2022.

We aim to support the winning artist(s) to launch their project for the public in October 2022. The duration of the piece will be determined by the artist(s) and the project partners according to the specifics of the piece.  The project's support staff will create a calendar of milestones with the winning applicant to achieve this goal. 
Key Criteria for Project Proposals 
Project proposals will be evaluated according to clarity and creativity of these primary considerations:
Theme. How does your project relate to the theme of "The Future River?"  
Concept.  What are the ideas, histories, stories, futures you want to get across? What cultural references inform your ideas?  What will the audience experience when engaging with your project? 
(Content that is commercialized or intended to sell a product will not be considered.)
Clarity or Known Unknowns. What is your project? Who will create it? What materials, process and methods will you use? What, if any, knowledge do you have of AR platforms? We are looking for clear project descriptions that showcase a commitment to creativity. If there are parts of your project that are unknown, that's okay, tell us what they are and what process you might use to figure them out.
Accessibility. How will your project integrate accessibility? We acknowledge that no project can be 100% accessible to everyone. Consider how your project will be experienced by people with differing abilities of vision, hearing, touch, cognition, language, etc.
Site. Where within the activity area are you proposing to focus your project? 
Budget
The budget for the Future River commission includes an artist fee of $10,000 and a materials and technology budget of $25,000.  
For Phase 1, applicants will be asked to sketch out a basic budget that includes major cost categories — artist and collaborator fees, materials, travel and technical development fees. We recognize that applicants who are new to AR may not be familiar with the necessary technical development fees. This is okay! The budget is primarily a sketch of the major components of the project. 
A more nuanced budget will be required for the finalist's proposals. Budget assistance will be provided to finalists.
Application Materials
Proposals are due by 11:59 pm CST on Sunday, October 31, 2021.
This call is now closed. 
The application process is entirely online. Applicants are required to submit:
Primary contact information
Artist or artist team information:

brief bios and artistic experience of creative leadership team including relationship to Indigeneity.

Project concept:

A succinct description of the project that addresses the key criteria. May include images or whatever is needed to aptly describe the project concept. 

Samples of past work

(Images, video or audio files). Up to 10 images and 2 videos or audio of past, preferably related work.

A

budget

that accounts for the major categories of costs for your project within the budget for this commission. (max 1 page)
Info Sessions
Join us for two optional info sessions: 
Online Info Session 
Wednesday, September 29, 6 – 6:30 pm on Zoom. This session will be recorded and available to watch afterwards. 
RSVP on Facebook 
Walking Tour 
Saturday October 2, 1-2 pm
An in-person walking tour of the project area. Meet at  Meet at Upper St. Anthony Falls Lock and Dam (1 Portland Ave, Minneapolis, MN). 
RSVP on Facebook 
For updates on these sessions, please register here. 
It is not mandatory to attend the info session and tour, but it is highly recommended!
If you would like to get feedback about your proposal, please email futureriver@northern.lights.mn with a draft of your proposal or your questions no later than October 15.
Submissions
The submission process is entirely online using Submittable. This platform requires you to make a free account. There is no application fee. 
Entries are accepted online until 11:59 p.m. CST, Sunday, October 31, 2021. 
Click here for a downloadable document of application questions. 
History
The original program of this partnership, Illuminate the Lock, was conceived as a way for artists to utilize the unique infrastructure of the Upper St. Anthony Falls Lock and Dam, which was decommissioned for navigational use in 2015. Click below for images and descriptions of Illuminate the Lock projects. 
2017
Aaron Dysart, Surface 
Flickr: https://www.flickr.com/photos/northernlightsmn/albums/72157686332016050
Andrea Carlson, The Uncompromising Hand 
Flickr: https://www.flickr.com/photos/northernlightsmn/albums/72157687479800224
2018
Mike Hoyt, Dameun Strange, Molly Van Avery with Ritika Ganguly, Returning the River 
Flicker: https://www.flickr.com/photos/northernlightsmn/albums/72157674820832568
2021
Moira Villiard, Madweyaashka: Waves Can Be Heard 
Youtube: https://www.youtube.com/watch?v=IUVI7cTkqEc
About Mississippi Park Connection
Mississippi Park Connection is the charitable, nonprofit partner of the Mississippi National River and Recreation Area. Its mission is to strengthen the enduring connection between people and the Mississippi River by enriching the life of the river and the lives of all who experience our national park, the Mississippi National River and Recreation Area.
About the Mississippi National River and Recreation Area
In 1988, a National Park was created in the Twin Cities to preserve, protect and enhance the significant values of the waters and land of the Mississippi River corridor within the Twin Cities metropolitan area. Known as the Mississippi National River and Recreation Area, the park extends for more than 70 miles along the river, running directly through the metropolitan area (the park corridor begins in Ramsey and Dayton and ends just south of Hastings). The park provides leadership, acting as a facilitator and coordinator, in promoting a common vision for river corridor management among 25 municipalities and numerous partner agencies and organizations, whose responsibilities intersect.
About Northern Lights.mn
Northern Lights.mn is a non-profit arts organization dedicated to artists working innovatively in the public sphere, exploring expanded possibilities for civic engagement. Northern Lights.mn produces Northern Spark. 
Supported by
This project is supported with a grant from the Saint Anthony Heritage Board and the National Endowment for the Arts.