I often say that the 01SJ Biennial – I'm the artistic director – is multidisciplinary and medium agnostic. I'm not sure I ever thought that meant we would be programming at a mariachi festival.
This weekend, however, I'm very excited about some programming that ZER01 is presenting at the "T-Mobile San Jose Mariachi & Mexican Heritage Festival Presented by Target."
Pilar Aguero-Esparza and H. Dio Mendoza
Pilar and Dio are San Jose-based artists, and based on the Mariachi Festival's thematic focus on the Mexican village, I asked them to construct out of recycled materials a tri-partite, temporary "home" for ZER01 and its artists during the festival.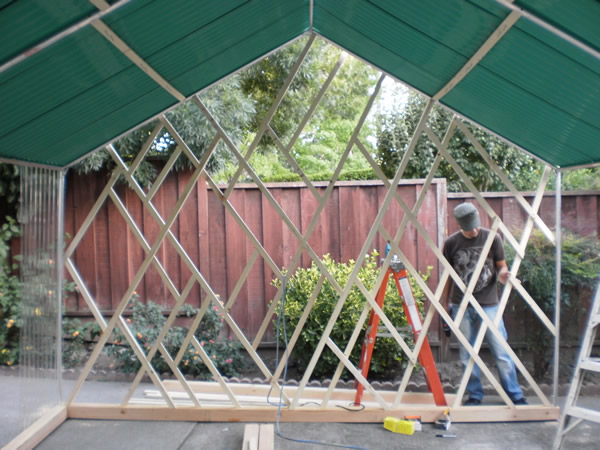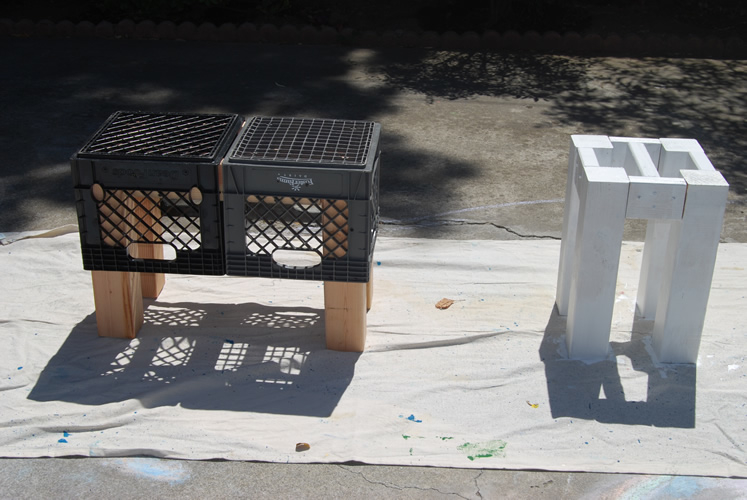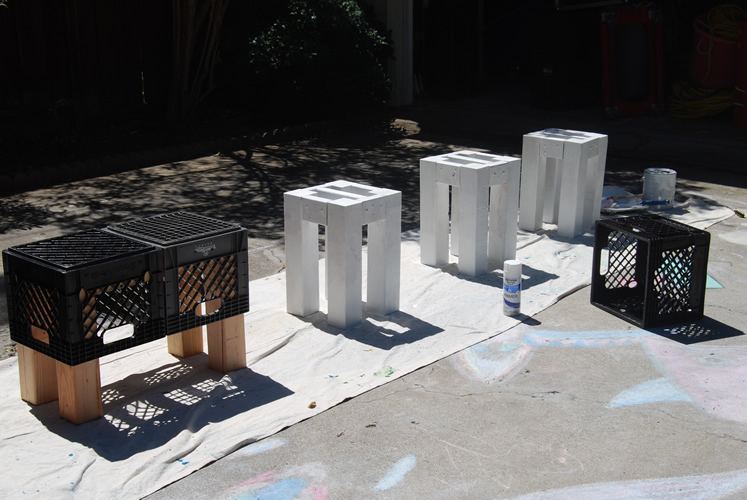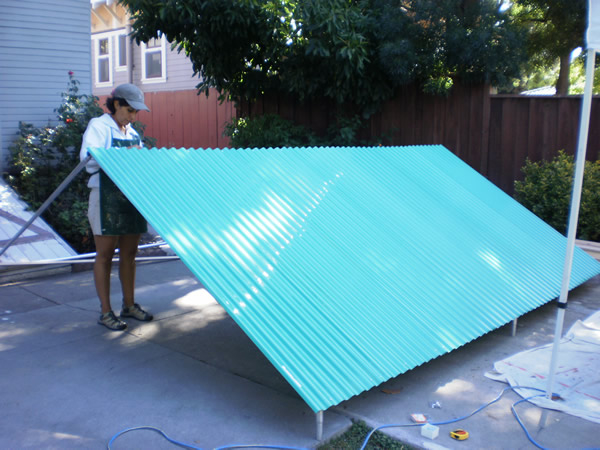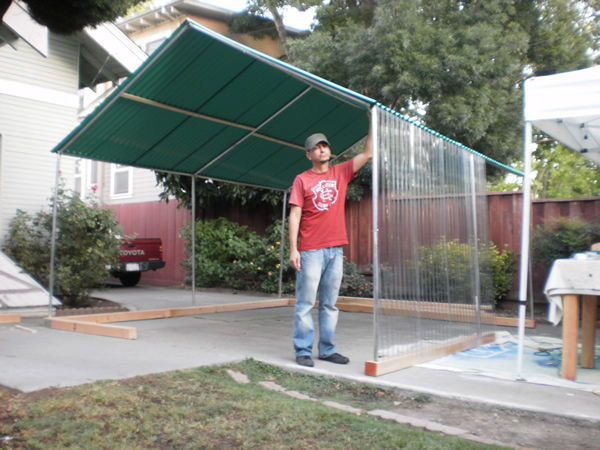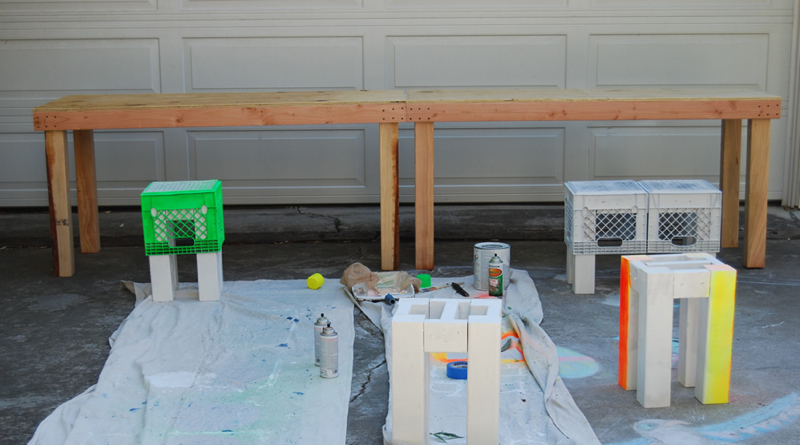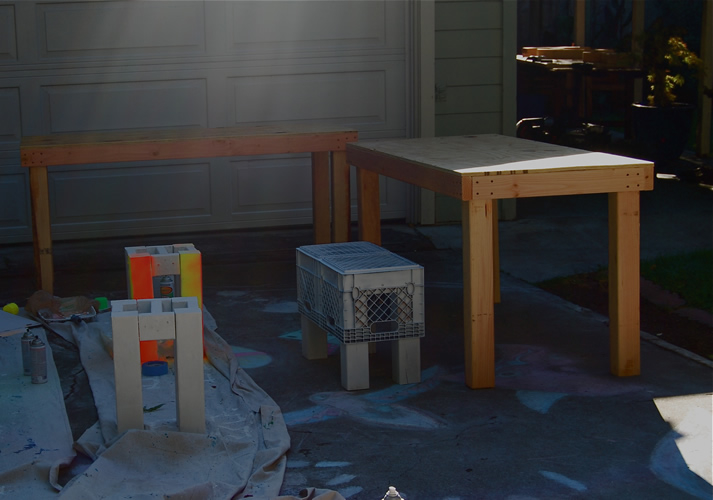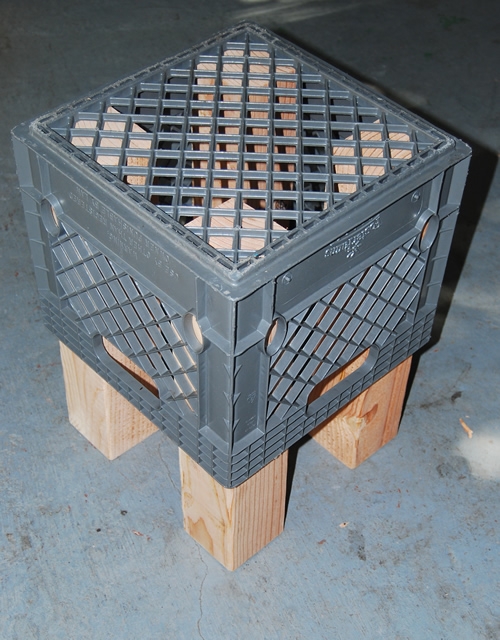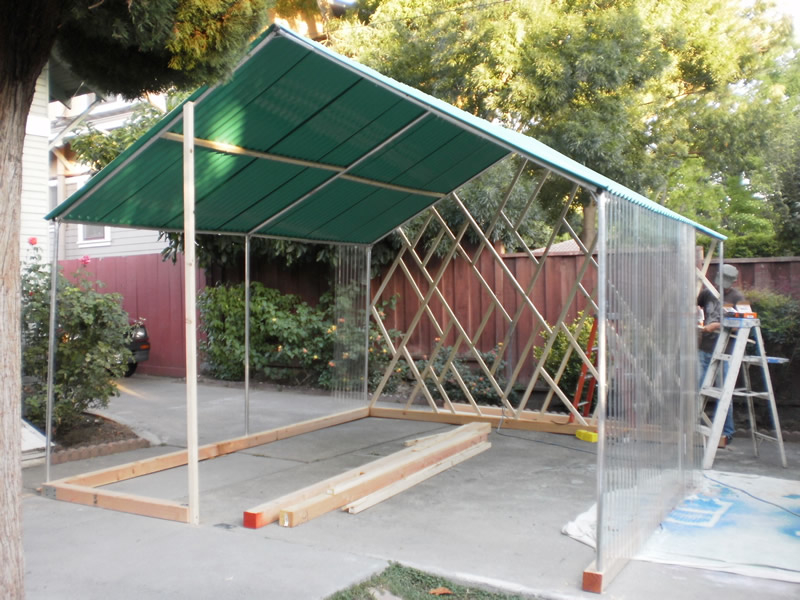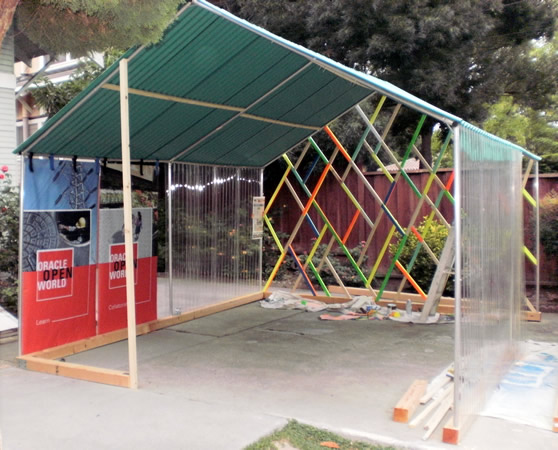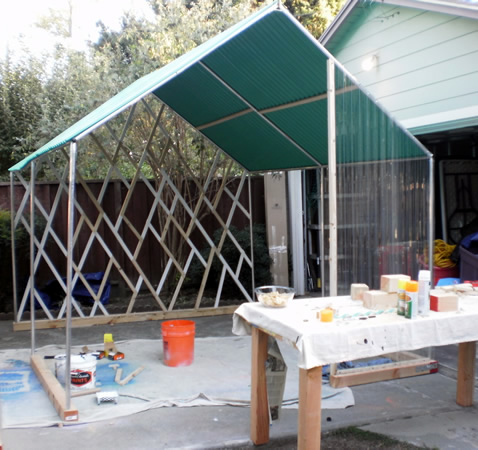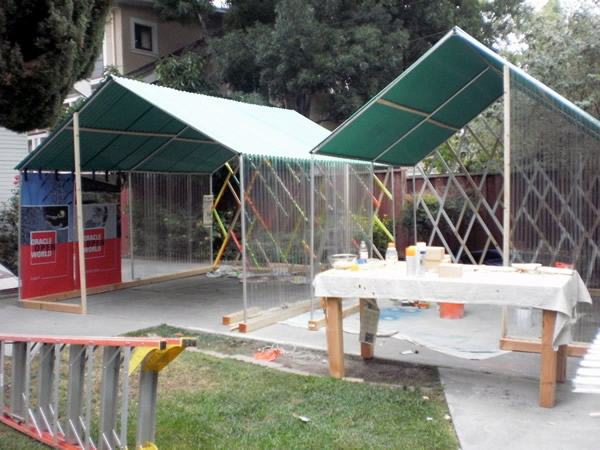 I have always admired Pilar's structures, such as her Homework House, exhibited at MACLA as part of Beyond Child's Play or this balloon-filled tent during SubZERO earlier this year or this 2005 doll-ish house at Works/San Jose, and she wanted to work with Dio, a recent grad of the Yale MFA program on this commission, which I'm looking forward to seeing.
The structure consists of three parts: a courtyard, a cyberlounge, and a "Lost Time Refund Office."
CANCIONE Courtyard Dedicaciones Gratis
In the center of the structure, Pilar and Dio proposed the following project:
A papel picado "awning" (Mexican traditional decorative cut tissue paper streamers) connects two house structures and canopies a "courtyard" space between them. This courtyard space serves as a social area where visitors take a break and have the opportunity to request a song played in the tradition of the mariachi bands and trio groups strolling through the courtyards of the historic Plaza de Garibaldi in Mexico City. But instead of live musicians playing requests, visitors request their song to a DJ equipped with a digital music library showcasing Mexican ballads, canciones roma¡nticas, mariachi favorites along with other contemporary Spanish language music. An open-mic will be available for visitors to dedicate their songs for free dedicaciones gratis. If a visitor's requested song is not on the DJ's digital library, the DJ will search for the song on-line. As the day goes on, a type of public playlist develops and the requested songs along with the dedications are written down in permanent marker on a vinyl banner that will be hung up against an outside wall of one of the house structures. This banner then remains as evidence of the day's songs and personal honoring of loved ones.
Gustavo Romano, Lost Time Refund Office
On one side of the courtyard is a project by Buenos Aires-based artist Gustavo Romano, Lost Time Refund Office, where you can exchange stories of your wasted time from 1 minute to 10 years for some artist-designed currency.
According to Romano:
The main idea is to collect reasons of time loss. Odd reasons are welcome.

When a person comes to the "office," the officer explains like this:

"This is a lost time refund office. You tell us how you lost your time, whether because of a wrong decision or something you had to do and you did not want to do, and we refund it with our bills. We have 1 minute, 1 day, 1 year… "
When the person tells his or her reason and the corresponding amount of time needed, the officer enters the information into the computer database and put the bill (or bills) in the printer and presses the "print the reason" button. The printed bill is then stamped with the Time Notes Stamp.
Gustavo Romano lives and works in Buenos Aires, Argentina. He is a director of "Fin del Mundo,"a virtual platform for circulating net art projects, curator of the Virtual Space of the Cultural Center of Spain in Buenos Aires, and a featured artist on the Museo Tamayo cyberlounge.
Cyberlounge
On the other side of the courtyard, I invited Arcangel Constantini from Mexico City to curate a selection of video games and Internet projects, for a "cyberlounge."
WORKNET: Labor video games and Internet projects curated by Arcangel Constantini
Inspired by activist Cesar Chavez and the values of integrity, innovation, and empowerment that he championed throughout his lifetime, the ZER01 Cyberlounge invites you to interact with computer-based works by contemporary artists from Mexico, Argentina, and the United States that explore contemporary labor issues.
Minerva Cuevas, Mejor Vida Corporation (Better Life Corporation), 1998
Mejor Vida Corporation is an Internet-based project that offers a catalog of free products and services such as international student ID cards, subway passes, lottery tickets and barcode stickers that reduce the price of food at supermarkets throughout Mexico City. Using the structure of a corporation, Cuevas investigates social and economic issues and then develops a set of free products that solve everyday problems in her community and beyond.
Minerva Cuevas is a conceptual artist who lives and works in Mexico City, Mexico.
Birgit Eschenlor and Art Vega, Retrofame, 2001
Retrofame is a video game that looks at the illegal second-hand clothing market in Mexico by asking players to direct a worker as they sort and select clothing from a fast moving manufacturing line. The game is a playful attempt to call attention to the large and informal population of workers who labor in this industry on a daily basis.
Fran Ilich and Blas Valdez, Beaner, 2000
Beaner is a computer-based game that appropriates the classic arcade game Frogger, where players must direct a frog across a treacherous road and swiftly moving river to reach an area of safety at the top of the screen. In Ilich and Valdez's version, players navigate a sombrero through a river, a desert, and a freeway—all critical barriers related to illegal border crossings—to reach the land of opportunity. The reward for a successful crossing is the same fate faced by many migrant workers without papers—backbreaking and poorly paid clandestine work.
Fran Ilich is a Tijuana-based activist and media artist and Blas Valdez is a Mexican-American writer.
Txema Novelo, Playing for Money / Working for Free, 2006
In Playing for Money / Working for Free Txema Novela recasts Ferdinando Nicola Sacco and Bartolomeo Vanzetti, two Italian-born anarchist labor activists who were executed in Massachusetts in 1927, as the Mario Brothers from the classic video game Super Mario Bros. The playful retelling relates the actions within a video game to the reality of the working class.
Txema Novelo is an artist based in Mexico City, Mexico.
Leonardo Solaas, Outsource Me! 2005
In Outsource Me! artist Leonardo Salaas reverses the practice of outsourcing. Typically, companies from developed countries attempt to decrease costs by hiring foreign workers at a lower wage than their U.S. counterparts. But in this project, Solaas issued an open call for ideas and hired the person who submitted the winning proposal to be his employer. Then, he acted as an outsourced worker by creating a special website according to the specifications of the submitted idea. Outsource Me! is the result of the collaboration.
Leonardo Solaas is an artist and computer programmer who lives and works in Buenos Aires, Argentina.
Ricardo Miranda Zúñiga, Vagamundo: A Migrant's Tale, 2002
Vagamundo: A Migrant's Tale is an online game that uses stereotypes to parallel the plight of undocumented immigrant labor in New York City. Users play the role of a new immigrant and must bag groceries and wait tables to advance through levels. The online game is based on interviews Zúñiga conducted with new immigrants as well as the experience of his parents, who emigrated from Nicaragua to the United States.
Ricardo Miranda Zúñiga is an artist who approaches art as a social practice that seeks to establish dialogue in public spaces. He grew up between Nicaragua and San Francisco.
Ricardo Miranda Zúñiga, Dentimundo, 2005
Dentimundo is a web-based art and research project that serves as an information portal for "border dentistry," a type of medical tourism that has been steadily growing in popularity along the Mexico-U.S. border. The website documents labor practices along the border while commenting on this very specific example of globalization, where Mexican dentists are increasingly moving their practices to border towns to attract U.S. citizens who are unable or unwilling to pay the skyrocketing health costs on the other side of the border.
Improvising on an old Mexican tradition, Constantini will also audio-electrocute volunteers with his mobile icpiticayotl box. Náhuatl for electricity, Icpiticayotl uses electroshock to involuntarily contract users' muscles in sync with sound oscillations to establish synaesthesia, a condition that exists when the stimulation in one sense causes involuntary experiences in a second sense. Constantini's artistic experiment is designed to give visitors the same adrenalin rush los señores de los toques have been giving cantina patrons as a chaser to their cerveza for centuries. Icpiticayotl is harmless, fun and appropriate for all ages.
icpiticayotl caja de audio toques transitio mx festival from arc-video on Vimeo.
Arcangel Constantini is an artist and curator based in Mexico City, Mexico. His artistic practice explores the dynamics of visual and sound works, low-tech installations, propaganda action, performance, hardware hacking, installation, and sound. Constantini is a curator for the cyberlounge at the Museo Tamayo Arte Contemporaneo in Mexico City, and has exhibited his work throughout the world.
[Cyberlounge and Icpiticayotl descriptions, Jaime Austin.]

---