Tag Archive for "Kickstarter"

Check out this Kickstarter campaign for a film by Rosemary Williams about Rosemary Williams starring Rosemary Williams.
Rosemary Williams is also cooking up a storm with her Mom's Cookies projection for Northern Spark.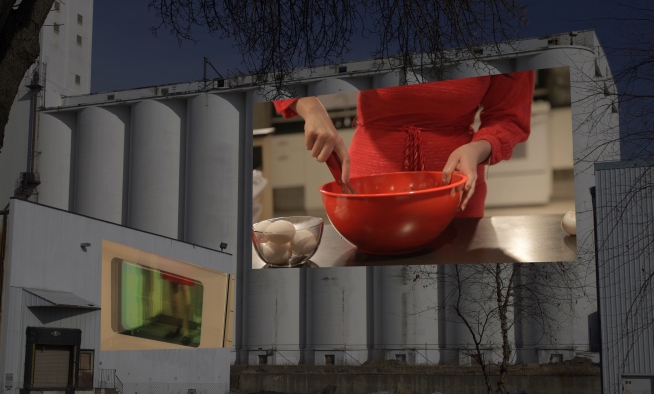 The Kuramoto Model (1000 Fireflies) by David Rueter is a "synch mob" on bikes for Northern Spark.
During Northern Spark, up to 1.000 bicyclists will use customized, interactive blinking LED devices outfitted with microcontrollers and radio units that allow them to mutually and observably synchronize with others, as do certain species of firefly.
Lights are available online via Kickstarter until March 31.
These devices, in isolation, look similar to conventional LED cycling safety lights, but in groups exhibit an immediately noticeable phenomenon. To maximize the visual impact for all festival attendees, organizers will encourage participating cyclists to gather together in a large group to tour the various festival sites, including a "blessing of the bikes" at the Basilica of Saint Mary and a procession down Hennepin Ave.to start out the night.
As part of Northern Spark's Kickstarter campaign, some remarkable photographs by Gary Smaby are available of many music stars of the 70s.
This unique text work by Andréa Stanislav, who created the memorable 2011 Nightmare for Northern Lights.mn is now available as a Kickstarter reward for supporting new artists' work for the 2012 Northern Spark nuit blanche Twin Cities.
Stanislav's Text Works are recontextualitions of dystopic phrases and sayings from such references as: the Ramones, Sex Pistols, A Clock Work Orange, Nivana, William Burroughs, current catch phrases and video games.The text is embedded between layers of resin polymer, and appear to "float" above the glittering light activated glitter-film base.
Check out other artworks available for supporting Northern Spark.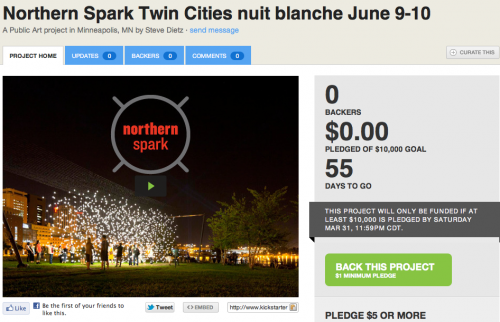 Help support Northern Spark's Kickstarter campaign.
From $5 to $5,000 your support can help support the work of dozens of artists at Northern Spark.
Check out the rewards, from limited edition posters to autographed photographs to home-cooked meals and designer seating.
Any amount will help.
Definitely humorous – for a $100 contribution to Crouse's Kickstarter campaign, he will personally take your favorite movie and use "The Moustachizer" to add moustaches to everyone in the movie. – Unlogo also raises serious issues about how the increasing commercialization and privatization of contemporary society plays out in an increasingly hybrid public space, where all your vacation photos and videos posted to Facebook (or wherever) also become augmented megaphones for the brands and logos in those "memories."
Join me in supporting Jeff's Kickstarter campaign for Unlogo.
---