Northern Spark.  All people.  All arts.  All night.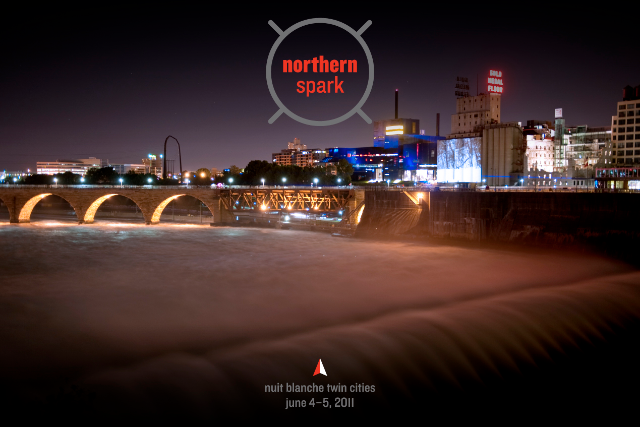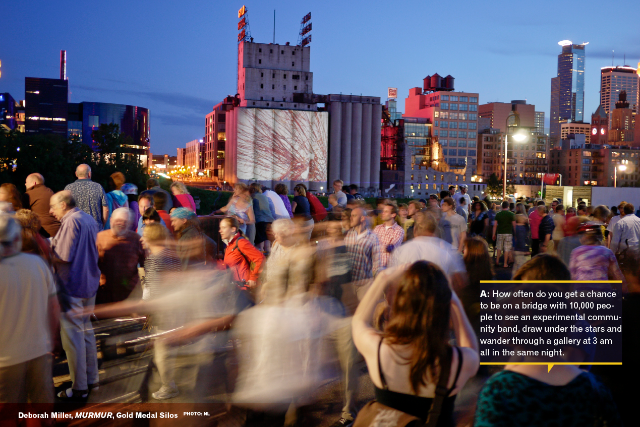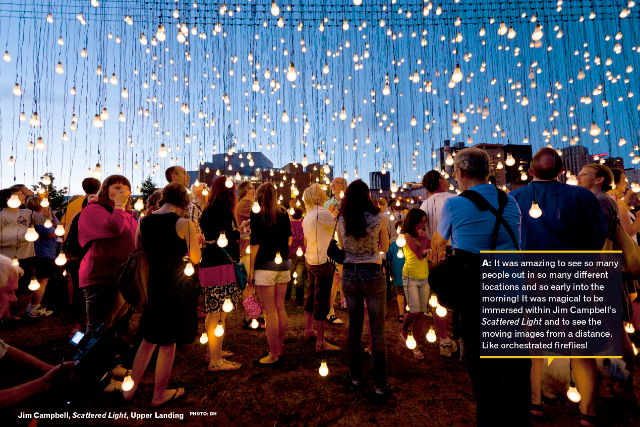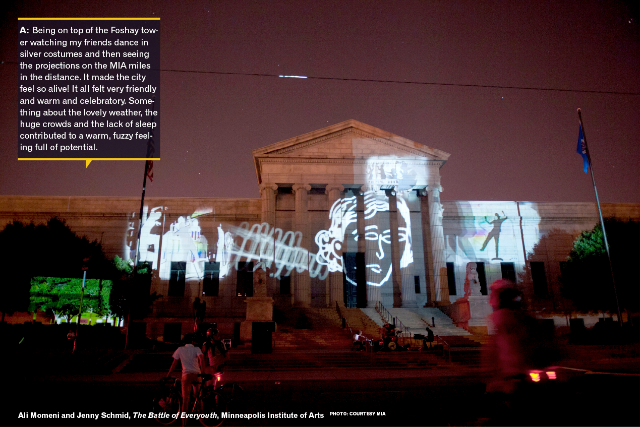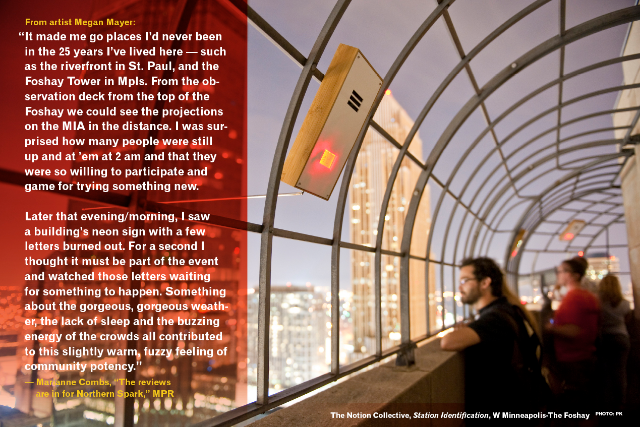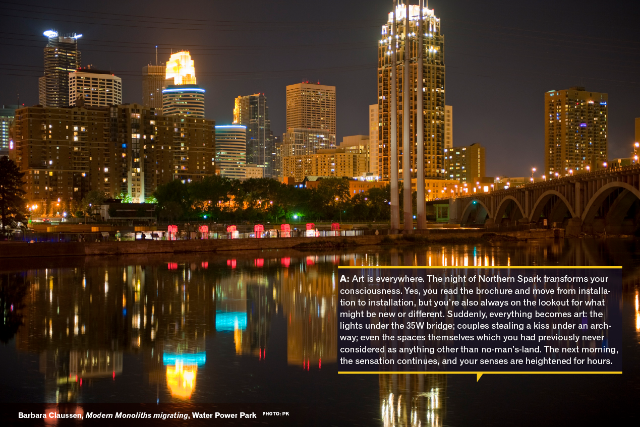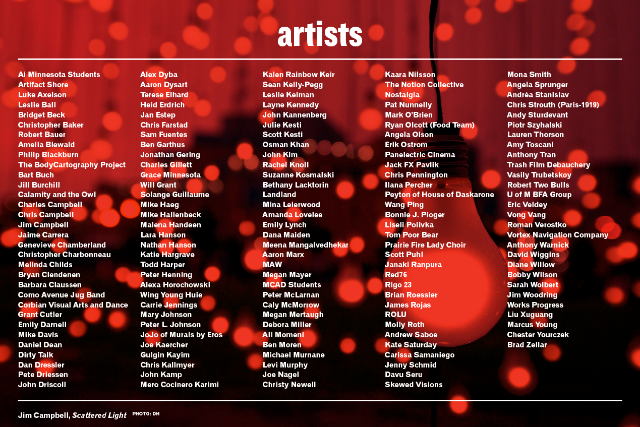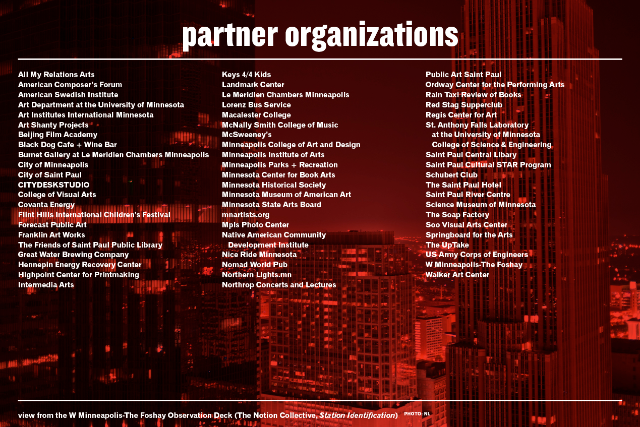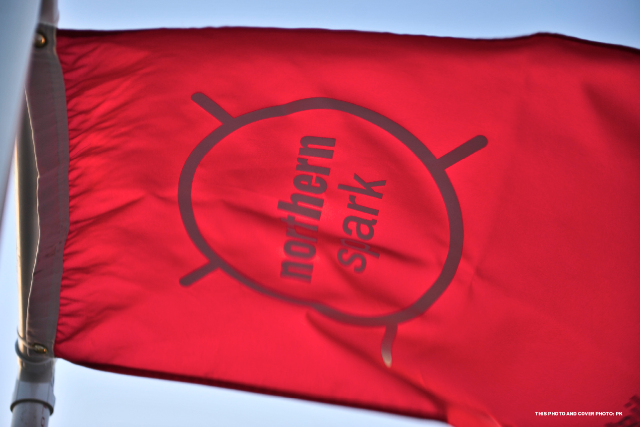 On Give To The Max Day, Wednesday, November 16th, you have a special, one-day opportunity to support a special, one-night project: Northern Spark, Minnesota's only nuit blanche.
Northern Spark is a free, dusk-to-dawn, participatory public art event that takes place in both Minneapolis and St. Paul.
Northern Spark is all media, all night: performances, visual arts, projected images, interactive media, participatory events.
Northern Spark brings together a multitude of artists, creating hundreds of art projects in partnership with numerous arts organizations at multiple venues.
Northern Spark was an exhilarating first-time event for Minnesota. Throughout the night, there were 50,000 visits to more than 100 installations and performances presented by 200 artists in partnership with 60 organizations in 34 locations.
Your support of Northern Spark is support of local artists, who help us to create and sustain a vibrant community year-round by:
Building a broad audience for serious art and creative fun
Cultivating open and active civic engagement
Heightening awareness of the cultural and natural wonders of the Twin Cities
Partnering with MN arts and cultural organizations, strengthening public awareness and support of our local non-profits
Like an art comet that blazes through the night sky once a year, Northern Spark enters the Twin Cities' orbit on Saturday, June 9, uniting two cities and bringing together a multitude of artists, art projects, arts organizations, and venues in a confluence of culture and nature.
Please become a co-creator of this remarkable project by supporting Northern Spark through your generous donation at GIVEMN.org.
Northern Spark is organized and presented by Northern Lights.mn.
Northern Spark 2011
If you missed Northern Spark this year, please check out the links below for great video and images from the June 2011 event, all of which is accessible from the Northern Spark website.
As well, we want to share here some of the comments about the event, which over 500 attendees wrote in response to our survey question: "Imagine you are out to dinner with friends who were also at Northern Spark and each person is taking a minute or two to describe the most memorable part of the event. It's your turn; what would you say?"
"Northern Spark opened up my eyes to more of the arts in the Twin Cities. For once the places that I want to go to collaborated, stayed open and I was able to see what they were all about. Its a great chance to check things out!"

"Northern Spark has tremendous opportunity to become a signature summer event for Minneapolis, much like the White Nights in St. Petersburg, Nuit Blanche in Paris or Fete des Lumieres in Lyon. There was fantastic energy on the Stone Arch Bridge — you could tell people were loving the strolling and being outside on such a beautiful night and craving artistic inspiration."

"A friend of mine commented that she expected to see the 'usual art-nerd' suspects out and about. We realized together that there were many people out who may have never participated in a community art event before. What a great way to expose the entire community to the arts!"

"Art is everywhere. The night of Northern Spark transforms your consciousness. Yes, you read the brochure and move from installation to installation, but you're also always on the lookout for what might be new or different. Suddenly, everything becomes art: the lights under the 35W bridge; couples stealing a kiss under an archway; even the spaces themselves which you had previously never considered as anything other than no-man's-land. The next morning, the sensation continues."
View the complete "report" here (PDF).
Flickr photo gallery.
Brennan Vance, Northern Spark: A Documentary
Northern Spark 2011 website
---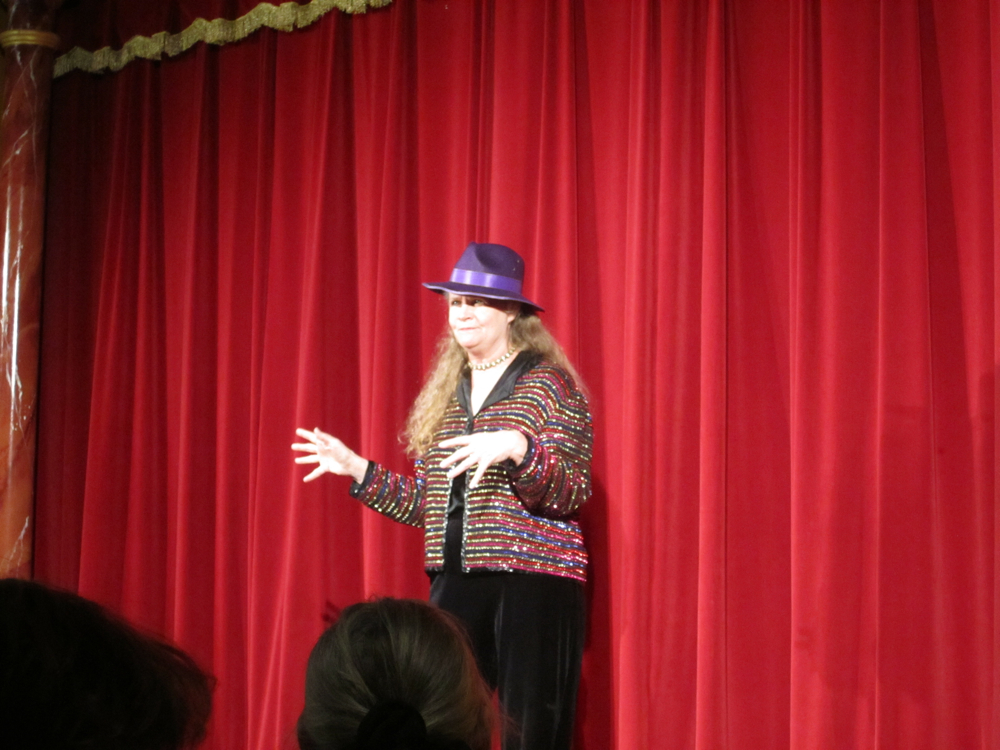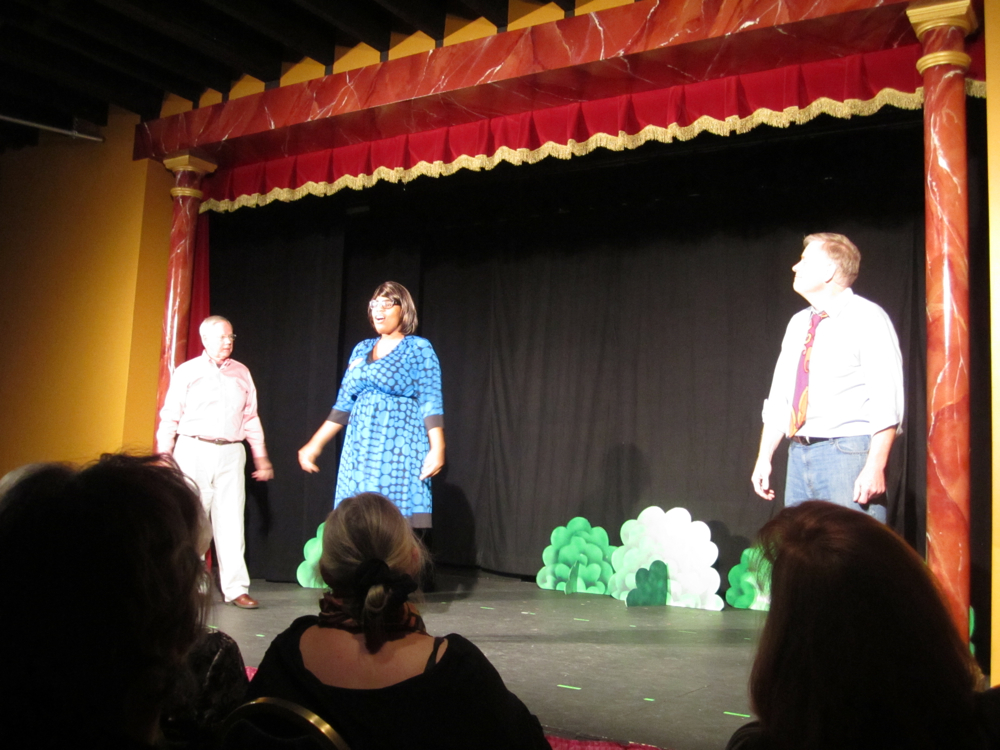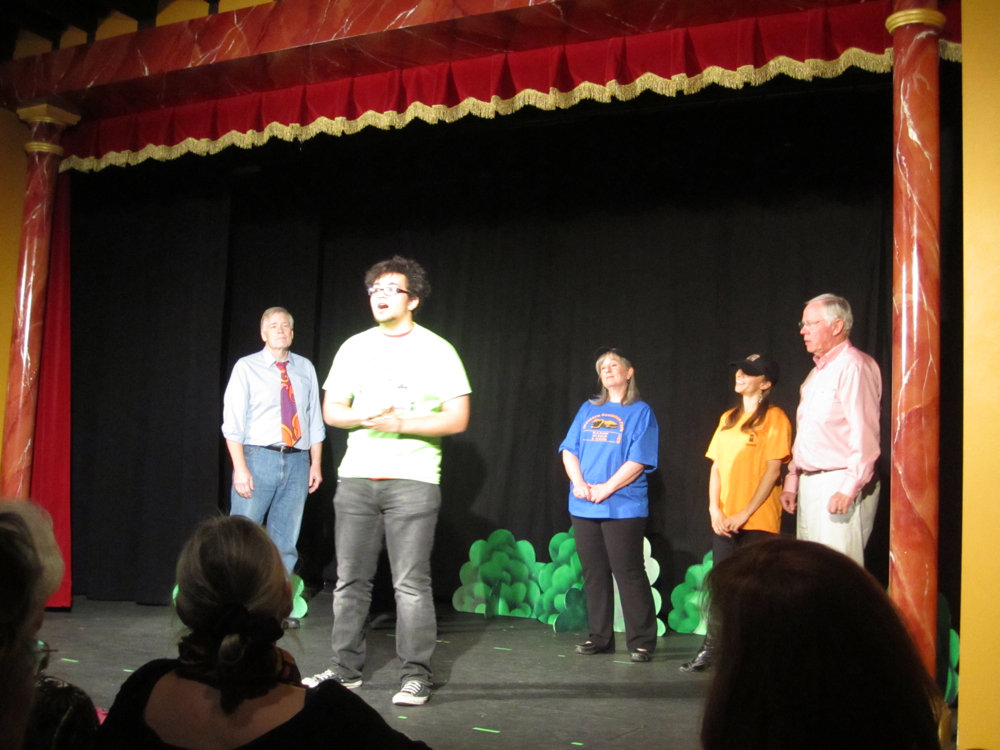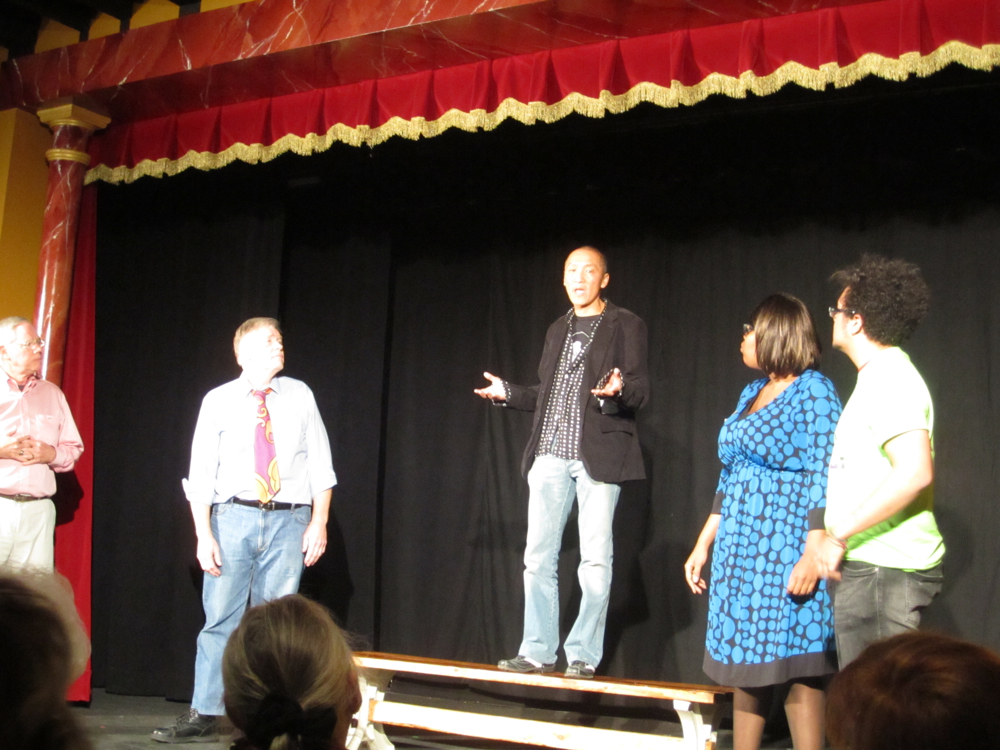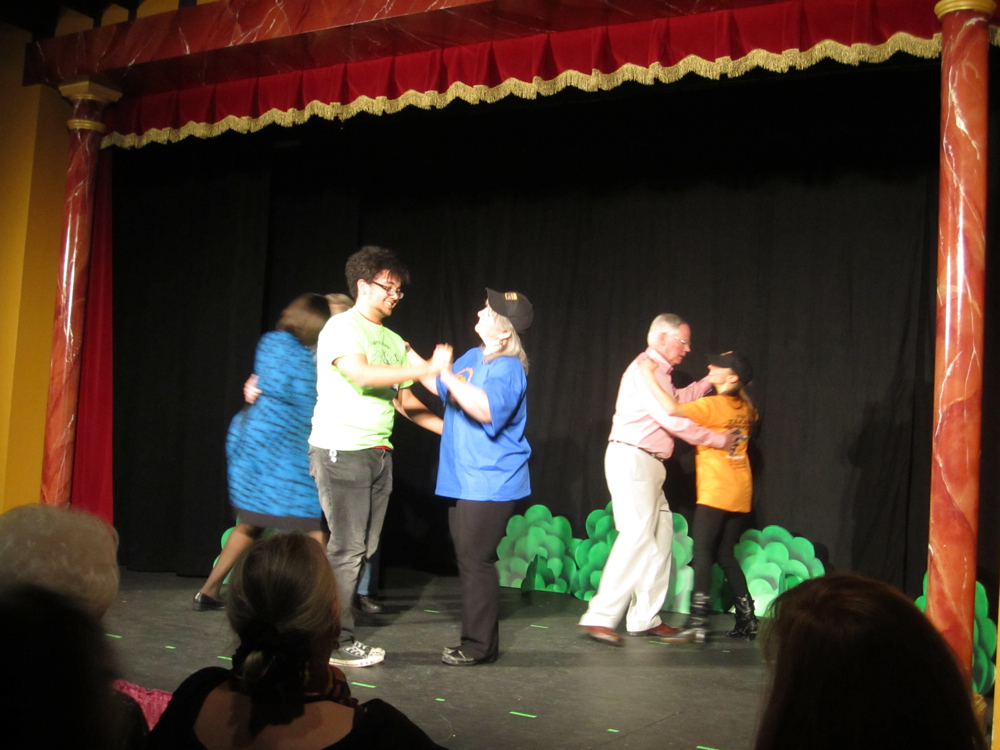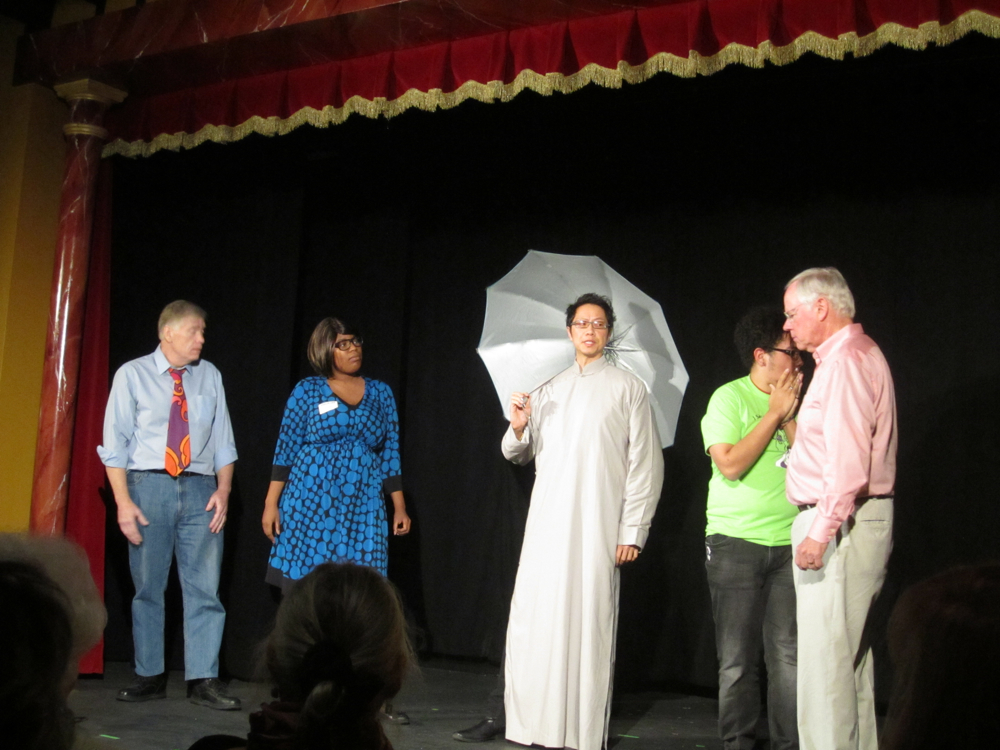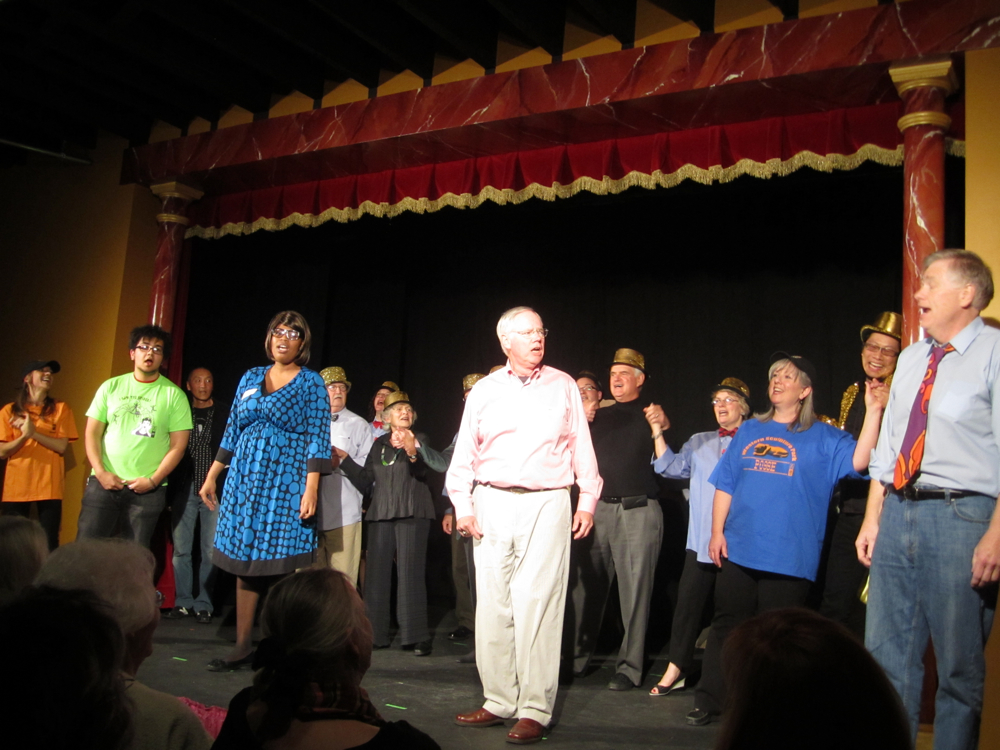 Had a great time last night at the fundraiser for Public Art Saint Paul, which featured "Public Art the Musical" (pdf). The musical was a true community effort, directed by PASP staffers Ashley Hanson and Nic Hager with star turns by PASP President Christine Podas-Larson kicking things off with a little soft shoe; Allen Lovejoy, Principal Planner at City of St. Paul; retired senior partner at Faegre & Benson, Michael Murphy; spoken workd artist Karyssa Jackson; University Avenue Project maestro Wing Young Huie;  Brady Lorenzen, a student at Perpich Center for Arts Eduction; and a host of others. It was entirely fun with a clever script by Tom Eggum, Hager, Hanson, and Marcus Young that blended inside-the-capital St. Paul jokes with popular Broadway tunes. The starrest turn, for my money, was by Marcus Young, the Wizard of Oz "Non-Prophet," who brought it all home, so to speak.
Marcus, now we know what you are listening to on those ear buds, and we can definitely feel it too.
Bravo! Public Art Saint Paul.
---
---