Drew Anderson
Near the Ghosts of Sugarloaf, 2012
My use of technology as a creative medium has led me to the threshold of a miniature world, inhabited by small cameras, projectors, and puppets. I cannot claim to be a bona fide puppeteer, but in the realm of mechanical, miniature theater I've been making in-roads. With analog and digital technology I orchestrate tiny robotic figures, or automatons, and mix in other visual and interactive elements, such as projections and biomedical technology. Heart-rate sensors allow me to capture the human pulse digitally and render the digital into another form, such as mechanized motion or light. I'm interested in the displacement of the heartbeat outside the body and the experience of the real and artificial pulsing together.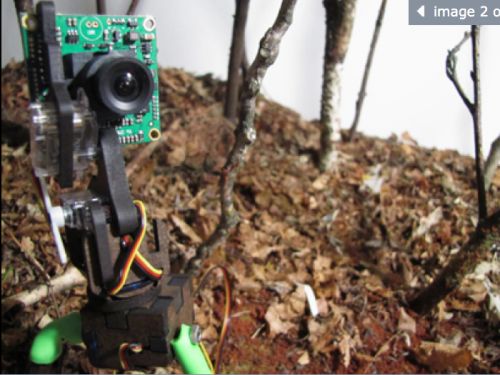 The nature of my projection work stems from my collaborations with the collective Minneapolis Art on Wheels, whose outdoor projections range from large-scale drawings displayed on buildings to tiny animations beamed on sidewalks. Mobility is an important aspect of MAW, which recently led to the making of a hand-held, portable projector.
A similar device plays a pivotal role in my latest work, Near the Ghosts of Sugarloaf. This piece draws from my deer hunting experiences in northern Minnesota and deploys a miniature automaton and landscape in the likeness of a deer hunter and boreal forest, respectively. What the puppet hunter sees via a small camera attached to its head is broadcast live to a pulse-sensitive portable projector. Viewers are free to use this device and wander throughout The Soap Factory in search of projection surfaces. In the projected image, participants see the miniature landscape through the eye of the puppet. From this vantage point, they are given an intimate experience of the hunt modulated by the rhythm of their pulse captured through the stock of the projection device.
The miniature world is appropriate for my relatively small and remote world of hunting. It deals first with the divide between my personal experience as a hunter and the emotions I intend to convey. Accuracy is obviously impossible, especially in an urban environment such as the Soap Factory. Yet my miniature theater deliberately owns that irony and exploits it, in a way that is unique to puppetry. At the same time, the work's playful abstraction of my subject relays a mood true to the forest in which I hunt and conjures up the spirit of the hunt itself. The use of puppetry and technology allows the story to unfold as both an artificial reality and an evocative experience. I want to continue mixing technology and traditional art forms to these ends, not only specific to this piece, but as open tools for telling stories in a new form.
Biography
b. 1988, Duluth, MN
works Minneapolis, MN
Drew grew up in Cloquet, Minnesota. He studied English, music, and art at the University of Minnesota Twin Cities campus and graduated in December of 2010 with an individually designed degree in the Bachelor of Arts. Shortly after graduation he began work as a research assistant for artists Ali Momeni and Jenny Schmid and participated in several of their works, including Momeni and Schmid's Battle of Everyouth, as part of the 2011 Northern Spark Festival, Minneapolis, MN; Schmid's VLD SK8R GRL, 2011 Istanbul, Turkey; and Momeni and Schmid's Department of Smoke and Mirrors, 2012 Wellesley, MA. He currently lives in Minneapolis where he is an active member of the Minneapolis Art on Wheels collective, and works as laser-cutter technician for the U of M's Department of Art.
He writes about his work
"My art explores human stress that is both psychological and physical. I often use the concepts of time and rhythm to embody human emotion. The perception of time as an opposing force intrigues me, because in a deadline, routine, or test, the obstacle is time. I also admire the rhythm of the body when it undertakes a time-controlled task. Whether that task is manual labor or preparing a meal, an aspect of repetition and a sense of pace are involved. Video installation, kinetic sculpture, and interactive technology are my primary mediums, and over the past two years, I have explored how to cross these mediums and best represent my subject."
His proposal is for
"I propose a video and miniature theater installation that is driven by the pulse of a human heart. Real-time video controlled by heart-rate sensors will cause the audience to have a physical interaction with this project. This work investigates our moment-to-moment mortal existence in time and space, and how fragile this arrangement really is."
Links
Servo Gesture Prototype, 2011
Servo motors, laser-cut masonite, and mini-camera.
Heart Failure, 2010
Steel, bicycle gears, electronic components and EKG sensors.
2000 Meters, 2008
Video.
---