Christopher Baker
Murmur Study, 2009
Thermal printers, paper, Twitter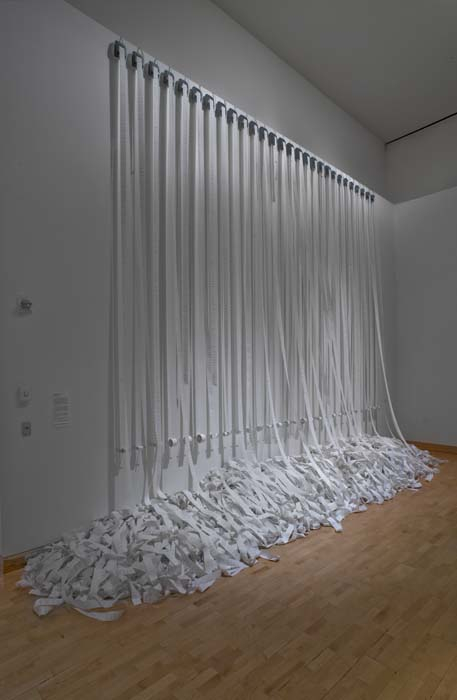 Murmur Study is an installation that examines the rise of micro-messaging technologies such as Twitter and Facebook's status update, which have become a kind of digital small talk or contemporary coffee klatsch. But unlike water-cooler conversations, these fleeting thoughts are accumulated, archived and digitally indexed by corporations.  While the future of these archives remains to be seen, the sheer volume of publicly accessible personal—often emotional—expression might give us pause.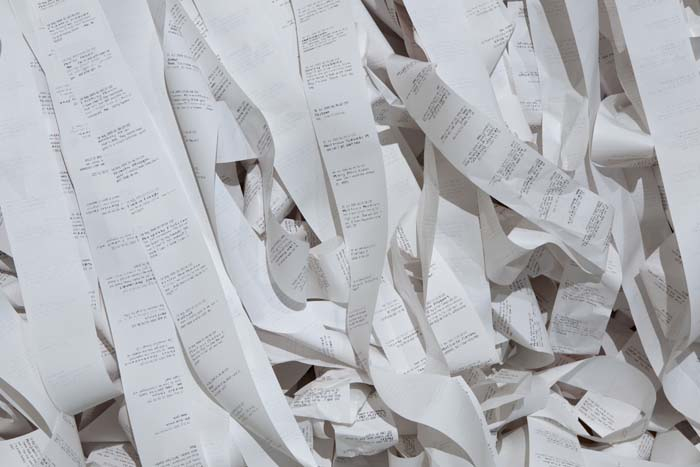 This installation consists of 30 thermal printers that continuously monitor Twitter for new messages containing variations on common emotional utterances.  Messages containing hundreds of variations on expressions(?) such as argh, meh, grrrr, oooo, ewww, and hmph, are printed as an endless waterfall of text accumulating in tangled piles below.
Murmur Study #1 from Christopher Baker on Vimeo.
Versions of Murmur Study were presented at the 2009 Spark Festival and the Experimental and Media Arts exhibition at the Nash Gallery.
Murmur Study is an ongoing collaboration with Márton András Juhász and the Kitchen Budapest.  Baker, a former research scientist, is a graduate of the University of Minnesota's Time and Interactivity program and currently has a residency fellowship at The Kitchen in Budapest.
HPVS (Human Phantom Vibration Syndrome), 2009
cell phones
HPVS (Human Phantom Vibration Syndrome) is a kinetic sculpture that considers the subtle, often-subconscious ways that mobile communication technologies shape our senses.  The title references the recently discovered Human Phantom Vibration Syndrome—a syndrome wherein mobile phone users become hyper-attentive to their mobile devices, often experiencing phantom ringing sensations even in the absence of incoming calls or messages.  This work carefully orchestrates the vibrations of over 500 mobile phones to produce a familiar yet quietly disturbing cacophony.
HPVS (Human Phantom Vibration Syndrome) from Christopher Baker on Vimeo.
Christopher Baker
Christopher Baker is an artist whose work engages the rich collection of social, technological and ideological networks present in the urban landscape. He creates artifacts and situations that reveal and generate relationships within and between these networks.
Baker's work has been presented in festivals, galleries and museums internationally including the forthcoming exhibition FEEDFORWARD: Angel of History at Laboral in Asuturias, Spain, The Soap Factory, Form+Content Gallery, The Minnesota Museum of American Artists, The Minneapolis Fringe Festival, the Spark Festival of Electronic Music and Art, Millenáris Park in Budapest, Hungary, Huset i Magstræde in Copenhagen, Denmark, and the Pixelache Festival in Helsinki, Finland. Christopher's print work has been published in ID Magazine and the book Data Flow: Visualising Information in Graphic Design.
Baker completed his Master of Fine Arts in Experimental and Media Arts at the University of Minnesota. He is currently the senior artist-in-residence at the Kitchen Budapest, an experimental media arts lab in Hungary. In his previous life as a scientist, Christopher worked to develop brain-computer interfaces at the University of Minnesota and UCLA.
Support
Murmur Study and HPVS (Human Phantom Vibration Syndrome) are a commission of Northern Lights' Art(ists) On the Verge program with the generous support of the Jerome Foundation and fiscal sponsorship of Forecast Public Art. The Minneapolis College of Art and Design supported the related symposium Experimenting With Art in Public Places. The Weisman Art Museum will exhibit the AOV commissions July 5 – August 23, 2009. Additional support for Northern Lights provided by the McKnight Foundation.
---