Archives
The Jerome Foundation and Northern Lights, a new Twin Cities-based arts agency, with fiscal sponsor Forecast Public Art, announce Art(ists) on the Verge (AOV), a new two-track fellowship and mentoring program for Minnesota-based, emerging artists working experimentally at the intersection and technology, with a focus on practices that are social, collaborative and/or participatory.
Art(ists) On the Verge (AOV2) is an intensive, mentor-based fellowship program for 5 Minnesota-based, emerging artists or artist groups working experimentally at the intersection of art, technology, and digital culture with a focus on network-based practices that are interactive and/or participatory.
Northern Lights.mn presents the third edition of Art(ists) On the Verge (AOV3) at The Soap Factory. This exhibition features new work from five Minnesota-based artists. AOV3 is an intensive, year-long, mentor-based fellowship program for emerging artists working experimentally at the intersection of art, technology, and digital culture with a focus on network-based practices that are interactive and/or participatory. Previous exhibitions of work by AOV fellows have been at the Weisman Art Museum (2009) and the Spark Festival at the University of Minnesota (2010).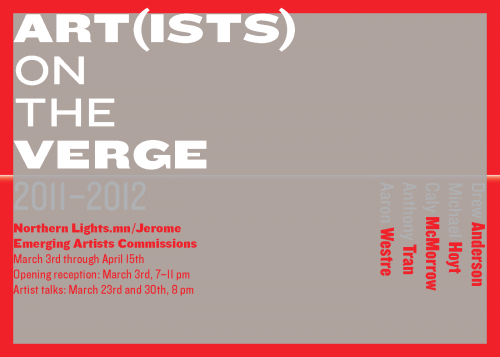 Northern Lights.mn announces the recipients of the third round of Art(ists) on the Verge commissions (AOV3). AOV3 is an intensive, mentor-based fellowship program for 5 Minnesota-based, emerging artists or artist groups working experimentally at the intersection of art, technology, and digital culture with a focus on network-based practices that are interactive and/or participatory. AOV3 is generously supported by the Jerome Foundation.
Artists: Drew Anderson, Michael Hoyt, Caly McMorrow, Anthony Tran, Aaron Westre
Congratulations from the jury: Steve Dietz, Artistic Director, Northern Lights.mn; Ben Heywood, Executive Director, The Soap Factory; and  Amanda McDonald Crowley, Eyebeam Art & Technology Center; as well as from AOV3 Co-Director, Christopher Baker.
Giant Sing Along by Montreal-based artists Mouna Andraos and Melissa Mongiat is a giant sing along that puts the "together" in The Great Minnesota Get Together. It's a machine that combines disparate voices to make common song. It's group singing around the electric LED campfire karaoke style. It's a make-your-own-choir opportunity. And yes, it's song at the end of a stick – a field of stick-microphones inviting you to participate. Or watch as long as you can till you can't resist participating. Everyone is invited.
Nightmare is a public video work that creates the illusion of a white horse galloping on the Mississippi, at night, and in slow motion. The horse uses the river as a metaphorical race track creating a spectacular illusion. The illusion is produced by towing a 10′x13′ video screen placed on a barge at night. The darkness will conceal the tow boat and barge, while the projected video of a white horse appears to gallop on the surface of the river.
Futurefarmers' A People without a Voice Cannot Be Heard is part of the Walker's summer "Open Field" programming about the cultural commons.
Three Futurefarmers (Amy Franceschini, Michael Swaine, and Dan Allende, a new farmer who worked as an intern on the Reverse Ark project in Baltimore) came to Minneapolis to prep for their summer project A People Without a Voice Cannot Be Heard, which is being co-curated and co-presented by Northern Lights.mn and the Walker Art Center. Northern Lights artistic director Steve Dietz sat down with Amy and Michael to discuss their upcoming project after three days of meetings with Walker staff, local artists, and potential community collaborators.
For one night only, more than 60 regional and national artists together with the Twin Cities' arts community will display new art installations at public places and unexpected locations throughout the city. Directed and produced by Northern Lights.mn, Northern Spark takes place this summer from sunset on June 4 (8:55 p.m.) until the morning of June 5, 2011 (sunrise 5:28 a.m.).
Northern Lights.mn and New York Hall of Science Present ReGeneration
Ten artists present their interpretations of cultural sustainability
October 27, 2012 – January 13, 2013

 ReGeneration, a new exhibition exploring the relationship between sustainability and cultural vitality, opens October 27 at the New York Hall of Science (NYSCI).
The exhibition includes interactive works by 10 artists that inspire visitors to think about the notion of cultural sustainability through collaborative engagement and futuristic visions built upon the history and traditions of New York's diverse neighborhoods.
Despite the near ubiquity of the term "sustainability," there remains significant ambiguity about everything from the actual meaning of the term to overarching solutions to the challenges we face as a community. Technology and behavioral changes including energy production, agriculture, recycling and pollution reduction are all on the table as we work to understand and address the challenge of sustainability.
"ReGeneration is an exhibition about the future," says NYSCI president and CEO, Margaret Honey. "We challenged the artists to take inspiration from science and imagine a future where we live sustainably, not just in the foods we eat or the materials we use,
but in our fundamental approach to how we view our communities and the interdependence between people and our environment."
NYSCI produced ReGeneration in collaboration with Northern Lights.mn, a media-oriented art organization supporting artists who work innovatively in the public sphere to foster new relations between citizenry and the built environment. It is curated by Steve Dietz and Amanda Parkes.
"The artists in ReGeneration are change agents," says Dietz, artistic director of Northern Lights.mn. "The most lasting and sustainable way to change the environment is to change our habits and envision new and exciting possibilities. The artists of ReGeneration each have a unique, engaging and rigorous take on the intersection of art and science in relation to a sustainable, emergent future."
"As an institution, NYSCI has long explored the intersections of science, art, technology and culture," says Eric Siegel, NYSCI's chief content officer, who leads the project team that produced the exhibition. "With ReGeneration, NYSCI explores and celebrates particular indicators and examples of cultural vitality. These engagements can ultimately be adapted to other environments, enabling a network of local practices that helps sustain a regional or larger cultural vitality."
Artists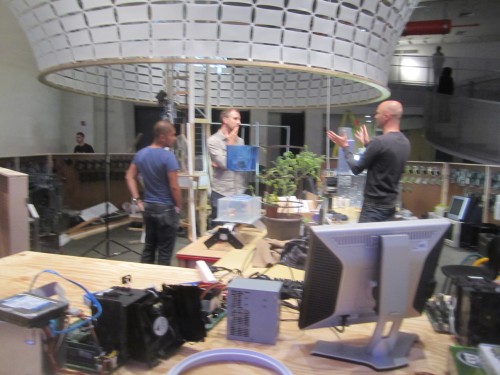 In biomodd [nyc4] a team of collaborators led by artist Angelo Vermeulen has created symbiotic relationships between plants and computers. Algae are used to cool computer processors so they can run faster, while the heat that is generated by the computer electronics is used to create ideal growing conditions for a plant-based ecosystem.
As humans transition from a rural to urban existence, indigenous plant knowledge is being lost and western models of school-based education often do not include traditional skills. Through a mobile structure and workshops, Ethnobotanical New York collects, displays and facilitates the regeneration and production of new and traditional knowledge.
Shih Chieh Huang, 99plus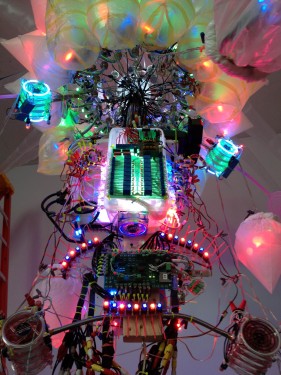 For 99plus, Huang created glowing, kinetic sculptures of flowers and insects made from materials bought at 99¢ stores in Queens. The items have been integrated with LEDs, computer fans, and microcontrollers to create sculptures that Huang invites visitors to imagine as real life forms "that are adapting to each other, finding ways to coexist, and working together to form a self-sufficient society."
Marisa Jahn and Stephanie Rothenberg, World's Fair 2.0
In World's Fair 2.0, Rothenberg and Jahn collaborated with teenagers to re-envision the World's Fair to celebrate people and community. NYSCI visitors will take a virtual augmented reality tour to see what the artists imagined.
Scott Kildall, 2049
Using garbage scavenged from a San Francisco landfill, for 2049 Kildall has built imaginary devices that might be needed by a visitor from a future with fewer people and resources. These include an infinite battery, a trans-dimensional mailbox, and an emotional distiller. Kildall will also construct a time capsule called "Imagine 2049" with letters from visitors to the exhibition and from schoolchildren. The time capsule will be buried at NYSCI on January 12.
Lieberman's Face by Face installation makes faces out of other people's facial elements. It combines a photo booth, which records video of participants, and a live visualization, which uses custom software to visualize faces using the eyes, noses, mouths, eyebrows and other face parts of previous participants. It is designed to investigate the diverse textures, rhythms and styles of our faces and present an algorithmic, collective portrait of NYSCI visitors.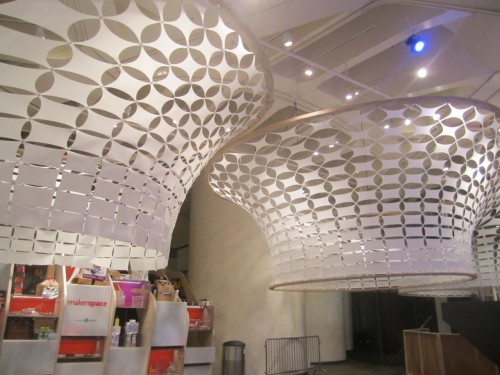 Design studios The Living and SOFTLab created the exhibition design, Common Weathers, for ReGeneration, which consists of an interactive "cloud" structure, which is suspended from the ceiling and is made from wood and mylar. Lighting elements are embedded within the cloud. The cloud envelops the nine art installations and glows in response to visitors' text messages.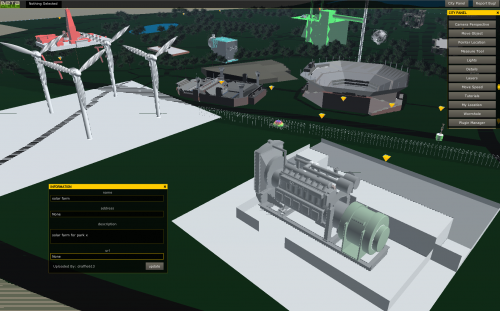 To create Tomorrow 2.0, Brooklyn artist Skelton and Joe Frattoni worked with middle and high school students from the Louis Armstrong Middle School IS 227Q in Queens and the Urban Assembly Gateway School for Technology in Manhattan. Tomorrow 2.0 uses Betaville, a collaborative and participatory virtual sketchpad and laboratory platform to focus on an imaginary future for Flushing Meadows Corona Park.
New York Immigration Song is a digitally controlled, acoustic sound installation by artist Nick Yulman. It features mechanically actuated piano strings stretched from nodes across a wall-mounted map. Data about immigrant patterns to New York is translated into music, which is played by the piano strings. The resulting music represents the New York City's changing population and the countries to which it is connected through its residents.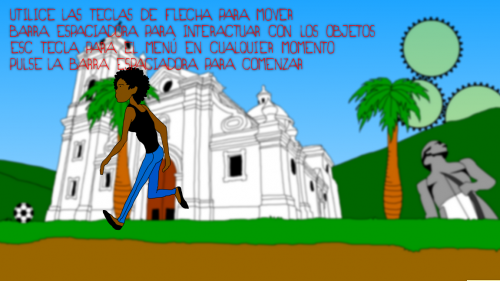 Brooklyn artist Zúñiga uses kinetic sculptures, a graphic zine, and a video game to explore the subject of undocumented immigrant populations in the United States. While visitors play the video game, the sculptures react to the game play and help the player. A graphic zine shows the challenges and options that are presented in the video game.
ReGeneration Website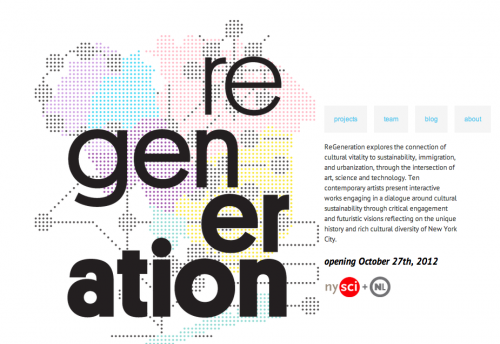 For more information about ReGeneration visit http://regeneration.nysci.org/

What Is Northern Spark?
Northern Spark is a free, dusk to dawn, participatory arts festival that presents visual arts, performance, films, and interactive media indoors and outdoors in both Minneapolis and St. Paul. In 2011, during the course of one night, there were 50,000 visits to 100 projects by more than 200 artists at 34 venues in collaboration with 60 partner organizations and sponsors. Explore a constellation of urban arts and discover the city in a new light. In 2012, Northern Spark takes place from dusk, Saturday, June 9, to dawn, Sunday, June 10.
-> http://northernspark.org
Think and Wonder
From the creative economy to the rise of the creative class to the creative city to "the MFA is the new MBA," we are not lacking for punditry about creativity.
Northern Spark is a celebration in action of the creativity of artists and the creative programming of cultural organizations. 
In the inimitable words of Theodor Geisel, aka Dr. Seuss, all this creativity makes one think and wonder, wonder and think.  Precisely the theme of Northern Spark in 2012.
Northern Spark is about transformation
It is about seeing the city in a new light. It's about making the place where you live a place you want to be,  not where you return after being inspired somewhere else.  It is about the creative intersection of art and science and technology and engineering and design and urban planning and nature and culture. It is about the power of artists to make us think and wonder.
As one attendee wrote:
"There were so many beautiful interactions that I had with the city and her art, but the part that I never expected was walking back to my car across the stone arch bridge, sun rising over the smoke stacks of the power plant, and the city was slowly waking up around me. The river was inexorably making her way to NOLA, and I stopped and realized how amazing the little apple is. I have been here for ten years and never have I experienced her in such a way before. It was our little secret. The river, the little apple and me. a magical night!"
Northern Spark is a catalyst
To see something new in the commonplace. To explore the city after hours. To visit an institution for the first time. To make something for thousands of people. To participate with thousands of people in a movable feast. To think of what to make and share next year.
As another attendee wrote:
"This event has tremendous opportunity to become a signature summer event for Minneapolis, much like the White Nights in St. Petersburg, Nuit Blanche in Paris or Fete des Lumieres in Lyons. There was fantastic energy on the Stone Arch Bridge — you could tell people were loving the strolling and being outside on such a beautiful night and craving artistic inspiration."
We invite you to come and think and wonder and wonder and think from sunset on June 9 to sunrise on June 10. Come and see your city differently for the rest of the year.
Northern Spark Links
Experimenting with Art in Public Places was a symposium in October 2008 presented by Northern Lights with the Minneapolis College of Art and Design, which explored ways to support and present experimental art practices in public places, including in the virtual realm, outside the traditional white cubes and black boxes of cultural institutions. It brought together local and out-of-town artists, curators, producers, and presenters for a collaborative conversation about the public sphere as a site for works of art and art practices that spark the imagination but also challenge perceptions – artistic, cultural, social, political.
The UnConvention is a non-partisan collaboration of local and national cultural organizations and citizens, initiated by Northern Lights, exploring the creative intersection of participatory media and participatory democracy. It exists as a counterpoint to the highly scripted and predetermined nature of the contemporary presidential nomination process and conventions.
Northern Lights was invited by Public Art Saint Paul and Wing Young Huie to participate in Wing's University Avenue Project by proposing a "Project(ion) Site," where there will be a nightly 2-hour show beginning at dusk of more than 450 of Wing's photographs, which he has taken over the past 4 years, and which are exhibited along a 6-mile stretch of University Avenue.
---