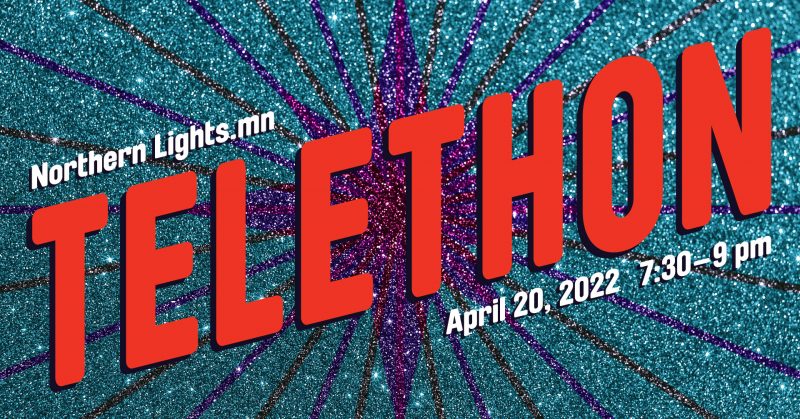 IMPORTANT UPDATE, April 20, 2022: TELETHON IS POSTPONED
We are sad to announce that we have made the decision to postpone tonight's Telethon until a later date. One of our key players tested positive for COVID today and with the health of our performers, crew, and their families in mind, we feel this is the best decision. 
Thank you to everyone who already made contributions! You will still be eligible for our future door prize drawings, and your support still goes towards artists and infrastructure of our programming!

Thanks also to those of you who were planning to show up as our in-studio audience or tune in from home tonight! We look forward to spending another evening with you in the future.
Finally, thanks to our live performers (John Gebretatose! Mayda! the Kazoo Band!), our volunteers (Sara! Emily! Madilynn!), and our partners at Nanotako Studios (Carly! Kat! Corinne! V! Jeff! Nessa! Whitney!) for their care towards one another and their flexibility in this program change.
********************************************************************************************
We are excited to collaborate with Nanotako Studios to produce our second annual Spring Telethon!
Wednesday, April 20th
7:30pm – 9 pm
Free to watch on YouTube
Donate in advance on Eventbrite 
Starring:
John Gebretatose of Blackout Improv as host!
Sami Pfeffer returns as Telephone Operator!
Mayda as musical guest!
The Northern Spark Kazoo band!
Guest storytellers featuring friends, supporters and alumni artists of Northern Lights.mn programs!
Dazzling Door Prizes!
The Telethon is free to watch on YouTube, but your donations support our work and automatically enter you into the drawing for fabulous prizes. Donate before the show for the best chance to win and help us reach our $20,000 goal!
Virtual donation levels:
$25 Donation or more / FlipPhone Level
$25 gift certificate to SubText Books + a pile of new hardback books, including The 1619 Project by Nikole Hannah Jones 

2 tickets to a Saint Paul Saints game in May
$50 Donation or more / NokiaBrick Level
A DuNord Social Spirits cocktail kit with Vanlice Lemonade

$100 gift certificate to Solo Vino Wine Shop

Any nail service from Luna Lounge
$100 Donation or more / Swatch TwinPhone Level
6 month subscription from SKCoffee

4 Minnesota Twins tickets
$150 Donation or more / RotaryDial Level
a custom "GLOW UP" luxury facial package from Pineapplefarm

a photography mini-session at Pink Slip Gallery  
$200 Donation or more / Year of Beer! level
A Year of Beer from Fulton Brewery! 12 cases! Valued at $750! 
All donations raised in advance of and during the Telethon support the artistic programs of Northern Lights.mn. Thank you for your support!