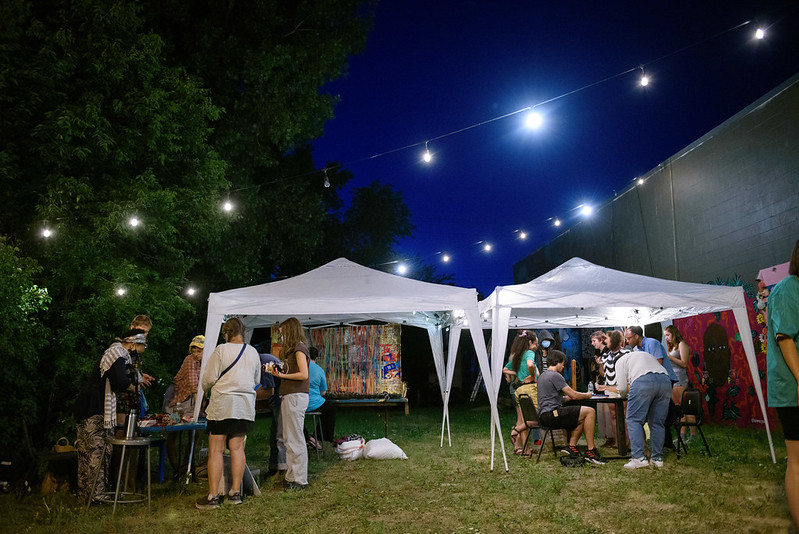 Northern Spark 2021 at Victoria Theater Arts Center. Photo by Bruce Silcox. Image Description: People gather to make art under white tents and twinkly lights across a twilight sky. 
Find a downloadable version of this call here.
Apply here.
Application Deadline extended: Sunday, January 9, 2022, at 11:59 pm CT.
WHAT IS NORTHERN SPARK?
Northern Spark is a late-night participatory public arts festival that lights up the Twin Cities in early summertime. 
In past years during Northern Spark, tens of thousands of people have gathered throughout the Twin Cities from dusk to dawn. In 2022 this structure returns, and festival curators lean into our uncertain times to invite artist projects that connect and inspire festival goers in experimental, surprising ways. For the first time since 2017, this year's event includes a project that will take place from 2 am until dawn, bringing back the beloved Northern Spark experience of greeting the dawn together, outdoors, after a night of magical art happenings.  For information about the Closing Event call, go here. 
 More information about previous years of Northern Spark:
2021.northernspark.org                  2019.northernspark.org
2018.northernspark.org                  2017.northernspark.org
2016.northernspark.org                  2015.northernspark.org
2014.northernspark.org                  2013.northernspark.org
2012.northernspark.org                  2011.northernspark.org

Table of Contents
SUMMARY
WHAT ARE WE LOOKING FOR?
PLACE
FESTIVAL THEME
ELIGIBILITY
KEY CONSIDERATIONS
BUDGET
APPLICATION MATERIALS
SELECTION PROCESS AND TIMELINE
INFO SESSIONS
SUBMISSION FORM
FAQs: FREQUENTLY ASKED QUESTIONS
SUMMARY
Northern Spark 2022 is taking place in-person in St. Paul, MN on June 10-11, 2022, from 9 pm to 2 am each night. A Closing Event will take place from 2 am – 5:30 am on Raspberry Island in downtown St. Paul in the Mississippi River. 
This is an Open Call for art projects that will take place in-person from 9 pm – 2 am on Saturday, June 11, 2022 in one of 2 locations along St. Paul's University Avenue. Projects can span any artistic genre, i.e. visual, literary, performance, behavioral, and so forth. Ideal projects will offer engagement opportunities for festival goers. 
Project proposals will be selected by a jury consisting of the Northern Spark Artist Council.
Proposals must also respond to this year's theme: What the World Needs Now.
Keep reading for information on how to apply, who is eligible and the full timeline of required dates and meetings. 
For information on future calls and other Northern Spark 2022 project opportunities, sign up for our e-newsletter here. 
WHAT ARE WE LOOKING FOR?  
We are looking for artist installations or projects in any media or form that engage festival-goers in creative, participatory ways. 
Some examples of past participatory installations include:  
Participatory installations must run all hours of the festival. For more examples of previous installations, visit northernspark.org. 
PLACE  – Saint Paul 
Why Saint Paul?  
This year's festival is the 5th time Northern Spark will take place in St. Paul. Frogtown, Little Mekong, and Rondo neighborhoods along University Ave, as well as downtown and the riverfront will host festival activities. We have identified the locations on University Ave because they have historically been excluded from arts investment even though they are sites of vibrant cultural expression and artistic spirit. 
The 2022 festival builds on years of partnerships, artist engagement and community building along University Ave and elsewhere in the capital city. As festival organizers, our aim is to shine a spotlight on the beauty and richness of these communities while also lifting them up for newcomers to experience. 
You do not have to live in Frogtown, Little Mekong or Rondo to propose a project, nor do projects need to be specifically about these neighborhoods. However ideal projects will articulate a connection between the project idea and the place. In other words, why this project, why this place? 
SITES
In partnership with these organizations, Open Call projects will be presented at Springboard for the Arts and Victoria Theater Arts Center. 
Springboard for the Arts is located at 262 University Ave W, Saint Paul, MN 55103* (on the corner of University and Galtier). Outdoor street level festival spaces include a grassy area, a paved lot, and a hardscape patio next to the building. Areas within the building include the Community Hall (large studio-type space with tall ceilings; we will keep the garage door open for airflow), and the rooftop terrace. There is access to power throughout the site. Exterior areas can be seen in this video.
*NOTE: Springboard has MOVED! It is no longer in Lowertown. 
Victoria Theatre Arts Center is located at 825 University Avenue W, Saint Paul, MN 55104 (on University between Victoria and Avon). This is an outdoor site, with potential options of a grassy lot (to the east of the building), a paved lot (to the east, on the corner of Avon and University), and a landscaped plaza to the west of the building with a brick patio and native grasses and trees. 
Accessibility:
We acknowledge that no festival location can be 100% accessible to everyone. Here are the accessibility features and limitations of these sites:
Springboard:
Gender neutral bathrooms (artist and staff only) and portapotties; both ADA and standard

Both an elevator and stairs to the rooftop

Bike racks, on bus and light rail lines, street parking
Victoria Theatre Arts Center:
Gender neutral portapotties; both ADA and standard

On a bus and light rail lines; street parking
If you have a question about sites, email submissions@northern.lights.mn.
FESTIVAL THEME
Northern Spark 2022: What the World Needs Now
Artists are truth tellers.; dreamers, seekers of imagination. Between the ever-present uncertainty of our times and the impossible tangibility of the future, we wonder: what does the world need now? 
Some may already be singing "what the world needs now is love, sweet love." These lyrics ring true as an anthem for our times. We all need love, but perhaps your answer to this statement is, poetry projected on every building, clean water for all who inhabit this earth, a sing-a-long in a local park, or endless bubbles shining iridescent in the sun. One thing is for certain: we know we will always need art to fuel our souls. 
The 2022 Northern Spark Artist Council curatorial team arrived at this festival theme after many conversations in which the concepts of exhaustion, uncertainty, and hope repeatedly emerged as critical touchpoints for seeking continued healing in our communities. This theme does not aim to find consensus, but rather to be a portal through which the  needs and desires of our world may be radically illuminated throughout the night of Northern Spark 2022. 
The theme was created by the 2022 Artist Council with Northern Lights.mn. 
ELIGIBILITY
This call is for individual artists, artist collectives, culture bearers and creative community organizers. This open call opportunity is open to anyone with a connection to St. Paul, preferably the Rondo/Frogtown/Little Mekong neighborhoods. Non-profit organizations or companies are not eligible to apply. 
Applicants living anywhere are eligible to participate, but there is no additional funding available for shipping or travel.
Who is an Individual Artist?
Anyone who is a maker of things or experiences in the realm of art; can be self-taught, or academically trained, emerging or seasoned as an artist. 
What is an Artist Collective?
Groups of artists who work together toward shared artistic goals or projects. These groups may be ongoing or temporary for Northern Spark. Artist groups that have 501c3 status are not eligible. 
Who is a Culture Bearer? 
These are individuals or groups who may not use the term "artist" to describe their work in maintaining, sharing, or practicing cultural lifeways and creative practices. 
Who is a Creative Community Organizer?
A creative community organizer is a community member who has been involved with uplifting and organizing communities. This person has a deep understanding of community politics, privilege, and power and uses their voice to challenge the system to create social change.
COVID requirements: with abundant caution and care for our community, all festival artists must show proof of vaccination (including boosters, as applicable) or a negative COVID test result within 72 hours of the festival date. They must also be prepared to wear a mask if the festival team collectively determines it is necessary during the shifting state of the pandemic. This requirement is the same for festival staff and volunteers.
KEY CONSIDERATIONS FOR PROJECT SELECTION
Projects will be evaluated according to these primary considerations:
Theme.

How is your project inspired by the theme "What the World Needs Now"

Artistic Vision. What is your project? What materials and/or processes will you use? We are looking for clear project descriptions that showcase a commitment to creativity.
Creative Team.

Who is making your project? What roles will each person play?

 

Participatory.

How will people interact, engage or exchange with your project?

Duration:

How will your project fully utilize the 5 hours of festival time over one night (All festival projects must run from 9 pm – 2 am.)

Accessibility.

Consider how your project will be experienced by people with differing abilities of vision, hearing, touch, cognition, etc.

Relationship to place.

Ideal projects will articulate a connection between the project idea and the place. In other words, why this project, why this place?
Known Unknowns. If there are parts of your project that are unknown, that's okay! Tell us what they are and what process you might use to figure them out.
In addition, while none of the following are strict requirements, they are factors in making our decisions:
Other considerations
Sound.

Due to the late-night timing of this event, projects need to be relatively quiet. We welcome projects that have a localized sound experience (whether amplified or unamplified) as long as it does not reach beyond the project footprint. City s

ound ordinances prevent amplified sound after 10 pm.

Safety

. Please consider the safety of the audience, the artistic team, and the natural environment of the site, including the river. Northern Lights.mn will have COVID safety protocols in place (TBD) that all projects must follow.

Sustainability.

We encourage artists to consider their carbon footprint and potential waste while creating and implementing their project.

Feasibility.

We are looking for projects that can be created between notification of acceptance and the start of Northern Spark, as well as set up and taken down on the night of this event. Northern Lights.mn will assist with general production, but you are responsible for the creation, production and implementation of your project.

Inclusivity.

Your project should be inclusive towards a wide public audience, people of differing perspectives and abilities. 

Free

. Participation in Northern Spark experiences must be free of charge. Projects that intend to sell art or products are not eligible.
BUDGET
If your project is selected, you will receive a budget of up to $4,000. We suggest you plan for an artist(s) stipend of $1,500 within this budget. 
You will submit a budget with your application that outlines the primary costs of your project: materials, equipment, tools, services or staffing to help prepare or run your project, etc. The budget should reflect everything you need to complete your project. Your project should be scaled to fit within this stipend and materials budget.  Projects that are contingent on further fundraising will not be considered. 
View sample budgets here. 
If you have questions, email submissions@northern.lights.mn or come to an online Info Session. 
APPLICATION MATERIALS
The application process is entirely online. Download a Word doc of the application questions here. Applicants are required to submit:
Name of Artist

,

Artist Collective, or Creative Community Organizer

(if collective, name Lead Artist)

Primary Contact

(name, pronounce, phone, email) This person will receive the project acceptance or rejection and any questions we might have during the decision making process. 

Answers to the Key Considerations

 

Project Supporting Materials (optional)

Please attach any files that help to illustrate your concept and vision (ex. visual renderings, audio files, video files, etc). This is different from a sample of past work.

Work samples

of past work that communicates your ability to manifest the project you are proposing. Work samples do not need to be of the same material or media as your project idea, but give the jury a sense that you can complete a project on the scale you are proposing. Please include identifying information and/or brief descriptions. If you are applying as a collaborative group, please note who on the team the work samples belong to.

A budget (1 page)

that fits within the parameters of the open call and outlines the major cost categories of your project. 
The submission form is on Submittable, and will be available soon. 
Download a Word doc of the Submittable form here. 
If you are unable to apply online or access the application, please contact us! submissions@northern.lights.mn. 
SELECTION PROCESS AND TIMELINE
Projects will be selected by Northern Lights.mn and the Artist Council, who reserve the right to request additional material and information after the proposal deadline, and to reject any and all proposals received.
Application Timeline: 
Deadline for applications:

Sunday, January 9, 2022, 11:59 pm, CST 

Artists notified no later than:

February 1, 2022
Being a Northern Spark artist means being part of a community of makers. Festival artists take part in monthly meetings at which you receive and give feedback and problem solving for your and others' projects, receive production and curatorial support and other networking benefits. Northern Spark is a professional development experience! 
Before applying with a project, please make sure you will be available for the following dates and interested in a learning process. We want to help you succeed with your project. 
Festival Artist Timeline:
Please save these dates! If you are selected, you will be required to attend.
Festival Artists Introductory Meeting:

February 9, 2022, 6-8 pm on Zoom.

Monthly Festival Artist Meetings, 6-8 pm on Zoom: March 9, April 20, May 11

Project Testings: TBD the week of May 23 – 26 

Project hours at festival: June 10 and 11, 2022 from 9pm – 2am each night (with additional time for set-up and strike directly before and after the project hours)
INFO SESSIONS
Please join us for an Info Session and a Walking Tour of the possible sites for Northern Spark 2022. 
Virtual Info Session:
Tuesday, November 30, 2021 from 6-7 pm
Zoom: https://us02web.zoom.us/j/84061124285
Facebook Event: https://fb.me/e/24SALlFY8
(this event will be recorded and posted if you are unable to attend)
Walking Tour of site
Saturday, December 11, 2021 from 1-3pm
Meet at: Victoria Theatre Arts Center, 825 University Avenue W, St. Paul, MN 55104
This walking tour is for proposed projects happening along University Avenue during the 9pm – 2am festival hours. There will be a separate walking tour of the Closing Event site December 11 from 3:30 – 4:30pm at Raspberry Island.
Facebook Event for Participatory Installations: https://fb.me/e/1kFxjPZLS
Facebook Event for Festival Closing Event: https://fb.me/e/V3Y2ZPMD
SUBMISSION FORM
The submission form is now live on Submittable. Find it here, as well as on the Northern Lights.mn Opportunities page.
If you are planning on submitting a proposal and would like to receive relevant open call updates, sign up for our e-newsletter.
If you have specific questions about the submission process or need help, e-mail submissions@northern.lights.mn.
FREQUENTLY ASKED QUESTIONS
How much detail about my production process do you want to see in my proposal?
We want to see descriptions of materials and equipment you'll use, dimensions of sets or objects, placement diagrams, any special structures or features that would be needed, etc. Basically, anything that will help us get a sense of how your project would physically fit into the landscape of the festival, and what the major physical components are. You may describe this info in your answers to the Key Considerations or in the optional Supporting Materials documents. 
I don't need funding for my project / I can provide all the funding for my project, and I would like to present it at Northern Spark. What is the process I should follow?
All proposals for art projects must go through the Open Call process. This is an equity practice, so all artists have a chance to be presented by the festival regardless of their access to resources. 
Is there a set number of projects that will be accepted?
At present we have funds to support 5 projects at the budget level listed in the call. This may change depending on possible new resources or the proposed projects. 
I'm not interested in presenting a project, but I really want to be a part of this festival. How can I get involved?
You can volunteer! We love our volunteers. Email volunteers@northern.lights.mn for more information.
What should I do if I don't see my question listed in these FAQ's?
E-mail submissions@northern.lights.mn with any additional questions.