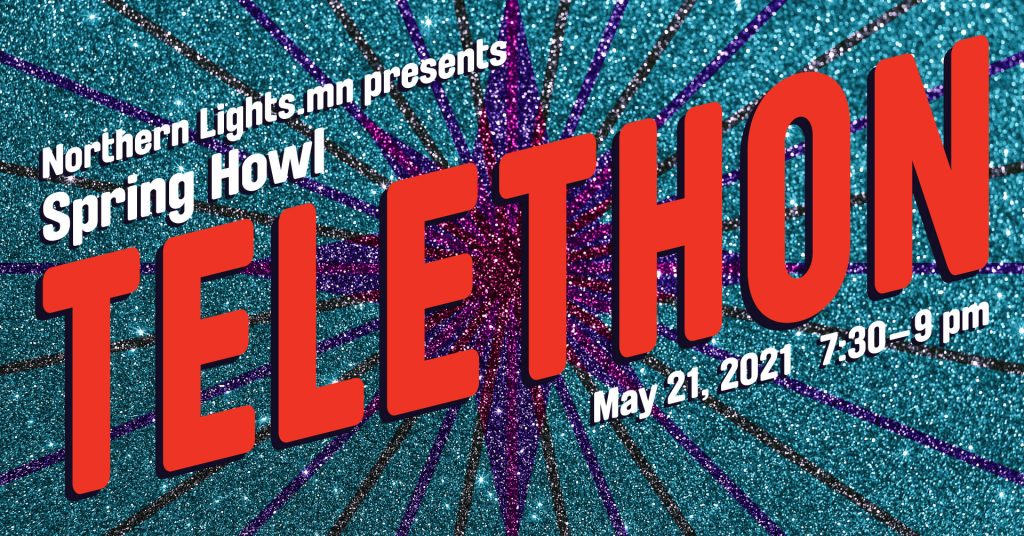 Northern Lights.mn announces the Spring Howl Telethon, a live televised variety show produced by Northern Lights.mn partner Minnesota Community Network Channel 6 (MCN6) to support Northern Spark and Northern Lights.mn programming.
Featuring:
John Gebretatose of HUGE Improv Theater and Blackout Improv as host!
26BATS! as house band!
Ifrah Mansour as Spring Howl poet!
Sami Pfeffer as the Telephone Operator!
A reprise of the 2013 Northern Spark Kazoo Band led by Scotty Reynolds!
Guest stars!
Spring Howl is free to attend and will be broadcast live on May 21, 2021, 7:30 – 9 pm on MCN6 and the Northern Lights.mn Facebook page.
Spring Howl Telethon
May 21, 2021, 7:30 – 9 pm
FREE to watch live!
Watch: Minnesota Community Network Channel 6
Watch: Spring Howl Event Facebook page
RSVP to our FaceBook event to get frequent updates on the line up!
Register now on Eventbrite and make an early donation to be eligible for door prizes drawn throughout the event.
Including: 
A cocktail kit from Crooked Waters distillery or Du Nord Craft Spirits

A $100 gift certificate to Solo Vino Bottle Shop in St. Paul

A year of beans from Big Watt Coffee

A year of beer from Fulton Brewery

More to come! 
Spring Howl Telethon supports the artistic programming of Northern Lights.mn, the producers of the beloved Northern Spark festival, Illuminate the Lock and Art(ists) on the Verge fellowship among other projects.