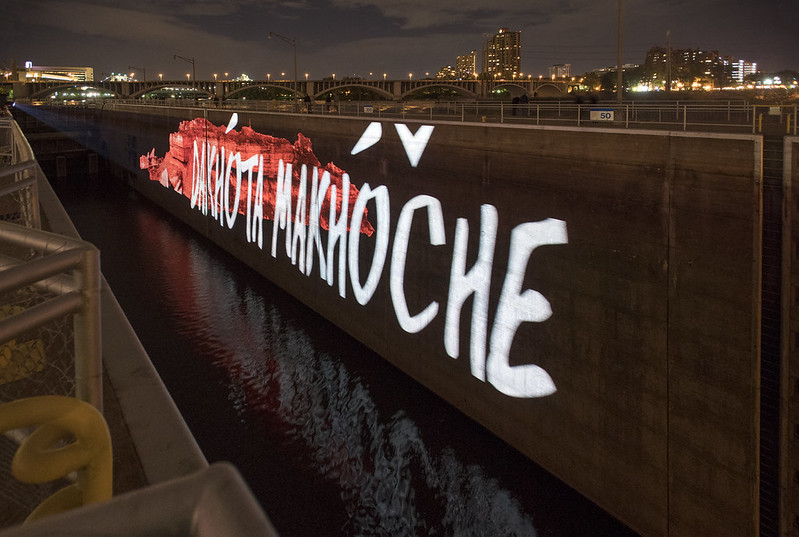 Announcing Indigenous Projection Art Project coming this Winter
Northern Lights.mn announces a new projection project to take place in Winter 2020 at the Upper St. Anthony Falls Lock and Dam. Owamni-yomni/Gakaabika is where the Lock and Dam currently sits and is in the homelands of the Dakota. In partnership with the Mississippi Park Connection, The National Park Service's Mississippi National River and Recreation Area, All My Relations Arts, and NL will feature projected visual work by an Indigenous artist.
The Dakota lived along Owamni-yomni/Gakaabika and it was generally a neutral territory between Anishinaabe and Dakota. It was and still is an important and sacred place. Owmani-yomni is 'whirlpool' in the Dakota language. Gakaabika is 'severed rock' in the Ojibwe language.
NL and All My Relations Arts (AMRA) will commission a new work in film, video, animation, or other moving images to take place inside the lock and dam. This project aligns with the annual AMRA Bring Her Home exhibition, a show of visual art by Indigenous artists addressing the crisis of missing and murdered Indigenous women. The theme for this year's exhibition is Sacred Womxn of Resistance and the show is scheduled to open October 2, 2020.
Angela Two Stars, the director of All My Relations Arts shared, "We are pleased to once again partner with Northern Lights and to have this opportunity to increase the awareness of the ongoing epidemic of Missing and Murdered Indigenous Women. This year's Bring Her Home exhibition shares a powerful message of resistance and I am excited to see the commissioned art on such a visible platform."
All My Relations Arts is a program of Native American Community Development Institute (NACDI). NACDI was a 2019 Northern Spark Venue Partner, and location site for the festival. Festival programming took place inside All My Relations Arts gallery, which featured the 2019 exhibition of Bring Her Home: Stolen Daughters of Turtle Island.
All My Relations Arts (AMRA) operates the All My Relations Arts Gallery, Minnesota's premier American Indian owned and operated contemporary fine arts gallery. Located on Franklin Avenue in Minneapolis, the gallery resides within the heart of the American Indian Cultural Corridor. The focus of AMRA is to provide the people of the Twin Cities, greater Minnesota, and beyond consistently high-quality exposure to Native American fine arts. As an initiative of NACDI, All My Relations Arts serves a very distinct role in NACDI's community development work, providing the public with education about American Indian history, culture, and contemporary experiences through the arts.