We Are the Artists of AICC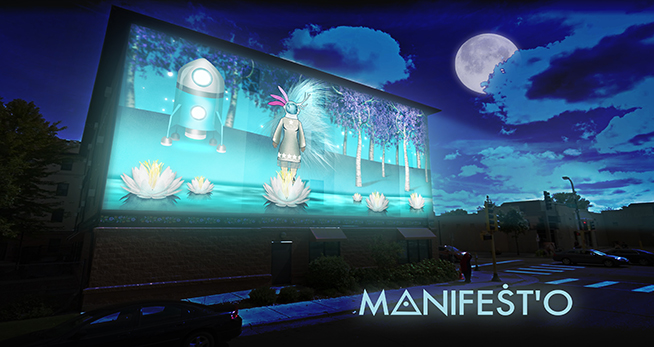 Sketch of Northern Spark installation of Manifest'o, courtesy of Jonathan Thunder.
The following projects by Minnesota-based Indigenous and Latinx artists were curated in partnership with Native American Community Development Institute, Northern Lights.mn and the Program Council, to be presented on June 14 & 15 at Northern Spark in the American Indian Cultural Corridor.  They invite you to activate your body, immerse yourself in the soundscape, and enjoy. "As Indigenous and Artists we are the vanguards of change and those making the ideas that become solutions and answers." — Strong Buffalo
WEave: HERE
Find your way to Franklin Ave by 11 pm to witness a procession of dancers in the latest collaboration between Rosy Simas and Heid E. Erdrich. As the dancers move along Franklin, images will be projected onto them culminating at WEave: HERE, an installation that begins at festival start in the courtyard next to All My Relations Gallery. Festival goers will receive the procession and can join in on the movement by playing with shadows while they move throughout the space and writing a statement on a flag that recognizes the Nations who have a home on Franklin. Artist Jonathan Thunder will assist with the interactive shadow elements.
"Making an installation with shadow and light appeals because there's no waste except for electricity." says Heid. "Activating a space with bodies is important. It's about having freedom to move and recognize the presence of others, to have a moment to connect with others whether there's any verbal exchange or not."
Heid and Rosy have worked together since 2016, the same year Heid was a contributing artist to the Creative City Challenge winner Wolf and Moose by Christopher Lutter-Gardella. Now Heid and Rosy are coming back to where it all started.
"I love that courtyard and I've always wanted to do something in that space." says Heid. "Jonathan and Rosy and I all met there so to contribute to the community they were raised in, and that I moved to over 20 years ago, seemed perfect. I'm glad to have a Native presence, to have found a space in Northern Spark."
The Biker
Inspired by the bikeability of Minneapolis, The Biker by Victor Yepez is an interactive sculpture of a bicyclist powered by a handful of stationary bikes run by the participants. As people pedal their own bikes, the sculpture will come to life and pedal along with them. A large shadow of the sculpture will be projected onto a nearby wall for all to see.
"Biking is the solution for future health and a democratic way of connecting in the cities." says Victor. "Minneapolis is one of the most bikeable cities in the country and I want to contribute to a bike culture with more safe, secure, fun and easy to use roads for everybody."
More than a simple ode to bikes and bikers, Victor made sure to connect every element of Northern Spark's theme into the installation.
"We Are Here is represented by all the people who ride the bikes. Resilience is represented in the front tire that confronts the road and the idea of keeping pedaling to keep going. Renewal is seen in how bikes are finally taking their space and respect in our actual living as more people choose bikes over cars. Regeneration is in the idea of creating a new way of thinking and a new way of commuting in the cities, plus creating a healthy persona and environment when we bike. The Biker is an invitation to bike and be a part of the new bike culture."
Manifest'o
Starting as an exhibit at the Tweed Museum of Art in Duluth, MN, Manifest'o by Jonathan Thunder features three separate, yet interconnected animated vignettes based on Ojibwe stories about connection to the land, sky and water in a large scale projection that will illuminate the block of 14th St. and Franklin Ave. Accompanying the projections is a soundscape including a soft broadcast of ambient sound in the parking lot of Powwow Grounds.  
"I went to high school and graduated a few blocks away from the site where my project will be displayed." says Jonathan. "I consider the neighborhood a community that has created a chance for me to learn and grow. Through my life and artwork I have become an ally to many other marginalized voices and visionaries, and together we've created space for our voice in schools, galleries, museums and homes to communicate and educate. Together our voices vibrate across time and space. Collectively we create a fabric that can be seen as path markers."
The installation of Manifest'o brings themes of water protection, tribal language resiliency, and Indigenous futurism to light using state of the art tech at a scale that is hard to ignore.
"My hope is that viewers will enjoy the presentation, listen to the language, immerse in the soundscape, and discuss the themes."
Reusable Graffiti
For the visitors here on Dakota land, artists Al Gross and Strong Buffalo ask you to be with them not only in the present, but in the past and future as well with Reusable Graffiti, a soundscape of music, spoken word, humor and storytelling from a band of Native artists and friends.
"It's the ultimate example of resilience, renewal and regeneration," says Strong Buffalo. "As Indigenous and Artists we are the vanguards of change and those making the ideas that become solutions and answers. Reusable Graffiti are the words used over and over to undo and advocate for something new, like New Green Deal, Sustainable Development, Renewable Energy, Save Mother Earth, No Dapl, Stop Line 3 and so on."
Strong Buffalo is a member of the American Indian Movement and was the Director of the Minneapolis Chapter from 1972-73 and helped write the proposal for the American Indian Cultural Corridor.
"The cultural corridor is the urban reservation leading art and innovative American Indian programs and creativity." says Strong Buffalo. "I hope visitors enjoy the soundscape and enjoy the humor, intelligence and talent of our installation."
Stay tuned for more installation features about Northern Spark where you can witness these installations and more. Northern Spark is a late-night art festival illuminating public spaces in the Twin Cities Friday Friday, June 14 and Saturday, June 15 — starting at dusk (9 pm) and ending at 2 am.