Relationships and Reciprocity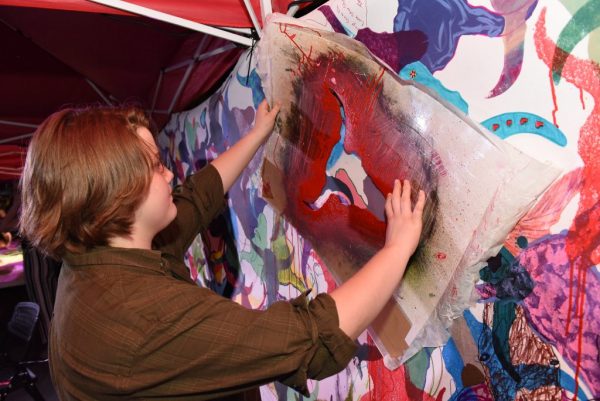 When we sat down with the staff at Native American Community Development Institute (NACDI) in spring of 2018 to talk about working together on a node of Northern Spark along Franklin Avenue for 2019, NACDI's COO Ed Minnema spoke about living by the value of reciprocity. He asked us an important question:  if we help create this festival in our community, what do we receive?
This is an important question for any relationship, be it interpersonal or between non-profit organizations entering a project together, but it is a particularly poignant query for Native-run organizations who are frequently solicited for partnerships that are one-sided; efforts pitched as collaborative but ones that ultimately serve to provide a non-Native organization access its community without giving anything of equal value in return.
Addressing this question head on forced us to acknowledge aloud the dangers of this dynamic, and to be very intentional to avoid it.
The answer to the question of reciprocity came in the form of shared time and expertise. Last summer, Northern Spark staff sat in on meetings with the planning team for Indigenous People's Day festival (IPDF) –a celebratory gathering that NACDI is seeking to become an annual event. As the team prepared for the October event, we shared our experience and expertise on festival components such as permits, artist contracts, volunteer scheduling and liability insurance. In return we got to witness another way of making a festival, an approach that honored elders, and put the community into high regard, including making sure that residents of the nearby Hiawatha Encampment were invited to participate in the event.
After IPDF, we returned to working on Northern Spark together, meeting regularly to co-curate artists to present on the Ave and support their process.  NL has also hired several of the IPDF organizers work on production, volunteer coordination and security for Northern Spark, as a way to continue capacity building for future events in the American Indian Cultural Corridor.
The transformed Franklin Avenue that you'll experience on June 14 and 15 is a result of years of partnership, that actually began in 2011 for the very first Northern Spark. Since then, different iterations of NACDI staff worked with NL to host an artist talk with Wendy Red Star (2015), a poetry reading with local writers and Kathy Jetnil-Kijiner (with Climate Generation, 2017), and most recently, the shared support for Keith BraveHeart's A Buffalo Nation: Building Community project at Northern Spark 2018 in The Commons.
We're thankful to the staff at NACDI, and the fantastic artists presenting along "the Ave" for teaching us these lessons and showing up to the collaboration through the invitation to be in reciprocal relationship.  
Read more about NACDI's work to help Native people to create the future they envision here.
Photo Caption: Keith Braveheart, A Buffalo Nation: Creating Community, Northern Spark 2018. Co-presented by Native American Community Development Institute and Northern Lights.mn. Photo: Sean Smuda.