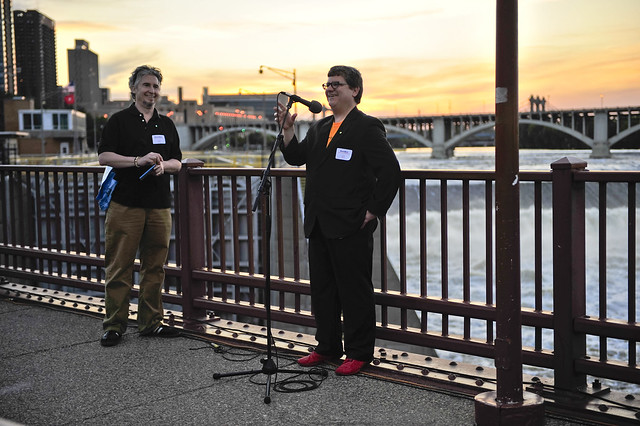 The next ten years
Life at Northern Lights.mn is never static. We like to try new things – sometimes seemingly impossible things – and to learn from them, iterate, converse, revise, try it again, adjust, repeat. Change has always been part of our DNA.
In this spirit, we are excited and humbled to announce a change in leadership at Northern Lights.mn. For the past year, Sarah Peters and Steve Dietz have worked as Co-Directors, sharing responsibility and decision making. One purpose of this collaboration has been to transfer the significant knowledge that Steve, as NL's founder, has about our organization, from its conceptual impulses to its thousands of Google folders.
Over the next year, Steve will step away from the everyday administration of the organization. With Sarah at the helm, we'll develop a succession plan that honors Steve's contributions and ultimately aims to bring on another Co-Director to continue shared leadership.
It is a year to reinvent and also to reflect on our rhizomatic roots while growing into the future.
In Steve's words:
"I founded Northern Lights.mn with the simple goal of it being a flexible, resilient platform dedicated to supporting the work of artists. More than ten years later there is much that we have accomplished, from boosting the careers of more than 50 'artists on the verge' to bringing the joy of a city transformed by artists to tens of thousands of people annually to artist takeovers of locks and rivers and train stations and skyscrapers and streets and plazas and other cities. It has been an absolute blast.

So many people have been a part of this journey, especially the artists, who I can never thank enough and from whom I have learned so much. I am an unabashed fanboy and earnest student.

I am eager to assist and see the next decade unfold under the leadership of longtime colleague and Co-Director Sarah Peters. She has the fortitude and receptiveness to imagine and do great things.

In this next year of renewal, let us know what YOU think. A good platform belongs to its users."
Of this change and process Sarah says, "Steve has built an incredible organization that has achieved so much in a decade. I'm honored to carry Northern Lights.mn's spirit of experimentation and commitment to artists into the future."
With much love and gratitude,
Sarah, Steve and the Northern Lights.mn board
Image caption: Northern Lights.mn founder Steve Dietz making opening remarks for the first Northern Spark with Board Chair Neal Cuthbert, 2011. Photo by Patrick Kelley.