Partnerships in Rondo for Northern Spark 2019
The Library inside the Hallie Q. Brown Community Center is an inspiring place to spend an afternoon. Books on African American history line the shelves below portraits of the Center's previous executive directors and founding board members. Exhibits and old maps sketch the image of a thriving African American neighborhood alongside contemporary photos that demonstrate a spirit of community resilience.  
For the past year, this Library's long conference table has been the gathering spot of several dedicated folks who have sat together to set the scene for the radiant art experiences people will have in the historic Rondo neighborhood this June at Northern Spark.
But the story starts two years ago.
In the months following the 2017 Northern Spark festival along the Green Line, Northern Lights staff sat down with Nieeta Presley from Aurora St Anthony Neighborhood Community Development Corporation and Brittany Wright of Visions Merging — our core programming partners in Rondo that year — to debrief on the event.
We talked about what was joyous and what went right and what could have been better. One of the key "room for serious improvement" notes was the fact that we invited the Rondo and other Green Line partners into the process after many of the big decisions had been made. We'd do better to engage people from the beginning, to create the theme and sites together.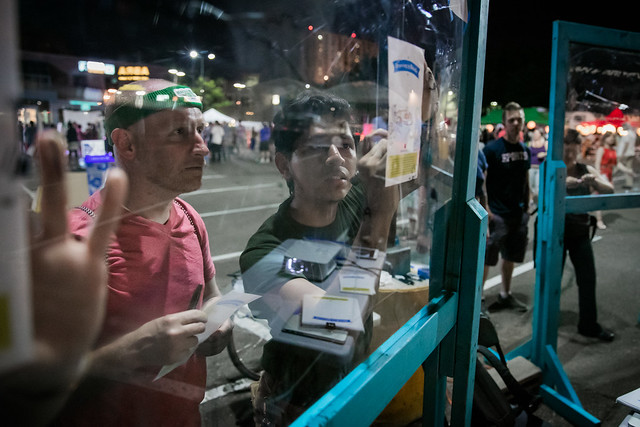 Fast forward to February of 2018 when a number of individuals from several Rondo-based organizations gathered to begin talking about what a Rondo node of Northern Spark 2019 might look like. The initial brainstorms were punctuated by long lists of important historic sites and current venues.  
At one point we all piled into the Hallie Q. Brown bus and went for a tour, stopping to learn about historic Black churches, Tiger Jack's corner, the Sterling Club and the Rondo Commemorative Plaza, among other sites.
While festival programming this June will center around Hallie Q Brown Community Center, commissioned festival artists tap deep into this broader neighborhood history with their projects as they create, exhibit, drum and dance to a contemporary beat of resilience, renewal and regeneration. Satellite activities will also take place at the Rondo Community Library.  Festival goers can ride a free shuttle bus between these locations and listen to storytellers from the community along the way.
We're immensely thankful for the patience and enthusiasm from everyone who has sat around the long conference table at Hallie Q. for the past many months!
Hallie Q. Brown Community Center turns 90 this year! Founded in 1929 as a settlement house for African Americans denied service from other agencies, HQB is an African American, nonprofit social service agency open to all. The Center serves as the historical gathering place for the African American community and provides programming in early childhood education, youth enrichment, seniors, basic needs (food shelf and clothing closet) and multi-service hub with partners. They also house the HQB Archive Project, a collaborative initiative that will serve as the hub of cultural and historical exchange for one of the Midwest's most important loci of African American history. Read more about Hallie's important community programs here.
Model Cities was founded in 1967, and has a mission to provide social and economic prosperity by providing access to opportunities that stabilize and develop families and communities. Their new mixed-use development BROWNstone, is located at Victoria and University and houses the Reading Room, a gathering space with original artwork that celebrates the legacy of African Americans in the railroad industry.
Aurora St. Anthony Community Development Corporation (ASANDC) hosts a variety of social, economic, housing, and commercial development programs for residents of all ages in the Rondo neighborhood. Read about their programs to support homeownership and small business development here.
Housed within Hallie Q. Brown since 1976, Penumbra Theater creates artistically excellent and socially responsible drama that illuminates the human condition through prisms of the African American experience.
And, speaking of libraries, we're also thankful to the staff at the Rondo Community Outreach Library in St. Paul for their enthusiasm about Northern Spark. The Rondo Library on the corner of Dale and University will be a satellite site for artist projects and engagements (and books!) during Northern Spark.  Sign up for our e-newsletter and stay tuned for a feature on our partnerships with Hennepin County Library and St. Paul Public Library coming in May.
Image credits from the top:
1. Hallie Q. Brown Community Center Library bookshelf, photo courtesy Northern Lights.mn
2. Drawing on Rondo by Witt Siasoco, commissioned by ASANDC and Visions Merging, Northern Spark, 2017. Photo by Caleb Timmerman