FOR IMMEDIATE RELEASE
Announcing Northern Spark 2019
Artist Line-up and Creative City Challenge Winner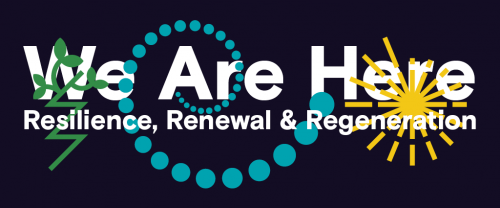 Radical Playground by Candida Gonzalez and Mary Anne Quiroz wins the 2019 Creative City Challenge and 30 artist projects will explore the theme We Are Here: Resilience, Renewal, & Regeneration
(Minneapolis, MN) March 12, 2019 — Northern Lights.mn announces the Creative City Challenge winner and line-up of artists selected to create vibrant and thought-provoking projects for the ninth annual Northern Spark, the free arts festival illuminating public spaces in the Twin Cities Friday, June 14 and Saturday, June 15—starting at dusk (9 pm) and ending at 2 am.
This year, artists will explore the theme We Are Here: Resilience, Renewal, & Regeneration with projects in three walkable and transit-accessible locations—the American Indian Cultural Corridor in Minneapolis, The Commons in downtown Minneapolis, and the Rondo neighborhood in St. Paul.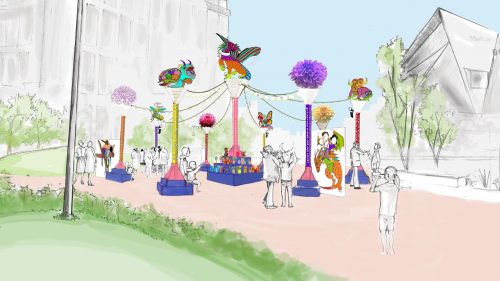 Radical Playground wins the 2019 Creative City Challenge
The participatory art installation Radical Playground by Candida Gonzalez and Mary Anne Quiroz has won the 2019 Creative City Challenge.
During the summer of 2019 on The Commons, participants will be invited to "heal through play" with whimsical interactive alebrije: animal sculptures inspired by dream creatures from the Caribbean, Mexico, the Pacific Islands and the indigenous cultures of Minnesota. Radical Playground will debut on The Commons June 14 as part of Northern Spark. The art will remain on The Commons through August 2019 for a summer of everyday interaction and special programming events in July and August.
The artists intend Radical Playground to invite Indigenous communities and communities of color to a space where they feel free to gather, to play, to heal. They want their project to bring a feeling of play, of free joy, of giving people's bodies a break from stress and worry.
The installation shape follows eight posts circling a large center post. The center post is topped by a large, striking alebrije and has a pyramid-shaped base that will serve as an ofrenda (altar) during programming. The outer posts are topped alternately by alebrijes and flowers representing the four directions. Four "selfie" panels anchor the four direction posts at the bottom and invite people to become alebrijes themselves as they put their faces in the panel cutouts. The color palette is bright and tropical for exciting, colorful viewing from long distances. Solar lights will create a magical nighttime experience. Read more about the Creative City Challenge in the City of Minneapolis' press release.
Artist Line-Up for 2019

Northern Lights.mn is proud to announce the roster of installation artists for the ninth annual Northern Spark festival. Roughly 30 artist projects will illuminate public spaces and explore the theme We Are Here: Resilience, Renewal, and Regeneration through a myriad of vibrant and thought-provoking projects.
In The Commons, grab a digital spray can and tag the Digital Graffiti Wall (presented by Walker Art Center), see the transformation and evolution of Ancient Ethiopian string musical instruments (Yilma H Woldemedhen), and use your body in joyful protest by dancing in the streets (Don't You Feel It Too?). Walking down Franklin Ave you'll see a multimedia installation of animated Anishinaabe stories (Jonathan Thunder), power a cyclist sculpture by pedaling stationary bikes (Victor Yepez), and explore a re-imagined Franklin Library designed by and for the local Indigenous community (Marlena Myles with Hennepin County Library). In Rondo, experience a Visual Jazz Odyssey (Miko Simmons) and make solar peace poles that light up the community with regenerative solar energy (Illuminate and Regenerate Rondo Regiment).
Full project descriptions and performing and video artists will be announced in April.
Participating Artists:
Kashimana Ahua
Beatrix*JAR
Natchez Beaulieu
Jesse Buckner
Don't You Feel It Too?
Heid Erdrich & Rosy Simas Danse
Kelley Leaf
Tom LeBlanc and Al Gross
Joshua McGarvey
Marlena Myles
Illuminate and Regenerate Rondo Regiment (Anura Si-Asar, Melvin Giles, Rekhet Si-Asar)
Miko Simmons
Jonathan Thunder
Yilma H Woldemedhen
Victor Yepez
2019 Theme—We Are Here: Resilience, Renewal, & Regeneration
Every year, Northern Spark creates a theme to inspire artists' creativity around cultural and societal issues. This year's theme was generated through responses from people and organizational partners in the communities of Northern Spark 2019.
Northern Lights.mn, along with the 2018-2019 Program Council (more info below), explored new ways of determining the festival theme by involving community input. Northern Lights.mn engaged with community members during neighborhood events at Hallie Q. Brown Community Center and Native American Community Development Initiative's Four Sister's Market over the summer to ask people what challenges or celebrations their communities face everyday.
The various responses were molded by the Program Council into the overarching theme, We Are Here. The subthemes Resilience, Renewal & Regeneration were formed to contextualize the theme and inspire artists and audience.  
"We Are Here is a collectively authored call to our communities to raise their voices," says Teeko Yang, former Program Council and Projects Manager at Northern Lights.mn.
"As we say in the theme document we wrote with the Program Council: 'Claiming space is one of the most powerful actions anyone can take. For people who do not see themselves or hear voices like their own in the dominant culture around us, raising their voice can mean the difference between invisibility or resilience, renewal, and regeneration.'"  
Northern Spark 2019 Locations
The venues for Northern Spark 2019 are in Minneapolis and Saint Paul:
American Indian Cultural Corridor on Franklin Ave. in Minneapolis

The Commons in downtown Minneapolis

Hallie Q Brown Community Center in the Rondo neighborhood of Saint Paul
Dates and Times
In 2019, Northern Spark will take place over two nights, the third weekend in June:
Friday, June 14, from 9 pm to 2 am

Saturday, June 15, from 9 pm to 2 am
Programming and art will be the same each night unless noted.
Northern Spark at The Commons will also be the site of the opening reception for the 2019 Americans for the Arts Annual Convention, taking place in the Twin Cities June 13-16, presented by Americans for the Arts in partnership with the City of Minneapolis Office of Arts, Culture, and the Creative Economy; Springboard for the Arts; and the Minneapolis Foundation.
More information is available at 2019.northernspark.org
2018-2019 Program Council Members
Alex Buffalohead, Sara Endalew, Pa Na Lor, Zahra Muse, SEE MORE PERSPECTIVE, Mary Anne Quiroz, Aki Shibata and Donald Thomas Jr. More information about the Program Council.
Northern Spark Partners
Northern Spark has always been a collaborative effort. Northern Lights.mn is grateful for the generous involvement of several organizations in the support and programming of Northern Spark 2019:
Neighborhood Partners
Arts, Culture and the Creative Economy Program, City of Minneapolis
Aurora St. Anthony Neighborhood Development Corporation
Green Minneapolis
Hallie Q. Brown Community Center
Model Cities
Penumbra Theater
Native American Community Development Institute
Visions Merging
Participating Venues
All My Relations Arts
Franklin Library
Hallie Q. Brown Community Center
Rondo Community Outreach Library
The Commons
Presenting Partners
Aurora St. Anthony Neighborhood Development Corporation
Catalyst Arts
FOCI Minnesota Center for Glass Arts
Hennepin County Library
Mia
Minnesota Sacred Harp Singers
Model Cities
Saint Paul Public Library – Rondo Community Library
Walker Art Center
Weavers Guild of Minnesota
Northern Spark Background
Since 2011 thousands of Minnesotans and visitors have enjoyed Northern Spark, an annual arts festival illuminating public spaces in Minneapolis and St. Paul. In early June, tens of thousands of people gather to explore giant video projections, play in temporary installations in the streets, and enjoy experimental performances in green spaces. Late into the night the city surprises you: friendly crowds, glowing groups of cyclists, an unexpected path through the urban landscape, the magic of sunrise after a night of amazing art and experiences.
Northern Spark began as a dusk-to-dawn event. In 2018 we introduced a new model for attendees to experience the artful magic of Northern Spark for two nights in a row until 2 am.
Memorable projects from past Northern Spark festivals include Chris Larson's Celebration/Love/Loss, Jim Campbell's Scattered Light, Luke Savisky's Ex-MN, Pramila Vasudevan's Census, and countless other projects from artists such as: Ananya Dance Theater, Marina Zurkow, HOTTEA, and Million Artist Movement.
Northern Spark is produced by Northern Lights.mn, a Twin Cities non-profit arts organization whose work ranges from large-scale public art platforms like Northern Spark to Art(ists) On the Verge, a year-­long mentorship program for 5 emerging artists working with digital culture. We support artists in the creation and presentation of art in the public sphere, such as at St. Paul's Union Depot (Amateur Intelligence Radio), "choir karaoke" at the Minnesota State Fair (Giant Sing Along) and Illuminate South Loop, a mini outdoor festival of nine interactive projects in Bloomington, MN's South Loop in the days leading up to the 2018 Super Bowl. Through projects such as Aquanesia, a location-­based environmental mystery game, and large scale festivals themed around social issues, our work helps audiences explore expanded possibilities for civic engagement through art.
Sponsors and Supporters