Northern Spark 2019 Open Call for Artists
The application deadline has passed.
Monday, January 14th, 2019 at 11:59 pm CST
Download the call here.
Find all submission forms here.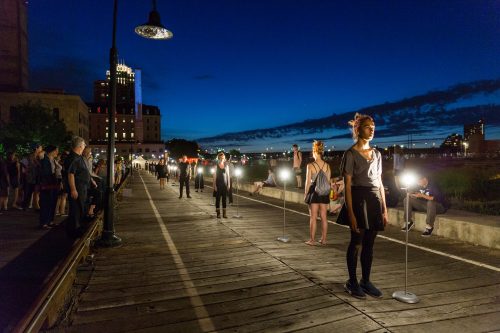 Table of Content
SUMMARY
THEME
ELIGIBILITY
SUBMISSION FORM
ARTIST WORKSHOPS
TYPES OF PROJECTS
LOCATIONS
KEY CRITERIA
BUDGET
APPLICATION MATERIALS
SELECTION PROCESS AND TIME
NEIGHBORHOOD CONTEXT
FAQs
---
Northern Spark 2019 is taking place on Friday, June 14th and Saturday, June 15th from 9pm-2am each night.
This is an open call for artist projects for Northern Spark 2019 with the theme We Are Here: Resilience, Renewal & Regeneration. The festival is taking place in Rondo (Hallie Q. Brown Community Center- indoor and outdoor areas), American Indian Cultural Corridor (along Franklin Ave between American Indian Center and All My Relations Gallery) and Downtown East Minneapolis (The Commons). Projects will be presented near the Hallie Q. Brown Community Center, the Franklin Ave corridor near All My Relations Gallery, and the Commons Park by the US Bank Stadium.
This call is for projects in the form of participatory installations, stage performances and video screenings.
---
We are Here: Resilience, Renewal & Regeneration
"You are here". We encounter these words on maps all over the world, maybe with an arrow and a dot. They are often found on a kiosk in the middle of a mall or the edge of a park. We find them in both crowded and silent, ubiquitous places where the environment begs for orientation.
What if we change these words to "we are here"? What happens when we decide where we are on the map? When we draw the map? The singular becomes plural, and our identity multiplies.
Claiming space is one of the most powerful actions anyone can take. One can claim space through the art of images, movement, language, music or other creative expressions. For people who do not see themselves or hear voices like their own in the dominant culture around us, raising their voice can mean the difference between invisibility or resilience, renewal, and regeneration.
This year Northern Spark celebrates just a few of the neighborhoods in our city that are home to people, cultures, and livelihoods that have stayed resilient in the face of erasure, genocide, and fractures between nature and each other. These beloved communities continue to rise as they renew and regenerate themselves.
Northern Spark has always been about transforming the city, at least temporarily, into a different kind of place. One where creativity and community take over to inspire and disrupt the status quo in the name of voice. In the name of agency. In the name of claiming space…and power.
This year we invite you to raise your voice, to claim your space, and draw your own maps. Tell your stories of resilience, renewal, and regeneration.
Resilience: We bend but don't break.
Renewal: We survive. We thrive.
Regeneration: We nurture our roots and acknowledge our power within.
What does "we are here" mean to you?
The theme was created by the Program Council. Learn more about how it came together  here.
---
This is a call for individual artists, artist collectives, and creative community organizers who are from or connected to cultural communities reflected in Rondo, American Indian Cultural Corridor, and Downtown East Minneapolis neighborhoods.
Anyone is eligible as long as the above conditions apply, with an understanding that the jury will prioritize proposals by applicants who have historically been marginalized.
Applicants living anywhere are eligible to participate, but there is no additional funding available for shipping or travel. Non-profit organizations or companies are not eligible to apply.
Click here for Neighborhood context.
Applicants will be asked to define their cultural connection to the neighborhood where they propose to present their project.  Some examples of cultural connections:
As an indigenous person, this is my homeland and the theme of

We Are Here

is very important to me and my work.

My African-American grandmother grew up in Rondo; this neighborhood is where I see my cultural heritage reflected.

I don't live along Franklin Avenue, but the Indigenous-owned businesses and organizations reflect my people.

Frogtown, my neighborhood, overlaps with Rondo and this is where I see/feel my Hmong identity and heritage expressed.

I grew up going to Hmong New Year at the Metrodome in downtown Minneapolis but it's not there anymore.

This neighborhood is where I see and hear my native language being regenerated.

I walk through The Commons every day on my commute to work downtown. It is a place where I see people like me.

I am Karen, and Rondo is my new home.
Who is an Individual Artist?
Anyone who is a maker of things or experiences in the realm of art; can be self-taught, or academically trained, emerging or seasoned as an artist.
What is an Artist Collective?
Groups of artists who work together toward shared artistic goals or projects. These groups may be ongoing or temporary for Northern Spark.
Who is a Creative Community Organizer?
A creative community organizer is a community member whose been involved with uplifting and organizing communities. This person has a deep understanding of community politics, privilege, and power and uses their voice to challenge the system to create social change.
---
The link to our online submission form will be posted here, as well as on our Opportunities page, soon.
If you are planning on submitting a proposal and would like to receive relevant open call updates, please e-mail submissions@northern.lights.mn.
We also encourage artists to sign up for our newsletter to get the best idea about the kind of work that we program.
---
The workshop series Make it Happen! has past.   
Please join us for an Info Session about the Northern Spark 2019 Open Call on Thursday, January 3rd, from 6:30 – 8 pm at the Rondo Community Library. More details are on the Facebook event.
---
We are seeking proposals for multiple kinds of artist projects: participatory installations, videos, and stage performances, which amplify and interpret the festival theme.
Participatory Installation – These are artist projects in any media or form that engage festival-goers in some way.  Some examples from the past include:
Locations: The Commons, American Indian Cultural Corridor, Hallie Q. Brown Community Center 
Participatory installations must run all hours of the festival on both nights.  For more examples of previous installations, visit northernspark.org. 
Video Screening -Video works with a 5 to 15 minute runtime. Works may be silent or have sound, be experimental or narrative or anything in between. If you have a feature-length work you would like to submit, please select a section or favorite scene that is no more than 15 minutes. If selected, your piece will be put into a reel with other works and looped during both nights of Northern Spark in each festival neighborhood. The same reel will be screened at each location.
Screenings sites are yet to be determined but will very likely be indoors, on a single screen, with amplified sound.
Applications and work samples are due Monday, January 14th at 11:59pm, if selected, final video works are due Tuesday, April 16th. 
Locations: The Commons, American Indian Cultural Corridor, Hallie Q. Brown Community Center
Performance Stage – 20 minute slot on a stage with basic sound equipment. This could be a spoken word set, a dance troupe performance, a choir, a puppet show, a sing-a-long, a magic act, a story slam, a set with your band. Apply for a slot on Friday or Saturday night.
The festival will provide: a stage roughly 8 ft x 16 ft and 2 handheld microphones. Audio playback available. Sound reinforcement available (PA system) for acoustic instruments, vocals, and/or DJ equipment. 
Locations: American Indian Cultural Corridor, Hallie Q. Brown Community Center 
---
All projects will be presented in public spaces in the following neighborhoods: Rondo (Hallie Q. Brown Community Center–indoor and outdoor areas), American Indian Cultural Corridor (along Franklin Ave between American Indian Center and All My Relations Gallery) and Downtown East Minneapolis (The Commons).
Artists will be asked to choose a neighborhood for your proposed project, including a description of your cultural connection to that place. Learn more about the neighborhoods here. 
You do not have to live in the neighborhood to propose a project. Your proposal does not have to include a specific site within the neighborhood but should describe the type of site that would be ideal for your project (ex. performed in an alley, installed in a green space, projected onto a light-colored building exterior). Furthermore, we encourage you to propose projects that take full advantage of the city's idiosyncratic nooks, crannies, and surfaces. If you have a question about sites, email submissions@northern.lights.mn.
We will also have more info about specific sites available at our Artist Info Sessions.
---
Every project proposal must relate to the festival theme of We Are Here: Resilience, Renewal & Regeneration. Projects will be evaluated according to these primary criteria:
Theme.

How does your project relate?

Cultural Connection.

What is your connection with the proposed neighborhood–its people, place, and history? How is this meaningful to you?

Artistic quality.

What is your project? Who will create it? What materials, process and methods will you use? We are looking for clear project descriptions that showcase commitment to creativity.

Projects that intend to sell art or products are not eligible.
In addition, while none of the following are strict requirements, they are factors in making our decisions:
Sustainability.

We encourage artists to consider their carbon footprint and potential waste while conceiving of, creating and implementing their project.

Participatory

.

How will people interact with your project? Participatory elements can range from a hands-on making to sing-a-long to interactive data visualization.

Duration.

One of the distinctive aspects of Northern Spark is its 5-hour duration each night (two nights). Does your project fill this time? How?

Nighttime.

How will your project operate at night? How will people see your work?  

Crowded.

Tens of thousands of people attend Northern Spark. There will be large crowds to appreciate it. How does your proposal account for this?

Accessible.

Northern Spark welcomes a broad audience with a range of arts knowledge from novice to seasoned practitioner. How does your proposal account for this?

Feasibility.

Northern Spark is two nights. Installation generally takes place on Friday and deinstallation Sunday morning. Describe how your project is feasible to set up and take down within this time and how it will be protected in the off hours.  

Sound

. City ordinances prohibit amplified sound in outdoor space after 10 pm.

Legal

. Projects must meet all necessary city laws, ordinances, and codes. Festival staff will help with these questions after projects are selected.

Safety

. The festival provides security, but please consider the safety of your audience, yourself and the artwork itself.
Northern Lights.mn will assist and facilitate permitting, electricity, permissions, etc, but artists are responsible for the creation, production and execution of their project.
---
Selected projects will be funded at these levels. Please be sure that your proposed cost is well justified by your budget.
Participatory installation: $5,000

Stage performance (20 min slot): $200

Video screening (5-15 min video): $100
Budgets should include everything necessary to present the project from construction to installation/deinstallation and artist fees. Stage performances and screenings do NOT need to include stage, costs, sound or projection equipment.  
For installations, Northern Lights.mn will provide electricity and standard permitting, although some elements such as fire and food may have additional permitting costs, which will come out of your project budget.
---
The application process is entirely online. Applicants are required to submit:
Name of Artist, Artist Collective, or Creative Community Organizer (if collective, name Lead Artist)
Reliable Contact Information (phone, email, mailing address) Whoever checks these will be responsible for communicating with Northern Lights.mn staff for the duration of the project period.
Venue/Neighborhood Explain your cultural connection to the selected neighborhood.
Theme Describe how your project fits the theme.
Project 

(no more than 2 pages) Project title, project description, proposal concept, visuals, technical materials, relevance and feasibility (see Key Criteria, above). We encourage you to be as specific as possible about what site, or type of site, you would like to use. The proposal must explain the connection to the theme-

We Are Here: Resilience, Renewal & Regeneration,

and your neighborhood cultural connection.

Artist bios and work samples

 of past, preferably-related work, with identifying information and/or brief descriptions. (Use format indicated on the submissions site.)

A budget

that fits within the parameters of the open call and/or clearly identifies and confirms additional resources (max 1 page, pdf)
---
Projects will be selected by Northern Lights.mn and the Program Council, who reserves the right to request additional material and information after the proposal deadline, and to reject any and all proposals received.
General Timeline:
November 15: Open Calls Announced

December 1st: Make it Happen!

Crafting a Pitch

December 11th: Make it Happen!

Project Realization

January 14th at 11:59 PM CST: Application Deadline

Early February: Artists notified

February 26: Festival Artist Introductory Meeting, 7-8:30 pm (Mandatory)

March: Site visits and final project descriptions due

April: Production

May: Project Testing

June 14th (morning and afternoon): installation and set up

June 14th (9pm-2am): Northern Spark 2019
June 15th (9pm-2am)

:

Northern Spark 2019

June 16th (morning): Projects dismantled and removed from site by 9am
---
Northern Spark is a late-night participatory arts festival that lights up the Twin Cities. During Northern Spark, tens of thousands of people gather throughout the city to explore giant video projections, play in temporary installations in the streets, and enjoy experimental performances in green spaces and under bridges. From dusk to 2am on two nights, the city surprises you: friendly crowds, glowing groups of cyclists, an unexpected path through the urban landscape that leads to a night of amazing art experiences.
More information about Northern Spark:
---
Read more here.
---
What technical specifications do you want to see included in my proposal?
We want to see descriptions of equipment you'll use, dimensions of sets or objects, placement diagrams, any special structures or features that would be needed, etc. Basically, anything that will help us get a sense of how your project would physically fit into the landscape of the festival, and what the major physical components are.
My project will only last one hour, and it will not be repeated. Can I still submit a proposal?
Participatory installations must run during all hours of the festival. If you have a shorter performance, please apply in the category of stage performance.
I don't need funding for my project / I can provide all the funding for my project, and I would like to present it at Northern Spark. What is the process I should follow?
All proposals for projects must be submitted through the open call submissions form by the January 14th deadline so they can be sent to the jury. Each project is juried through the same process, regardless of its funding needs.  
Is there a set number of projects that will be accepted?
No, there is not a set number of projects that will be accepted, however, this call is competitive and we are working with limited resources.
I live in a country that is not the United States, so my phone number doesn't fit into the submission form correctly.
No problem. Email submissions@northern.lights.mn.
I'm not interested in presenting a project, but I really want to be a part of this festival. How can I get involved?
You can volunteer! We love our volunteers. Email volunteers@northern.lights.mn for more information.
What should I do if I don't see my question listed in these FAQ's?
E-mail submissions@northern.lights.mn with any additional questions.
---
To submit your proposal for Northern Spark 2019, find all submission forms here.