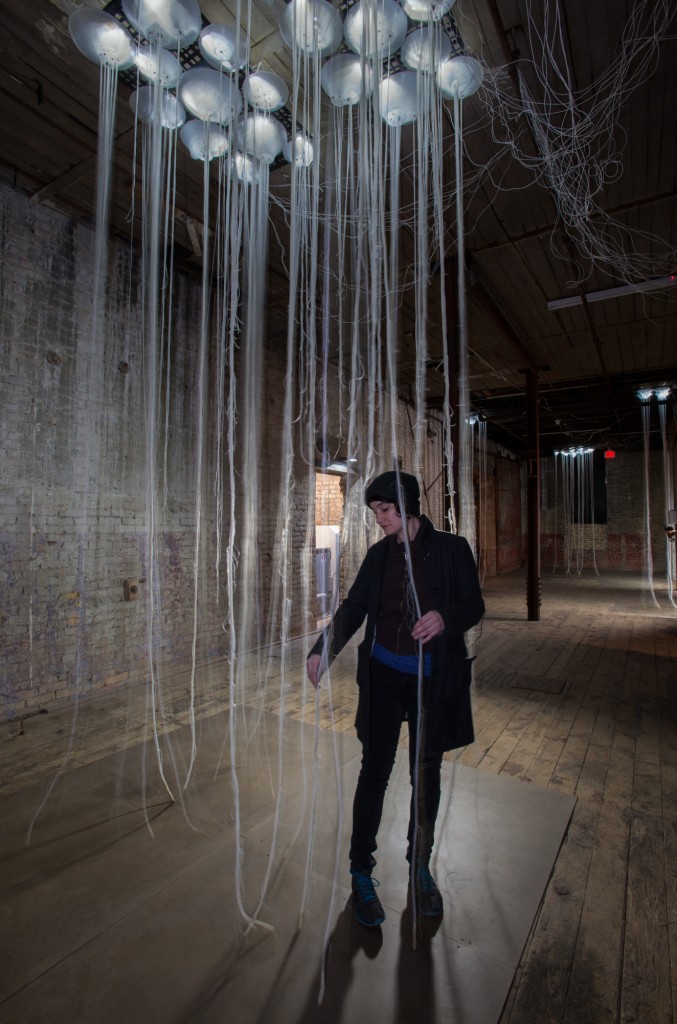 Alison Hiltner, Survival Tactics. Photo credit: Rik Sferra
More info about Skill Share can be found here.
March 27-28 join us for a conversation on art, surveillance and narrative plus an afternoon knowledge-share of strategies and tips every artist working with media in the public sphere needs to know.
Skill Share: A Northern Lights.mn Symposium
March 27-28, 2015 at the Soap Factory
Free, registration required: http://skill-share-nl.eventbrite.com
Mark your calendars for a weekend of engagement with contemporary digital art(s) in conjunction with Art(ists) on the Verge 6. Part skills fair, part lecture and part happy hour, this gathering aims to build knowledge, peer learning and networks in our arts community.
Skill Share kicks off on Friday, March 27 with an evening talk by James Coupe, on art, surveillance and computational narrative. Coupe is an artist and associate professor at the University of Washington's renowned DX Arts program.  Co-presented with What's Up Pop Up by Sarah Lutman and Associates.
The afternoon of Saturday, March 28 features a dynamic, rotating knowledge share.  Do you have a question about wireless electricity or guerilla projection? Local and national artists lead discussions on a variety of topics designed to assist artists working in public art, digital and networked technologies and interactivity.
Join us to learn and share your two cents about:
Portable Power and Stealing Public Electricity
Demystifying Commercial Property Owners
Permits: Making it Legal (Or Not)
Avoiding the Pitfalls of Projection in Public Space
Multiplayer Distributed Mobile Games
among other topics!
Skill Share is free to attend, but registration is required: http://skill-share-nl.eventbrite.com
Sponsorship is generously provided by The Jerome Foundation.