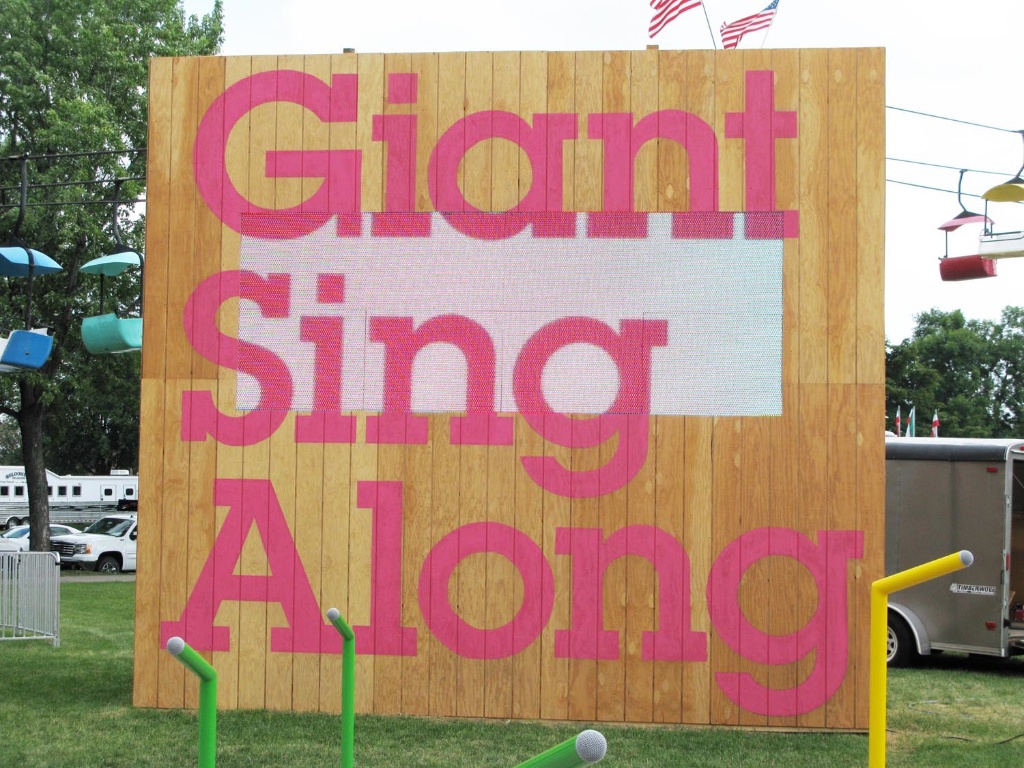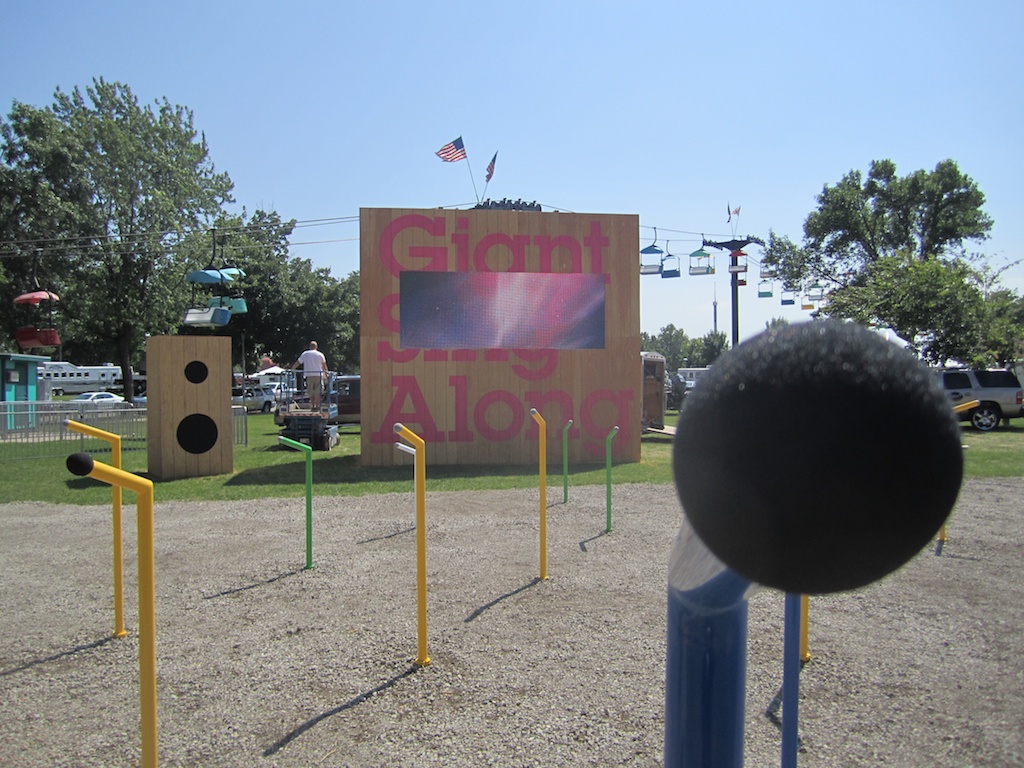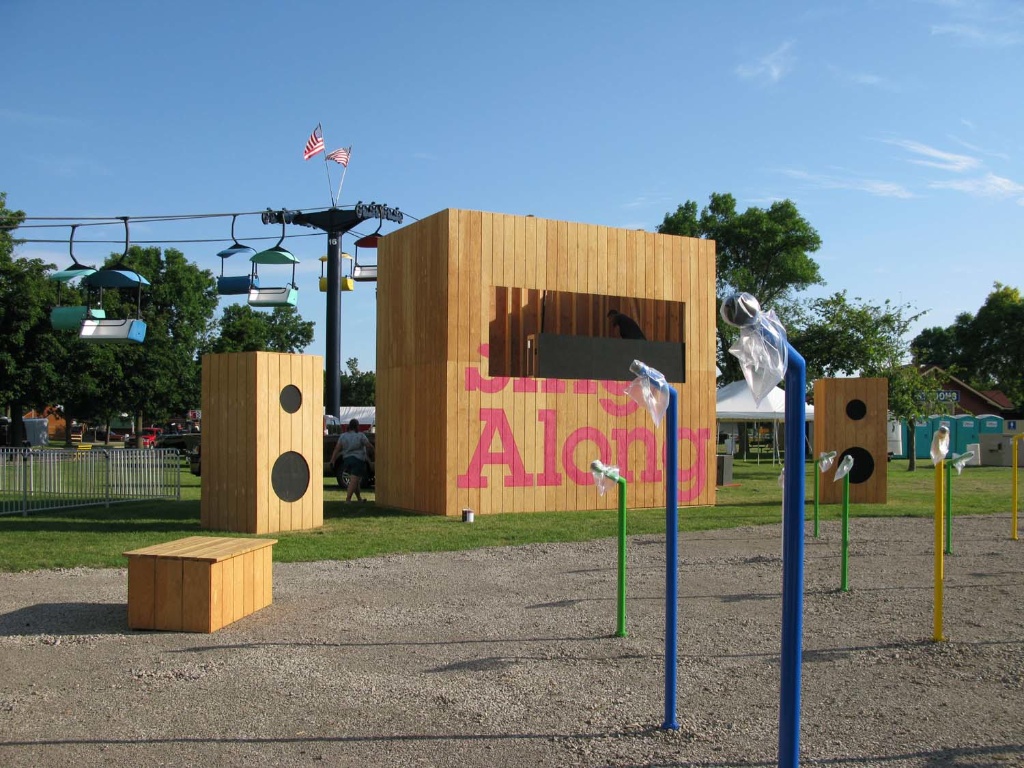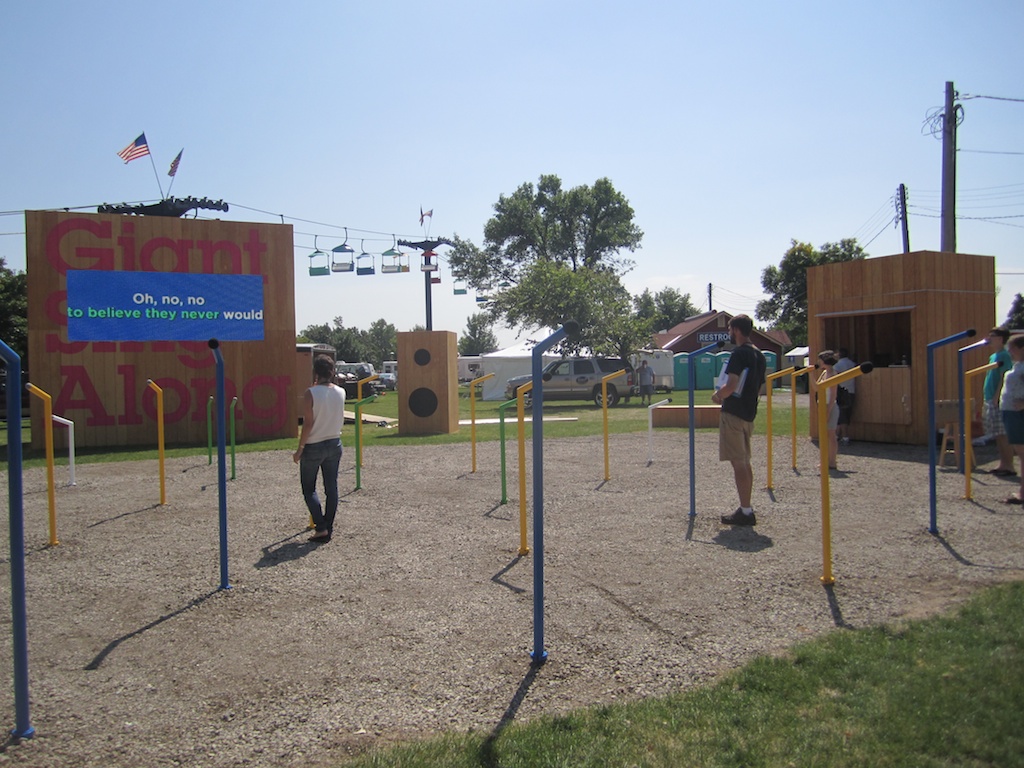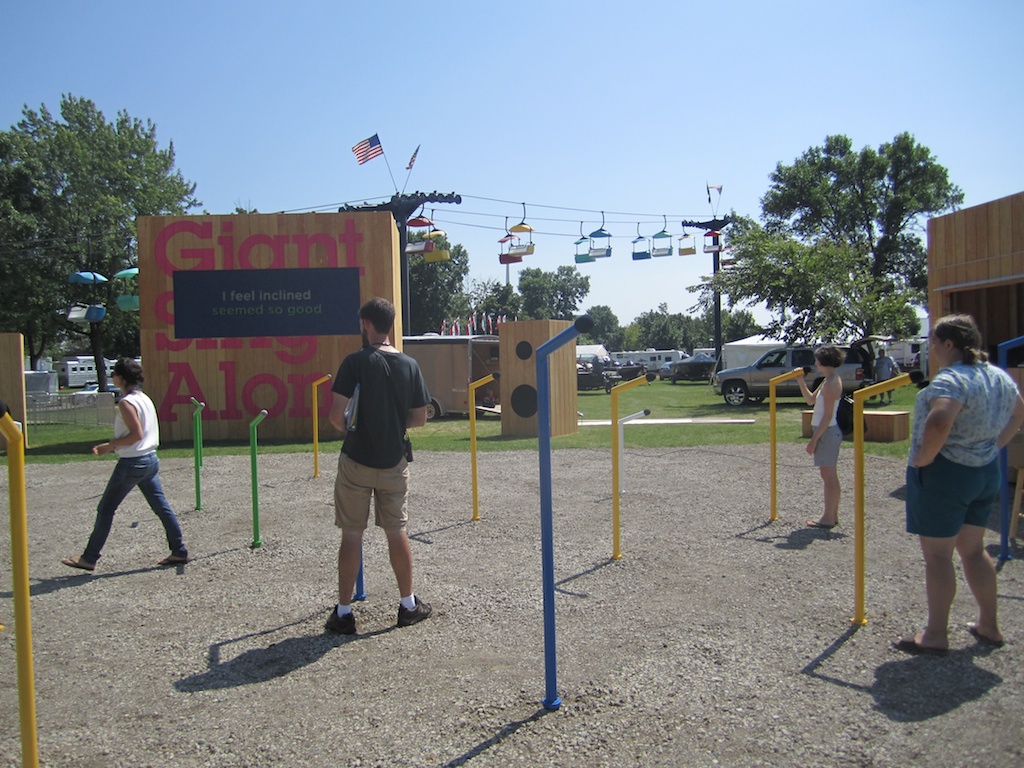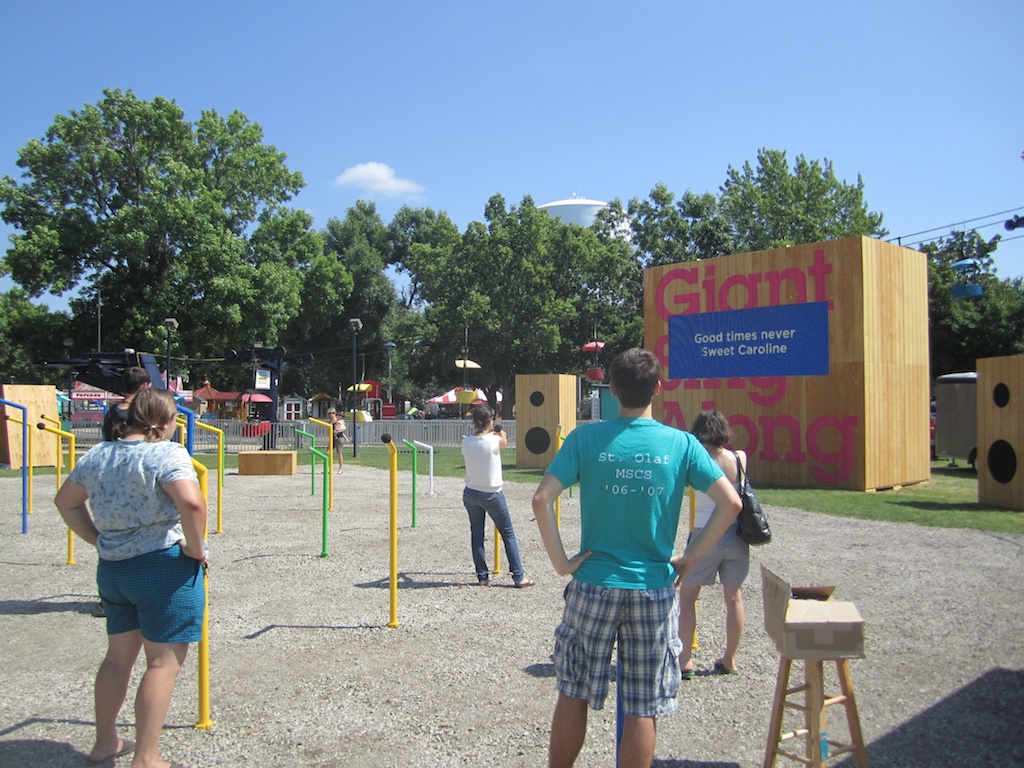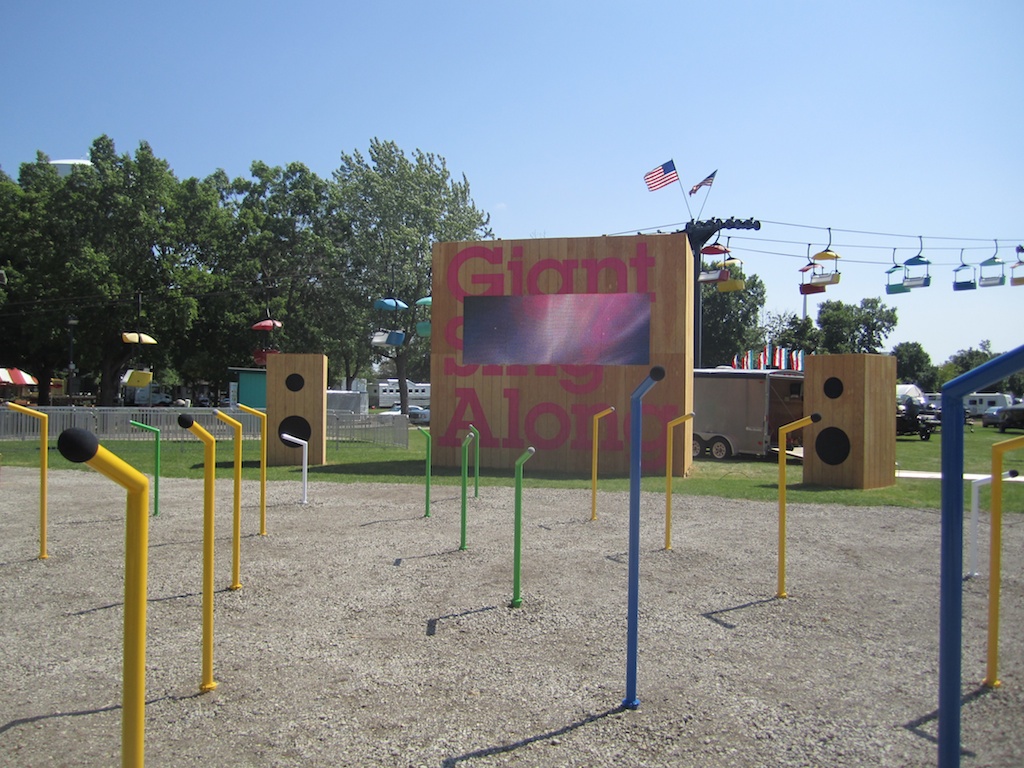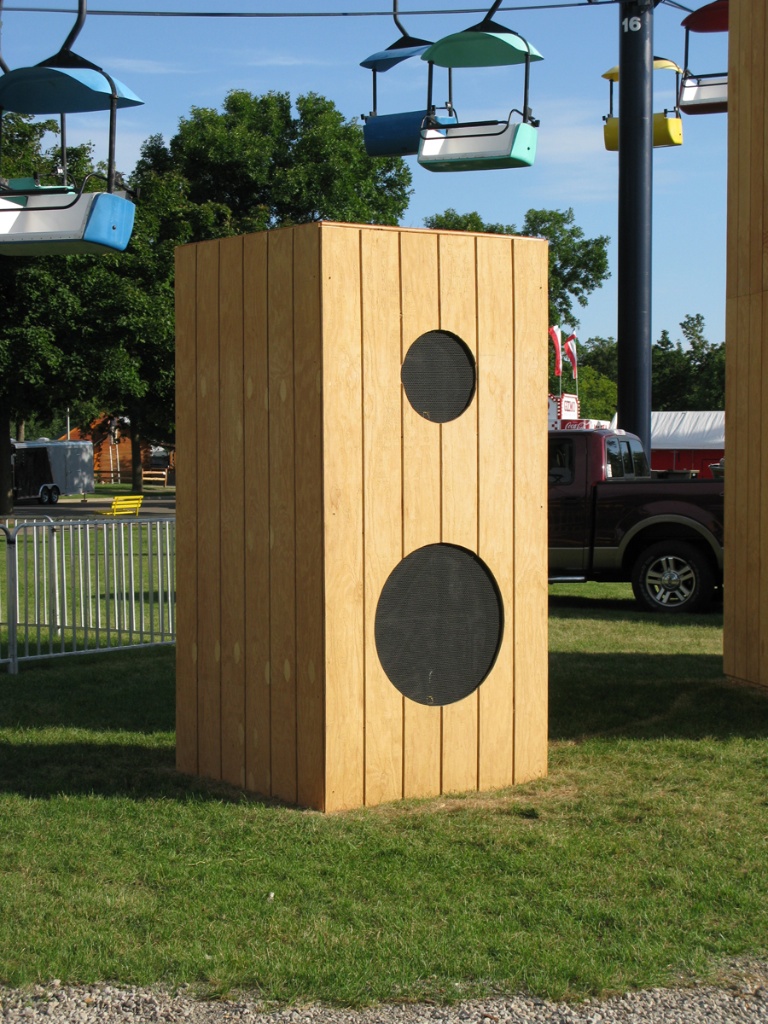 I visited the State Fair yesterday to check out Giant Sing Along, the new "interactivate" project by Mouna Andraos and Melissa Mongiat. The simple wooden structures look beautiful at the top of Murphy Ave., and the field of brightly colored microphones beckons like a cornucopia of delectable somethings on a stick. Only, instead of consuming you are making beautiful music together. The microphones are connected to a sophisticated software systems that does some melding and tuning of your voice – even mine – to each song and amplifies the sound so that even a few people can belt out a rousing chorus. Choir karaoke indeed. Check out the vid below and the playlist at the end of this post.
Giant Sing Along is open all day every day during the Minnesota State Fair, but do join us for a special performance by the Prairie Fire Lady Choir at 5 pm on Saturday, August 27.
Andraos and Mongiat come from the fields of interaction design and narrative environments, and research new ways to tell stories. Regarding the fair's Giant Sing Along, Andros and Mongiat write, "Building on the contagious, positive energy of the fair, participants will connect with one another by sharing in a collective and moving musical experience. This uplifting activity is accessible to all and designed with the goal of inspiring guests to do something in unison." The two design large-­scale projects that impact cities down to tiny ones that fit inside a pocket, bringing art to everyday life and inviting the public to become active contributors. More of their work can be found at livingwithourtime.com.
Presented by Bremer Bank, Giant Sing Along is a co-production of the Minnesota State Fair, the Minnesota State Fair Foundation, and Northern Lights.mn.
Playlist
Don't Stop Believin' – Journey; Joy to the World; My favourite things – The Sound of Music; Rolling in the Deep – Adele; Friends in low places – Garth Brooks; It's my life – Bon Jovi; Bohemian Rhapsody – Queen; Hey Jude – The Beatles; Pour some sugar on me – Def Leppard; Take me out to the ballgame; Summer Nights – Grease; Thriller – Michael Jackson; Bad Romance – Lady GaGa; Keep Holding ON – Avril Lavigne; American Pie – Don McLean; Sweet Caroline – Neil Diamond; Happy Together – The Turtles; Yellow Submarine – The Beatles; You are my sunshine; Stay – Lisa Loeb; Your Song – Elton John; Brown Eyed Girl – Van Morrison; Piano Man – Billy Joel; Purple Rain – Prince; Mean – Taylor Swift; Summertime – Kenny Chesney; Soul Sister – Train; Come Sail Away – Styx; Firework – Katy Perry; Never Gonna Give You Up – Rick Astley; Living on a Prayer – Bon Jovi; I need to know – Marc Antony; Copacabana – Barry Manilow; Dynamite – Taio Cruz; Turn On The Radio – Reba; I Love Rock and Roll – Joan Jett; This is For Real – Motion City Soundtrack; Still haven't found what I'm looking for – U2; Boyfriend – Big Time Rush; Bennie and the Jets – Elton John; Baby – Justin Bieber; Hotel California – The Eagles; God Bless the USA – Lee Greenwood; Ring of Fire – Johnny Cash; YMCA – The Village People