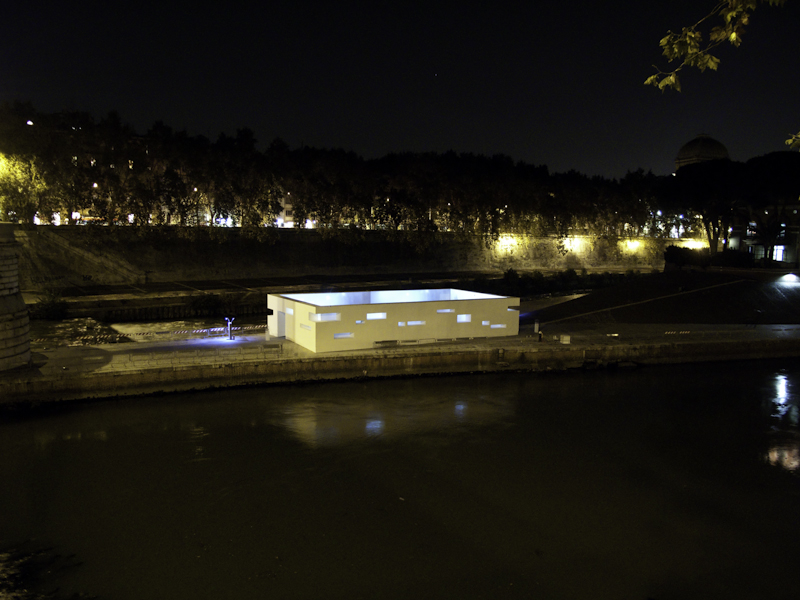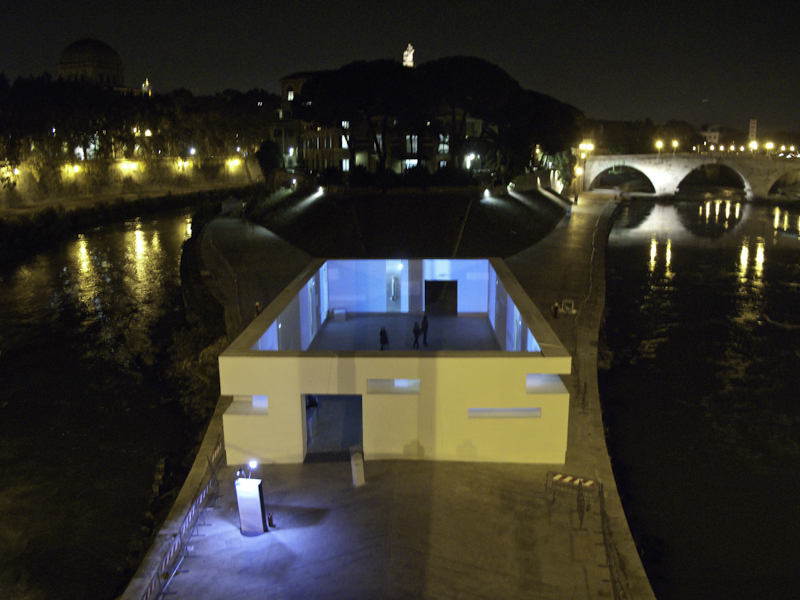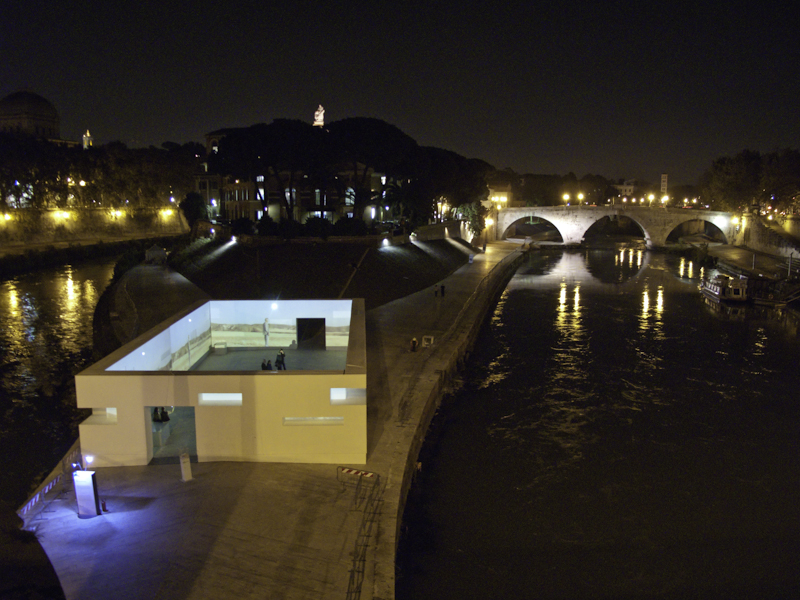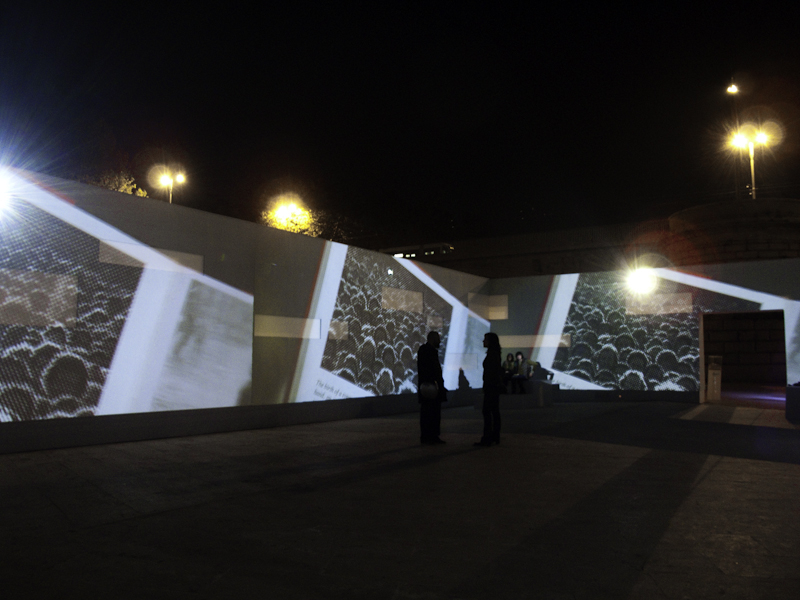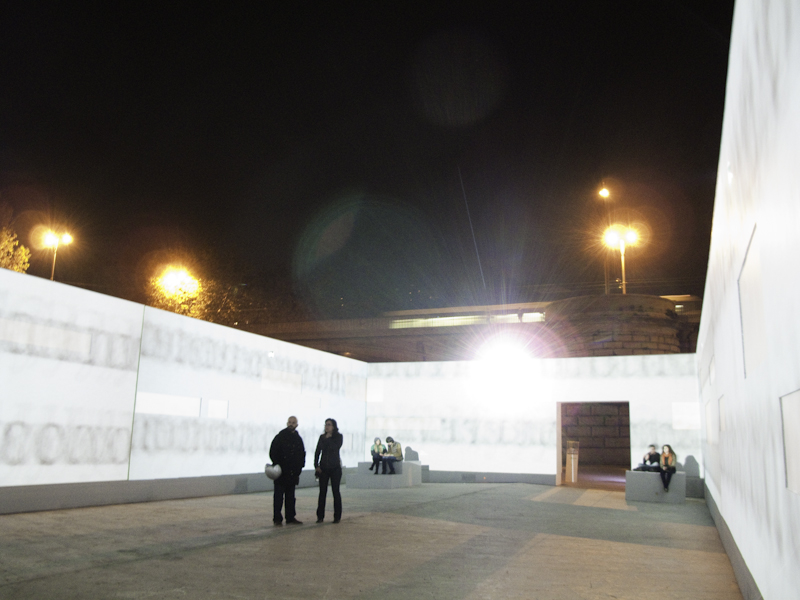 Rome, Tiber Island, november 2009
Rome is finally giving proper space to contemporary art. Not only between the walls of galleries and other traditional venues, but also in the streets, hosting new buildings (Zaha Hadid's new MAXXI museum and Odile Decq's expansion for Macro, to open in spring 2010), performances and open-air installations.
Doug Aitken's Frontier is the latest evidence of this new deal: a spectacular video work installed on the Isola Tiberina, a natural island located in the very heart of the city, emerging from the river. After the end of the show, the work will be donated to Rome's contemporary art museum (Macro), where it will be visible next year.
The press releases that accompanied the launch of the event, part of the third edition of Enel Contemporanea curated by Francesco Bonami, emphasized a supposed similarity between Aitken's video room (which has numerous small windows and no roof) and the Colosseum. But the work doesn't seem to look for any historical reference; it owes most of its appeal, on the contrary, to the visual clash it engages with the surroundings.
Visitors first see Frontier from above, standing on top of the bridge, then walk down the marble stairs and approach a white, luminous room. The video is projected all over the inner walls, and the light – with its intensity and colour variations – leaks out of the rectangular windows that punctuate the structure. The whole architecture becomes a screen and a framework for the story: a narrative – and somehow circular – journey about memory and time. At the beginning we see the american painter Ed Ruscha sitting in a darkened movie theatre. Then he leaves for an – imaginary? – walkabout through different locations and atmospheres (the video was shot in Rome, Los Angeles, Israel and South Africa). The camera alternates wide, quiet panoramas with intense close-ups of faces and objects; the overall feeling is mystical and romantic. Sometimes the artist just relies on colours, flooding the walls with vibrant textures of pure, liquid light. At last, the protagonist finds himself once again in the same setting – the cinema – where the video began.
In the end, it seems like the story, and even the video itself, doesn't count as much as the whole, immersive experience. The experience of spending half an hour inside a big screen-bulding, on the tip of an old island (it resembles the tip of a vessel) with only the sky as a roof. The main role of the video is that of being an emotional trigger, gently pushing the spectator towards a dreamlike, contemplative mood.
Valentina Tanni
Valentina Tanni (www.valentinatanni.com) is a contemporary art critic and curator based in Rome, Italy. Her research is mainly focused on new media art and internet culture. She is the founder of Random Magazine (www.random-magazine.net) a digital art bulletin, and co-founder of Exibart.com (www.exibart.com), the most popular online art magazine in Italy.