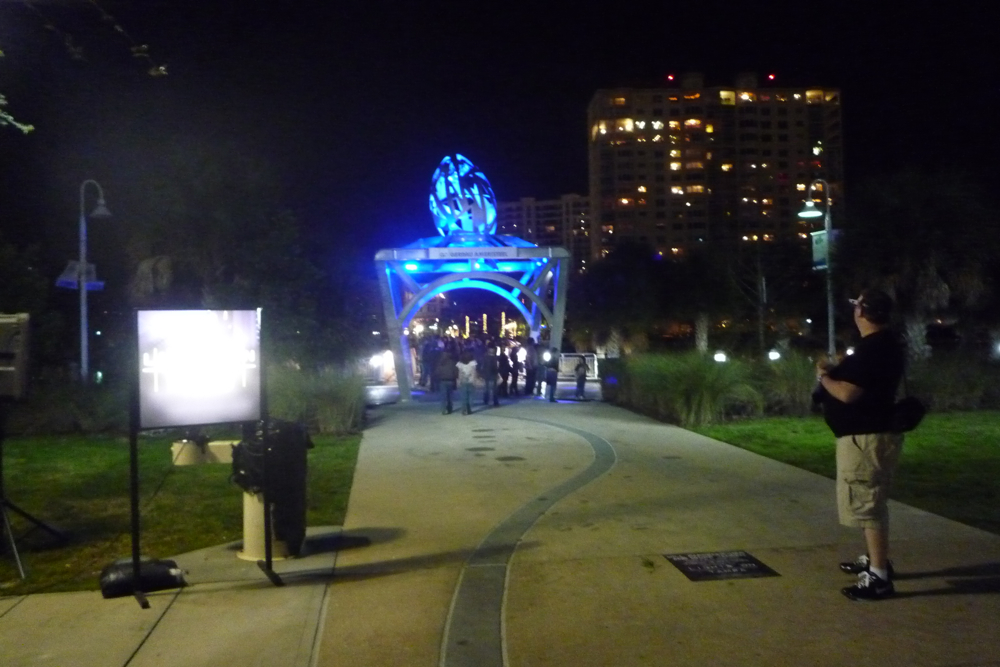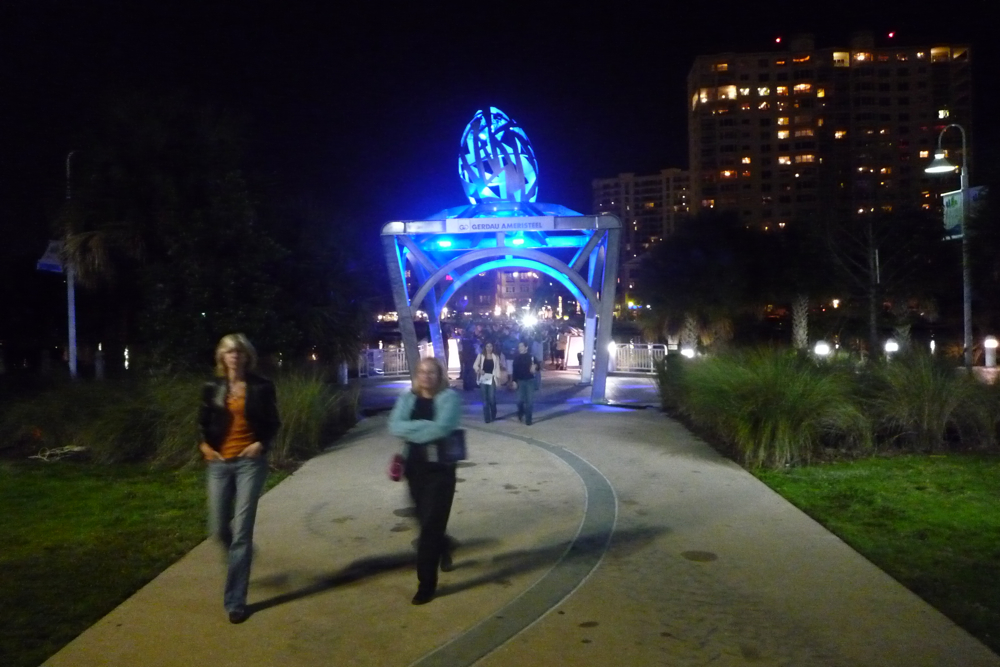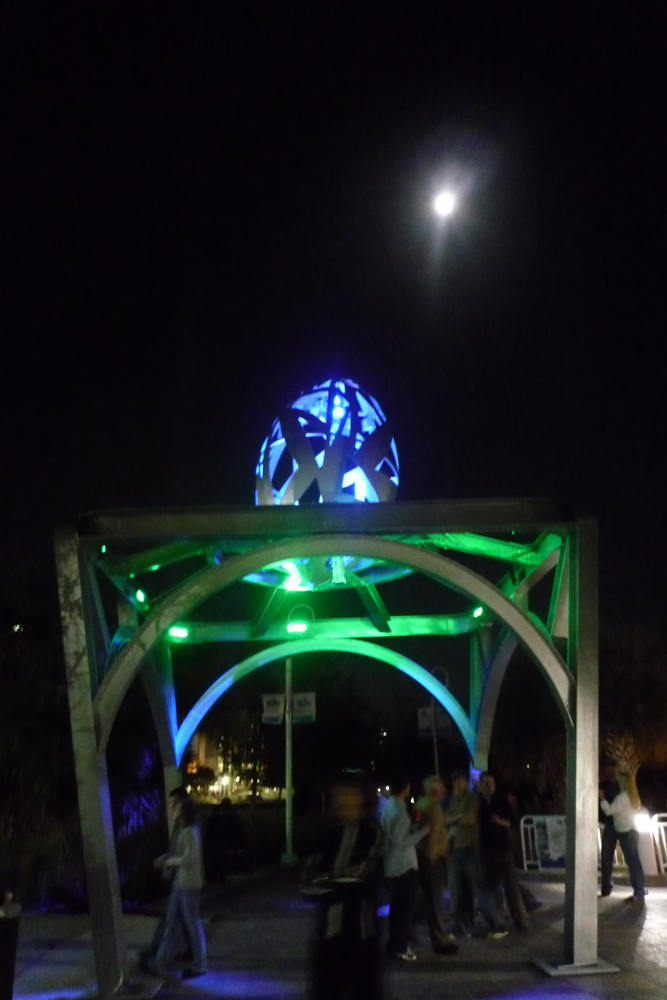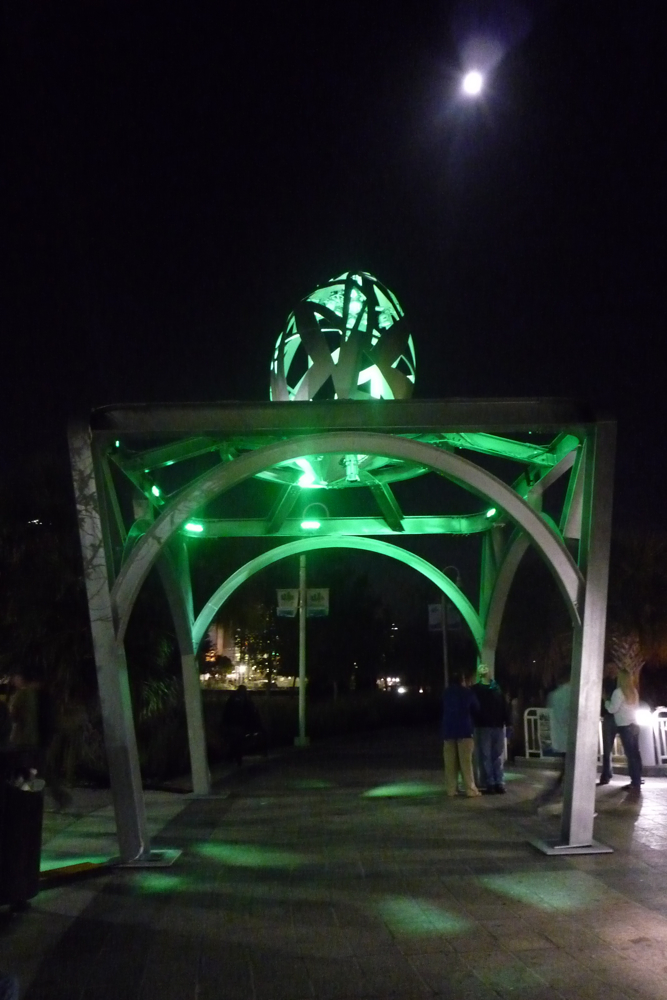 Here are some images from Marina Zurkow of Will Pappenheimer's and Chipp Jansen's Tampa Public Mood Ring.
Acoording to the project website,
"The Tampa Public Mood Ring (TPMR) is a combined internet and spatial artwork installation which allows an online news community to display the emootional condition of public news stories as color hue. It is based on the wearable "mood ring" which chemically changes color according to body temperature. The online artwork responds to participants news concerns and accordingliy recallibrates the color intense LED lighting in a physical location. For the Lights on Tampa program, the ring draws on the ocal and national sports community proplled by NFL fanaticism leading to the mega event, Super Bowl XLIII in Tampa."
Feeling great — or angry — about something you just read or heard about? Register your feelings at the Tampa Mood Ring project and watch as the giant football sculpture changes colors based on the collective mood of Tampa Bay.
via TampaBay.com
The Tampa Public Mood Ring is realized through Lights On Tampa and includes partnerships among the City of Tampa and Gerdau Ameristeel. Gerdau Ameristeel, an international company headquartered in Tampa is fabricating the temporary ring structure, designed by Pappenheimer, out of Orange Bowl steel. TampaBay.com provides the news context, while ESPN will periodically inlcude the work in its audience polls and newscasts.
Public Mood at the 2006 01SJ Biennial
In 2006, Pappenheimer presented a small-scale, indoor version of this work, Public Mood: Light Temperature, as part of the C4F3 Interactive Cafe at the 1st 01SJ Biennial and ISEA2006 Symposium.
D-Tower
In 2005, Lars Spuybroek of Nox with Q.S. Serafign completed a not dissimilar project, D-Tower, which illuminates a specially constructed tower in Doetinchem, Netherlands, according to the results of an ongoing poll related to emotions of hate, love, happinesss and fear. See: